California's Drought Is Hurting All of America
The drought in California and its effects on the farming industry are ongoing, and the families who own those businesses as well as the workers who usually would pull a paycheck from jobs there are looking ahead at a rough year. This illustrates what is so devastating in a drought such as the one being seen in California — the effects of it trickle down from owners to their hired staff and to you and me in the produce aisle.
Jay Lund, an engineering professor at the water resource and environmental planning department of the University of California, told The New York Times that this drought falls somewhere between the third and sixth worst of all time, but notes that "while we may have more water than we did in other droughts, it has to stretch further," with a larger population and bigger farm systems, as well as more stringent environmental regulation of water so as to protect fish and wildlife.
The New York Times also spoke with one affected farmer at the end of April, Todd Allen, who discussed the reduction in crops and crop variation that he and his brother Joel would need to do to get through the year. Basically he's looking at cutting out melons entirely, possibly cutting out winter wheat, and perhaps growing nothing but cotton with "one shot of water when it gets to a certain height."
The United States Department of Agriculture reports that California crops are likely to see major decreases in output this year, showing a 35 percent decrease for cotton, and 20 percent drop in rice crops. The report noted that as of January California and other areas "faced nearly insurmountable odds of overcoming huge season-to-date precipitation deficits by the end of winter –and the likelihood of completing a third consecutive dry winter." As such it adds "poor rangeland conditions, severe stress on rain-fed winter grains, and depleted soil moisture reserves," to the list of concerns stemming from the drought, on top of the low water supply concerns.
What this means for your daily trip to the store isn't entirely certain, but Professor Timothy Richards, expert in agribusiness at Arizona State University, has given some projections for what prices we can expect to see altered — according to CNBC. "I would expect a 28 percent increase from avocados and 34 percent for lettuce," he said. He also expected an increase in berries, broccoli, grapes, melons, tomatoes, peppers, and packaged salads.
The effecton nuts and berries is particularly strong, as California has more and more been working to up its yield of more valuable crops of that kind, increasing output of strawberries, almonds, raspberries, and pistachios, all of which are considerably more water-intensive, as the table below, from The New York Times, shows.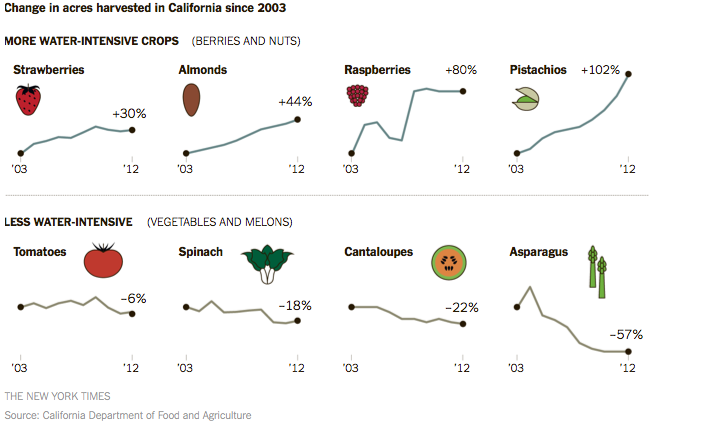 As for jobs that will be lost as the farm industry struggles to survive the year, NPR reports that as many as 20,000 could be lost. In areas like Mendota, California, where farming is a major source of jobs and income and where those living there already face joblessness and poverty, the job losses will be especially hard.
"The ordinary citizen here is going to be facing some of the most drastic situations that I've probably seen," said Mayor Robert Silva to NPR. He says that after the drought in 2009, they know all too well about what to expect. "We know exactly, more or less, what's going to happen because we saw what happened. We experienced these bad problems: The crime went up, there was a lot of spousal abuse [and] expulsions from the school system as a result of those people not working."
More From Wall St. Cheat Sheet:
Follow Anthea Mitchell on Twitter @AntheaWSCS