Can Obama's Cybersecurity Plan Work?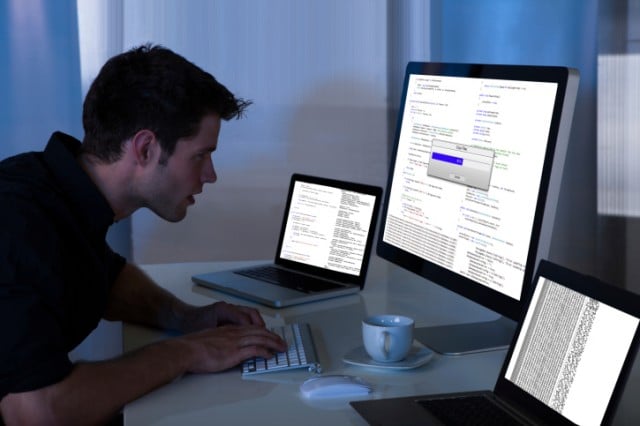 President Barack Obama spoke Tuesday on the need to ramp up cybersecurity and what legislative steps will be taken to do so. Given this last year, it's hardly a surprising emphasis. In May, there were accusations against China for launching a cyber-attack with considerable economic consequences. At the time, five members of the Chinese military were accused of targeting American companies and stealing information, including intellectual property and blueprints that could help competitors cut development and research costs. Events at the time prompted CIA director Michael Hayden to remind America in an interview with Spiegel, that while we often "think of military doctrine and 'domains' — land, sea, air, space," it's important that we "now think of cyber as a domain" and part of our "military thought."
More recently, the U.S. has dealt with invasion of privacy and cyber-espionage from North Korean hackers targeting Sony. Sony was targeted for the disclosure of private mail due to its creation of The Interview, a not-very-well-reviewed film in which Seth Rogen and James Franco's characters assassinate Kim Jong-un. This, in combination with threats of 9/11-type attacks, led major movie theaters to cancel the release of the film — something criticized by President Obama who noted that any cyber-attack by North Korea would be responded to in kind. As of early January, his administration increased sanctions to "address North Korea's continued actions that threaten the United States and others."
"If we don't put in place the kind of architecture that can prevent these attacks from taking place, this is not just going to be affecting movies," said Obama in December, "this is going to be affecting our entire economy in ways that are extraordinarily significant." The Administration's Tuesday announcement discussed past efforts, made it's customary comment on failures of Congress and the demand in the past for executive action, then moved on quickly to three upcoming policy efforts.
The first is legislation that would change policy on information sharing for private and government institutions. This one is likely to open a can of extra squirmy worms given the Edward Snowden releases and the struggles with tech companies this last year. Phone companies and social media sites have been in battle over when, and under what warrants and conditions the government can demand information and records. Bulk record collection has been an issue.
The release does phrase the proposal as "private-sector led information Sharing and Analysis Organizations" and demands a number of privacy requirements be outlined to "safeguard Americans' personal privacy by requiring private entities to comply with certain privacy restrictions." Even with these stipulations though, it remains a highly politicized topic likely to hit speed bumps in congress. The other items under the legislative proposal, "modernizing law enforcement authorities to combat cyber crime" and updating the "national data breach reporting" to guard consumers better are potentially less divisive.
He also has an executive action in the works that will give additional cybersecurity education funding to higher education institutions that have been historically black — specifically $25 million for the next five years to 13 colleges, universities, and national labs. According to the White House announcement, the funds will go toward a "jobs-driven training initiative" that "will help to fill the growing demand for skilled cybersecurity professionals in the U.S. job market."
It is unsurprising that these types of experts would be in demand. What is tangentially interesting though, is that the cyber-experts needed to fill government jobs in particular are even more difficult to find. The reason? According to FBI Director James B. Comey, it's marijuana use. He lists marijuana as an obstacle for many candidates the department would otherwise like to hire, admitting, according to the Wall Street Journal, that it's something the FBI is "grappling with" at present as legalization makes its own changes. "I have to hire a great work force to compete with those cyber-criminals and some of those kids want to smoke weed on the way to the interview," said Comey. With any luck, increased education and training availability will help push experts into the field, whether they smoke weed or not.
And finally, a summit is to be hosted by the White House at Standford University to discuss private and public work that needs to be done in order to ensure security for both American citizens and for the American government as a whole. Government officials, members of the Obama Administration, and CEOs of various technology and financial companies will be in attendance to contribute.
Overall, cybersecurity is going to be vital for our nation moving forward, as important as the Airforce, Army, or Marines — and in ways applicable and important for each separate branch in its own way. If computer security can be breached, information contained therein could put any and all branches of government at risk. There are similar security concerns at a smaller, more individual level for American citizens; identity theft, financial protection, and personal information are all at risk.
More Politics Cheat Sheet:
Follow Anthea Mitchell on Twitter @AntheaWSCS
Check out Politics Cheat Sheet on Facebook