Can Republicans Avoid Sexist Blunders of the Past?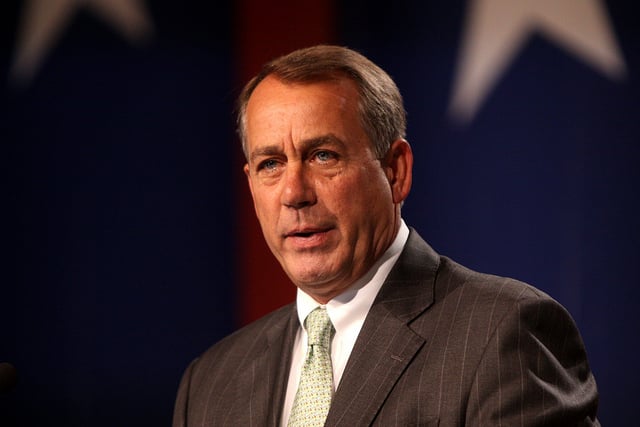 Many Republicans will be facing female opponents in elections — and the prospect has the National Republican Congressional Committee feeling jittery about it's constituents training in how to talk to, and about, women. Speaker of the House John Boehner has his aides meeting with fellow Republicans to consider gender sensitivity.
"Let me put it this way, some of these guys have a lot to learn," a Republican staffer told POLITICO, and a GOP aide described the sessions being held by the NRCC as lessons in "messaging against women opponents." An ideal example of the type of publicity the party is trying to prevent would be Representative Todd Akin's (R-Mo.) disastrous commentary on rape in 2012.
"If it's a legitimate rape, the female body has ways to try to shut that whole thing down," Akin said, as reported by the Washington Post. The comment created major problems for the party's public face, making them highly vulnerable to Democrat's attack on their health policy preferences.
"Rape is rape. And the idea that we should be parsing and qualifying and slicing what types of rape we're talking about doesn't make sense to the American people and certainty doesn't make sense to me," said President Obama — as reported by CBS. "We shouldn't have a bunch of politicians, a majority of whom are men, making decisions on behalf of women.
Representative Trent Franks (R-Ariz.) also spoke poorly on the topic of rape and pregnancy, and Senator Saxby Chambliss (R-Ga.) blamed sexual assault in the military on "hormones." With congressional elections coming up, the GOP understandably wants to protect against further blunders of that sort. According to POLITICO, there will be ten or more cases in 2014 of male Republican House members running against female Democrats — Representative Scott Rigell (R-Va.) just one.
Rigell told POLITICO that he's more interested in economic concerns than social ones, but that one can affect the other. "I think as part of that we're strengthening things that are important to women and, of course, to men as well. Early childhood education, making sure that our children are safe and they have great opportunities once they get out of high school or college," said Rigell.
Don't Miss: As Federal Exit Looms, GM's Stock Hits Multiyear Highs.