Christie's BridgeGate: Did He or Didn't Questions Continue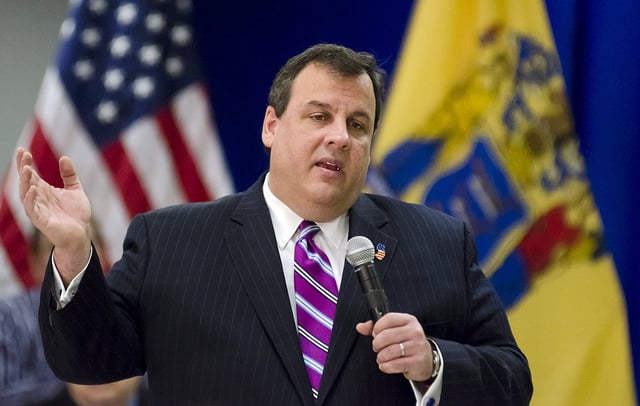 Already, a shadow has been cast on Chris Christie's second term in office, and that shadow is known by the name of BridgeGate. While he may have had no knowledge of the apparently vindictive lane closure on the George Washington Bridge last September, his reputation as a straight talking politician is already at risk.
Early last month, it came to light that the Republican Governor of New Jersey's deputy chief of staff, Bridget Anne Kelly, orchestrated an "unscheduled traffic study" to cause jams around the George Washington Bridge in Fort Lee to punish the town's Democratic mayor for not endorsing Christie for re-election. The governor has admitted he failed at a certain level. "I am a very sad person," Christie said at news conference in Miami in the week preceding his second inauguration. "I'm sad. I'm sad. That's the predominant emotion I feel right now is sadness, sadness that I was betrayed by a member of my staff, sadness that I had people who I entrusted with important jobs who acted completely inappropriately, sad that that's led the people of New Jersey to have less confidence in the people that I've selected. The emotion that I've been displaying in private is sad." However, the question is whether the Republican Governor of New Jersey was aware of the apparent act of political retribution before it took place. He says he had no idea.
"I had no knowledge of this — of the planning, the execution or anything about it — and that I first found out about it after it was over," he said at January 9 news conference. "And even then, what I was told was that it was a traffic study."
Before it was revealed his administration had played a role in the lane closures on the bridge, the governor insisted that his staff was not involved. When asked at a December press conference whether the lane closures were related to Fort Lee Mayor Mark Sokolich and political retaliation, Christie said that, "He was not somebody that was on my radar screen in any way, politically, professionally, or in any other way until these stories came out in the aftermath of the closing. So the answer is absolutely unequivocally not." But then the New Jersey state legislature subpoenaed a cache of private communications linking the governor's officer with the incident. These documents included email correspondence between Kelley and David Wildstein, who was appointed by Christie as a senior official in the Port Authority of New York and New Jersey until the political fallout that followed the growing BridgeGate scandal forced his resignation. One email obtained shows that Kelly wrote to Wildstein: "Time for some traffic problems in Fort Lee." He responded: "Got it."
New Jersey's state legislature has subpoenaed further documents that could explain the extent of Christie's involvement in the George Washington lane closures. Approximately 20 subpoenas were expected Monday, but as the Associated Press reported, some extensions have been granted.
Through a letter written by his attorney on January 31, Wildstein has claimed the lanes were shut as a result of "the Christie administration's order," as the New York Times reported. Furthermore, he said "evidence exists as well tying Mr. Christie to having knowledge of the lane closures, during the period when the lanes were closed, contrary to what the governor stated publicly in a two-hour press conference," which took place on January 9. Wildstein's admission gives the New Jersey legislature fresh documents for which to search. The problem is the nature of evidence his letter cited is ambiguous.
In an interview on NBC's "Meet the Press" on February 2, Assemblyperson John Wisniewski said he and his colleagues "don't really know what the evidence is." What originally brought the administration's involvement in BridgeGate to light was a 900 pages of documents supplied Wildstein, and while those documents proved Kelly's connection, they did not even provide a clear motivation for the retribution let alone prove that Christie had any knowledge of the incident. Wisniewski said lawmakers do not "have any proof" that Christie ordered the shutdown.
"It's a curious choice of words which maybe he knows somebody else that has information. Maybe this is a conversation he had. Maybe this is something else that is not within the scope of the subpoena the committee issued," Wisniewski said, referring to Wildstein's claims of "further evidence." Already, the former Port Authority official invoked his Fifth Amendment right to avoid self-incrimination during his testimony before New Jersey lawmakers earlier in January.
Meanwhile, Christie's political team described the claims of further evidence as means for Wildstein to save himself, according to a memorandum sent to donors, political columnists, and pundits on February 1. The email, headlined "5 Things You Should Know about the Bombshell That's Not a Bombshell" was obtained by the Associated Press, and was mostly comprised of quotes from newspaper articles criticizing Wildstein.
In particular, the letter cited a 2012 article in the Record of Bergen County, which described Wildstein as "a very contentious person." However, the letter failed to include comments from Christie spokesman Michael Drewniak, who told the Record that Wildstein was "there in that job because he is well suited to the task of playing a role in reforming the Port Authority in accordance with the governor's goals. If he's not liked for that role, and if he's accused of being zealous in that regard, then we plead guilty."
Calls have been made for Christie's resignation, but former New York Mayor Rudy Giuliani told CBS News' "Face the Nation" that no such determination could yet be made. "So far, there's no evidence to suggest that he's not telling the truth. I think the governor knows the consequences. If he's lying, it's a really bad situation. If he's not lying, then something very unfair is being done to him," he said. Giuliani sees "big credibility issues" with Wildstein's claims, noting that the former official is seeking someone to pay his legal bills, wants immunity, and has not turned over any evidence. Even Wisniewski told "Face the Nation" that impeachment talk was premature. "We don't have enough facts to even get to that conversation. We need to get all the facts on the table. We need to make decisions about who knew what when. And when that's done, maybe it might be appropriate at that time to have that conversation. But clearly we're way ahead of that right now," he added.
Political commentators have described Christie as a proponent of pragmatism over ideology, and the governor himself said that his electoral victory should be lesson on bipartisanship for the country's broken political system. Despite the fact that Democrats outnumber Republicans by over 700,000 in the state of New Jersey, Christie prevailed by winning the majority of the votes of women and Hispanics as well as attracting a number of younger voters and blacks — key demographic groups to which the GOP has trouble attracting. His won reelection by a landslide, a victory that pushed him to the forefront of his party's potential presidential contenders.
More From Wall St. Cheat Sheet:
Follow Meghan on Twitter @MFoley_WSCS