Consumers Are Feeling Great Today, But What About Tomorrow?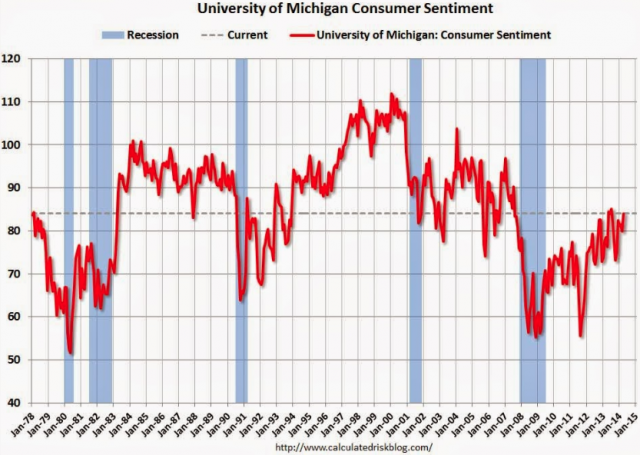 While the labor market and overall economy remain on shaky ground, consumer sentiment improved to its best level in nine months. According to Thomson Reuters/University of Michigan's final reading, consumer sentiment jumped to 84.1 in April, compared to a final reading of 80 in March.
Read more: Should American Consumers Really Feel More Confident?
The results were better than expected, as consumers felt more confident about their current situations and the future. On average, economists expected the index to reach only 83 this month. Furthermore, April is the first gain for the gauge this year. In 2013, consumer sentiment ranged from a low of 73.2 in October to a high of 85.1 in July.
"Perhaps the more important question is whether consumer confidence will show greater resistance to the backslides that have repeatedly occurred in the past few years," said survey director Richard Curtin in a statement. "Resilience is dependent on positive long term economic expectations. While near term expectations have improved substantially, longer term expectations for personal finances as well as the overall economy have not improved as much."
Read more: 5 Dow Stocks Seeing an Outstanding 2014
During the last recession, the index averaged slightly above 64. In the five years before the financial crisis, it averaged almost 90. Consumer sentiment is one of the most popular measures of how Americans rate financial conditions and attitudes about the economy. The University of Michigan's Consumer Survey Center questions 500 households each month for the index.
Current economic conditions, which measure whether Americans think it is a good time to make large investments, improved more than expected to 98.7, its highest reading since July 2007 and up from 95.7 in the prior month. Consumer expectations also increased to 74.7 this month from 70 in March.
In a separate survey from Gallup, the number of Americans who rate their financial situations as "excellent" or "good" also rebounded to 48 percent, up from the lows of 41 percent seen in 2010 and 2012. This is the best Americans have felt since 2008.
More From Wall St. Cheat Sheet:
Follow Eric on Twitter @Mr_Eric_WSCS