Could Government Reform Really Be This Easy?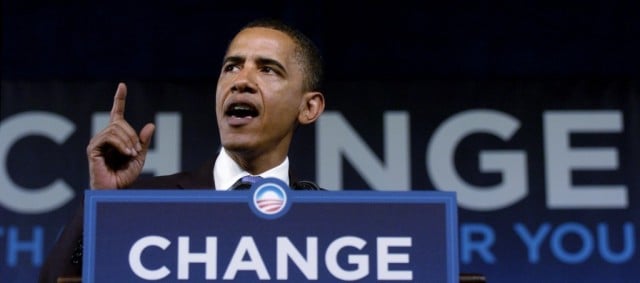 The financial collapse of 2008; the terrorist attacks on September 11, 2001; Hurricane Katrina; the Abu Ghraib Prison abuse in Iraq; the failure to find any weapons of mass destruction following the 2003 invasion of Iraq; the Blackwater killings; the bungled launch of the Affordable Care Act's health insurance portal, HealthCare.gov; the Internal Revenue Service's politically motivated review of applications for tax-exempt status in the 2012 election cycle; Benghazi; and Edward Snowden's leak of key government documents that revealed the National Security Agency's surveillance programs. These are the events that have profoundly shaped the United States' political reality. They caused dramatic drops in the public's confidence in government institutions as the inadequacies of the country's leaders were put on display. They forced apologies from government leaders and created political, economic, and philosophic quagmires that continue to influence public opinion, elections, and world events years later. Not every incident had ramifications for the global balance of power, but even the most minor of these events tell a story of government failure.
Government-orchestrated failures have increased throughout the administrations of George W. Bush and Barack Obama, according to Paul Light — a senior fellow in governance studies at the Brookings Institution. In a research paper entitled "A Cascade of Failures: Why Government Fails, and How to Fix It," he cataloged and ranked the 41 important and most visible government failures that occurred between 2001 and 2014 as a means to understand: where the government failed, why the government failed, and what can be down to fix the underlying problems. The financial crisis, NSA leak, rollout of the Affordable Care Act's HealthCare.gov, Benghazi, IRS targeting, and weapons of mass destruction all made the list.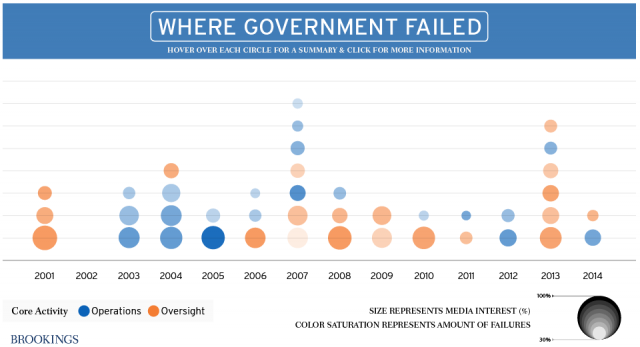 "The Veterans Affairs scandal is a yet another sign that the recent cascade of federal government failures continues to accelerate. Just when one breakdown recedes from the headlines, another pops up, often in a totally unexpected place," wrote Light in his introduction. "Federal failures have become so common that they are less of a shock to the public than an expectation. The question is no longer if government will fail every few months, but where. And the answer is 'anywhere at all.'" He contends that government failure was once not so unpredictable and frequent. "Name a significant domestic or international problem that the nation confronted after World War II, and the federal government almost certainly did something about it, and often with great success. Government made impressive progress in addressing some of the most difficult problems of the post-war era."
Perhaps the most notable of Light's discoveries is that the number of government failures has increased sequentially throughout the past five administrations. Ronald Reagan's last two-and-a-half years as president saw four governmental failures, or 1.6 per year; five took place in George H. W. Bush's four-year term in office, equaling an annual average of 1.2; Bill Clinton's administration presided over 14 government failures, or 1.8 per year; George W. Bush's eight years in office saw 25 such failures or 3.1 per year; and Barack Obama's first five-and-a-half years in office have produced 16, averaging 2.9 per year. Light also found that government errors increase over the course of a president's term in office — and most of these government failures are the result of omission, not commission.
Less startling is why government failures occur. In order — from the most to least responsible factor — Light identified policy missteps, limited resources including funding, structural failings like "over-layered" chain of command, inefficient or unqualified leadership, and corrupt or unethical government culture as the main roots of these errors. "Moreover, government cannot always do more with less, compensate for poor leadership, and manage the confusion created by duplication and overlap on Capitol Hill," wrote Light. But while these categories of root causes are by no mean surprising, they do little to explain why government failure are increasing and growing more unpredictable. But later in his paper, Light offers some additional insight. The culprit, once again, is polarization.
"Government's citizen-elected leaders clearly contributed to the government dysfunction that triggered so many of the failures chronicled this paper. Although polarization has not been examined here as the primary cause of the failures, it is most certainly a grand contributor to the many causes identified, whether through benign or deliberate neglect," he wrote. "By frustrating and delaying action on both vision and delivery, the two parties laid out the welcome mat to the problems that undermined the faithful execution of the laws. Both parties were responsible for the ongoing schoolyard brawl, though each contributed to government's rising tally of failures in its own way."
Polarization also answers another important question: who is responsible? No one in Washington is innocent; Light apportioned blame fairly equally between Republican lawmakers, Democratic lawmakers, and the White House. "President Obama, who promised to create a government for the 21st century in his 2011 State of the Union Address, never followed through. He was either too distracted to concentrate, too bored by the nitty gritty of management, or too frightened of the Republican backlash to make the effort needed to make big government work," he explained. The GOP was able to exploit the "democratic cowardice."
Describing the role of Republicans in Congress, he wrote: "They stonewalled needed policy changes and made implementation of new programs as difficult as possible; they cut budgets, staffs, and collateral capacity to a minimum, proving the adage that the logical extension of doing more with less is doing everything with nothing; they used the presidential appointments process to decapitate key agencies, and appointed more than their share of unqualified executives; and they muddied mission, tolerated unethical conduct, and gamed the performance measure process to guarantee failing scores for as many government policies as possible." While Light argued Democrats "played hardball, too," he believes the party's failings were more ones of omission. Comparatively, the GOP's mistakes tended to be those of commission.
The results of these interactions is a high level of political dysfunction that has proved to be "more destructive than imagined." That political dysfunction is also "becoming more threatening to government performance as the distance between the two parties increases."
Light offered a few solutions: policy effectiveness must be a consideration from the start, the necessary funding and staff must be provided, the chain of command should be tightened and bloat eliminated, presidential appointees should be selected for their effectiveness rather than their connections, and policy missions should have clearer direction. But, as with his ranking of the causes of government failure, his strategies to avoid those errors are seemingly obvious, raising the question of whether these suggestions can ever gain any traction in Washington if no effort thus far has been made to implement simple and rational of the kind he proposed.
Still, there are incentives for reform. Light outlined a system in which congressional committees would be required to grade the difficulty of delivery for each piece of legislation. Already, congressional committees estimate the cost, paperwork burdens, and state and local impact of every bill reported to the floor. By grading those assessments, and automatically returning those that received failing grades would be returned to their authors, Congress and the president could be pushed to devoting "more attention to the intersection between vision and delivery."
Less coercive incentives are the economic and political benefits greater government precision would bring. Light estimated that Congress and the president could reap as much as $1 trillion in deficit relief over the next ten years by "giving government the authority and capacity to collect delinquent taxes and overdue loans, and tens of billions more by replacing the high-cost jobs at the top of government that many baby boomers are now leaving with lower-cost jobs on the frontlines of government where so many failures occur." The political payoffs of following his suggestions would be equally beneficially to the nation — although less conducive to boasting on the campaign trail. Light predicted that without "immediate repairs," the next president will face "his or her first government failure within months of inauguration day." But he is uncertain "whether Democrats and Republicans will take the chance that bipartisan reforms today might help elect a president of the other party in 2016." After all, American politicians are notorious for postponing problem solving.
More From Wall St. Cheat Sheet:
Follow Meghan on Twitter @MFoley_WSCS