Death of Nelson Mandela Leaves World in Mourning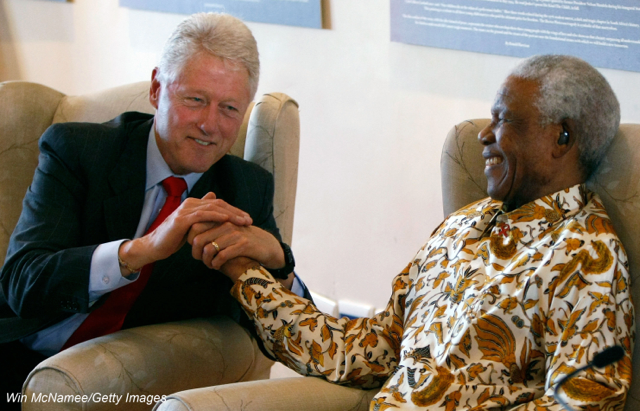 "No one is born hating another person because of the color of his skin, or his background, or his religion. People must learn to hate, and if they can learn to hate, they can be taught to love, for love comes more naturally to the human heart than its opposite," said former President of South Africa, Nelson Mandela. His words serve as an apt description of what he spent his life working to accomplish.
Mandela, who lived 27 years of his life imprisoned for anti-apartheid activism, had been an enormous beacon of strength and hope in South Africa. Mandela died yesterday at the age of ninety-five, leaving South Africa, and the world, in mourning. "The sun will rise tomorrow, and the next day and the next. It may not appear as bright as yesterday, but life will carry on," said Desmond Tutu, retired Anglican bishop, according to the Chicago Tribune.
Current South African President Jacob Zuma announced that Mandela's funeral will take place on December 15 following a period of national mourning. The service will be held in Mandela's village, Qunu, and follows a memorial service taking place in Johannesburg on December 10.
Former President Bill Clinton tweeted that, "I will never forget my friend Madiba," using Mandela's clan name, and posting a photo of the two together. President Barack Obama also spoke on Mandela's death shortly after it occurred in a White House press briefing. "He achieved more than could be expected of any man. Today, he has gone home. And we have lost one of the most influential, courageous, and profoundly good human beings that any of us will share time with on this Earth. He no longer belongs to us — he belongs to the ages," said Obama of Mandela.
"Although we knew that this day would come, nothing can diminish our sense of a profound and enduring loss. What made Nelson Mandela great was precisely what made him human. We saw in him what we seek in ourselves," said President Zuma, according to BBC News. "Our nation has lost its greatest son. Nelson Mandela brought us together and it is together that we will bid him farewell."
Don't Miss: Sorry, Obama, Millennials Are Disillusioned.