Democrats and GOP Blame Each Other for Weak Job Market: Who's Right?
Friday's April Employment Situation Report from the Department of Labor contained some surprises; the headline numbers were staggering and handily beat economists' expectations. Last month, the United States economy created 288,000 jobs, pushing the unemployment rate down 0.4 percentage points to 6.3 percent, the lowest in more than five years. The last time U.S. employers added more jobs was in January 2012. But still, economists maintained that April's weighty jobs growth was largely result of the labor market catching up from the winter slowdown, which kept hiring numbers extremely low in December, weak in February, and undeniably sluggish in March. However, the fact remains that a large portion of the downtick in the jobless rate came from a sizable decrease in the labor force, meaning workers are still discouraged and unable to find employment. And that aspect of the jobs report was by no means surprising; a disheartened labor force and a record low labor force participation rate has characterized this recovery and is evidence that recovery has not yet reached all Americans.
What is also unsurprising is that last week's report on April's employment gains prepared by the Department of Labor provided an opportunity for Republicans in Congress and President Barack Obama to trade criticisms of each other's efforts to pen legislation that would help the U.S. economy create jobs.
April's job gains, while solid, were not enough for Speaker of the House John Boehner. "Earlier this week, we learned that economic growth largely stalled at the start of the year," he began a statement released just after last Friday's jobs report, referring to the meager 0.1 percent the United States gross domestic product grew in the first three months of this year. "And while it's welcome news that more of our friends and neighbors found work in the past month, this report also indicates more than 800,000 Americans left the workforce last month, which is troubling. We need more robust economic growth if we're going to help the millions who remain unemployed get back on their feet." He then made a campaign pitch: "House Republicans have made the people's priorities our priorities, passing jobs bill after jobs bill to expand opportunity and economic security for middle-class families. President Obama ought to call on his Democratic-led Senate to take up the stacks of House-passed jobs measures so we can get this economy moving again."
The White House, in its own post-jobs report statement, hit similar notes. Obama called employment growth "solid," pinpointing that April was the fiftieth consecutive month in which businesses added jobs. But he also argued that "more can and should be done to support the recovery." As the statement highlighted, the president has made it his goal to "expand economic opportunity" by using the executive order. He has also pushed "Congress for additional investments in infrastructure, education and research, an increase in the minimum wage, and a reinstatement of extended unemployment insurance benefits." Late December's expiration of the emergency program resulted in the loss of jobless benefits for more than one million Americans. And, according to the president, cost more than 80,000 jobs so far this year.
The war of words resumed Thursday with the release of the Labor Department's jobless claims report. Finally, after three consecutive weekly gains, the number of Americans filing applications for unemployment benefits fell. Data showed that initial jobless claims declined by 26,000 to 319,000 in the week ended May 3. That decrease indicated to BNP Paribas economist Yelena Shulyatyeva that the "level of claims is normalizing," as she told The Wall Street Journal. The problem is the four-week moving average rose. Jobless claims provide the first look at the employment situation for any given month, but since the weekly figures can be volatile, economists use the four-week moving average to understand wider trends in employment, which are far more telling of labor market health than weekly readings. Last week, the key measure rose 4,500 to 324,750 from the previous week's upwardly revised average of 320,250.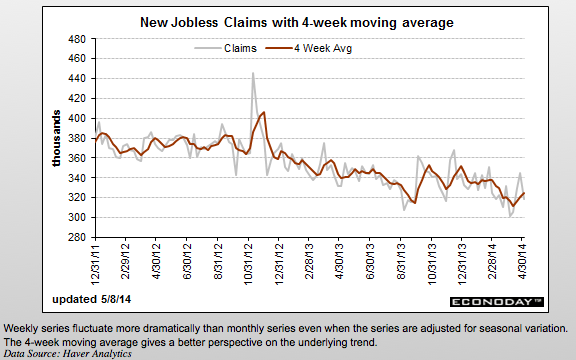 But even though the four-week moving average rose last week, initial claims for unemployment benefits — which serve as a proxy for layoffs — still paint a picture of a strengthening and resilient labor market. If initial claims for unemployment benefits defined the whole labor market story than the narrative of the jobs recovery would be easy to summarize: progress is steady, or at least, the labor market situation is not worsening. "The broader labor market picture of continued moderate improvement has not changed materially as of late," noted Shulyatyeva. Economists say any claims figure below 350,000 indicate moderate job creation. But nevertheless it is important to remember that while the labor market is indeed resilient, it is no where near full, pre-recession health.
Still, a measure of worker confidence improved in April. Research firm Gallup conducts a monthly survey to determine how the American public views labor market conditions. The Job Creation Index is derived by subtracting the percentage of workers who say their place of employment is letting workers go and reducing the size of its workforce from the percentage who say their employer is hiring and expanding the size of its workforce. In general, the index represents employee perceptions of "net hiring" at their workplaces. Last month, monthly job creation index projects the same growth trends as recent jobless claims figures and layoff numbers; it both suggests that businesses are gaining confidence in the strength of the economy and workers are more assured that their employers are not cutting jobs. The April measure of worker confidence ticked up two points to a reading of plus 25, continuing the upward trend the index has traced, with a few setbacks, since the minus 5 readings recorded in both February and April 2009. The current plus 25 level reflects the 14 percent of surveyed employees who said their employers were reducing the size of their workforce, the 39 percent of employees who said their employers were hiring workers, and the 41 percent who said their company is not changing the size of its workforce.
"The recent rise in employee reports of hiring is a positive sign that the economic slowdown may be ending," noted Gallup's Rebecca Riffkin in the report. "More companies may be doing better than in recent years and thus are looking to increase the size of their workforces."
In typical fashion, key employment data, such as the monthly jobs report, is being co-opted by lawmakers for their own political purposes ahead of November's midterm elections.
Boehner issued a statement Wednesday as well, which took aim at Senate lawmakers' poor record in advancing legislation that would help the American middle class. His particular goal was to draw attention to the "40 pro-growth jobs bills," now "sitting" in the Senate, which will "deliver the type of economic growth that the American people are demanding." The speaker argued that the President should demand that those bills be brought to the floor of the Senate for debate. However, despite the inaction of the upper house of Congress, which he alluded to in his statement, House Republicans are planning to pass an additional two bills this week that "will help expand economic opportunity and security for America's middle class," according to Boehner. More specifically, these bills will make the research and development tax credit, and exemption used by a vast number of business, permanent and expand access to charter schools.
Conversely, the lingering malaise in the job market has been attributed to the Republicans by Democratic lawmakers. After the April jobs report was released, House Minority Leader Nancy Pelosi (D-Calif.) said in a statement: "Congress must do more to create an economy that works for everyone, not just the wealthy. Unfortunately, Republicans continue to stand in the way." And of course, the Democrats have their own jobs bill — "Fair Shot" — which contains provisions to reinstate emergency unemployment benefits, increase the federal minimum wage, and implement paycheck fairness.
It is interesting to note that Americans judge both parties poorly on their handling of economic policy. Less than half of Americans, or 42 percent, believe Obama can create or recommend the right economic policy, and that is the lowest figure Gallup has on record for him. The survey also reflected record lows in the public's confidence in Democratic leaders, at 35 percent, while Republican leaders in Congress received the lowest mark on record for either party, with confidence levels at 24 percent.
More From Wall St. Cheat Sheet:
Follow Meghan on Twitter @MFoley_WSCS