Detroit: Why Are So Many People Keen to Invest in This Once Great City?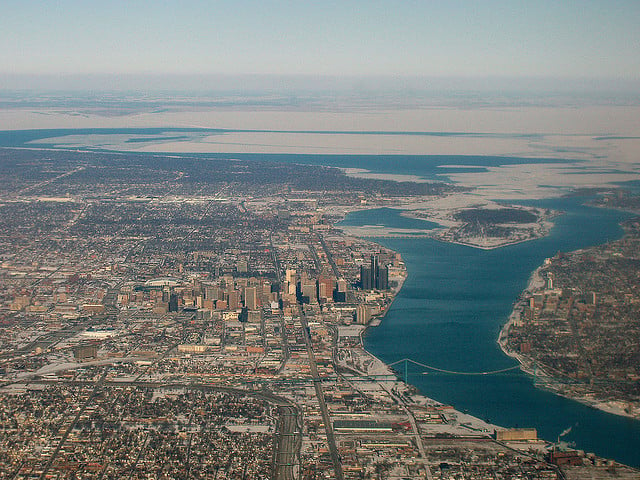 Detroit has a lot of work ahead of it in the coming years as it strives to grow beyond its recent economic lows. At present, the city is still in the midst of a bankruptcy mess; pension losses, city debt, and the resulting expenses are all tangled up. The city's population has dropped 26 percent since 2000, its unemployment rate was at 16 percent in 2013, and it had the highest violent crime rate of all the large U.S. cities — five times the national average — containing 78,000 structures and 66,000 abandoned lots, according to statistics from Business Insider. All bad news.
The good news is that Detroit's future is something that a lot of different groups want to invest in. Fernando Palazuelo, a developer who flew in from Peru and made projects out of destroyed construction in Europe and South America, recently bought Detroit's decrepit Packard Motor Car plant. He payed less than 15 cents a square foot for it, totaling $405,000. "I am a real estate developer, but a very special one. I have always been entering cities that have problems in the past," said Palazuelo to the New York Times.
He said that it would take around $350 million, spent over the next decade, to make something prosperous out of the purchase. Raymond Wojtowicz is the county treasurer for Detroit's many thousands of foreclosed properties, and according to an interview with the New York Times, he was rather pleased — if surprised by Palazueo's plans. "It was spontaneous and unexpected. But the proverbial seed was planted because of his sincerity," said Wojtowicz.
Palazuelo isn't the only one eager to jump into bed with Detroit, problems and all. The film industry is also looking to make use of the city — and we're not just talking about Eminem's 8 Mile. Ben Affleck and Jennifer Garner are both Detroit-bound this upcoming summer, according to E!online, where Affleck will be filming the Man of Steel sequel. Ryan Gosling's movie, How to Catch a Monster, was also filmed in Detroit, as were parts of George Clooney's The Ides of March.
In general, Detroit may be the place for creativity to grab hold, at least according to "Godmother of Punk" Patti Smith. "New York has closed itself off to the young and struggling. New York City has been taken away from you. So my advice is: find a new city," said Smith in the New York Observer. The city she had in mind? Detroit.
"In a way, there is something about hitting bottom. Until you hit bottom, people are reluctant to invest," said Dan Gilbert to the New York Times, who is the chair and founder of Quicken Loans, having bought properties in downtown Detroit himself.
"We want the world to know that Detroit is open for business," said Governor Rick Snyder as he discussed the 50,000 skilled immigrants visas he'd be securing from the federal government in hopes that drawing those with exceptional abilities to the city would help in its comeback. "This city has so much to offer anyone willing to contribute to its future," he said, according to a press release.
More From Wall St. Cheat Sheet: