Did March Put U.S. Economic Growth Back on Unstable Ground?
Early evidence suggests that consumer spending stalled in March; Gallup's self-reported consumer spending index posted zero year-over-year growth last month, despite economists growing confidence that consumer spending will boost gross domestic product expansion this year.
Many economists have postulated that once the cooling effects of this winter's harsh weather has completely worked its way out of the U.S. economy, consumer spending will gain momentum and perhaps even post its strongest annual growth in nearly a decade. The reason for this optimistic outlook is the combination of an improving job market, the release of pent-up consumer demand, and the easing of certain government policies.
Consumer spending numbers ended 2013 on a strong note; the Department of Commerce released its third and final calculation of fourth-quarter gross domestic product growth at the end of March, which showed the economy grew at a 2.6 percent annual rate in the last three months of last year. That expansion was propelled by the most robust increase in consumer spending for any quarter in the past three years. The momentum consumer spending had going into the year sparked predictions by economists for a strong 2014. While the harm January and February's exceedingly cold weather had on the job market and consumer spending did worry some analysts, recent economic data has shown that consumer spending is likely to regain that momentum. Even though GDP likely slowed to an annual rate of 2 percent or less this quarter, a number of economists now expect the economy to grow at a 3 percent annual rate this year, and that level would represent the strongest expansion for any year since 2005, before the Great Recession began.
A complete picture of March's consumer spending patterns will not be available for some time. The Department of Commerce's April 14 retail sales report will describe how many consumer dollars were spent at clothing, general merchandise electronic, and furniture stores, pharmacies, auto dealerships, gasoline stations, and food and beverage stores. Next month, the Commerce Department's March Personal Income and Outlays report will further explain the American consumer's March financial position — including their spending and savings rate — and provide a more detailed explanation of which goods and services consumers purchased.
Gallup offers an overview of the direction consumer spending is headed. The index compiles Americans' daily self-reported consumer spending at retail stores, gas stations, restaurants, or online, excluding normal household bills and major purchases such as homes and cars. Daily spending averaged $87 for the month of March, and as Gallup noted, that average daily spending figure was relatively high. "At $87, Americans' average daily spending in March looks positive by comparison to spending over the past five years." Yet, while spending remained relatively high, this month marked the first time since the recession that consumers' average daily March spending did not increase at least slightly over February spending levels.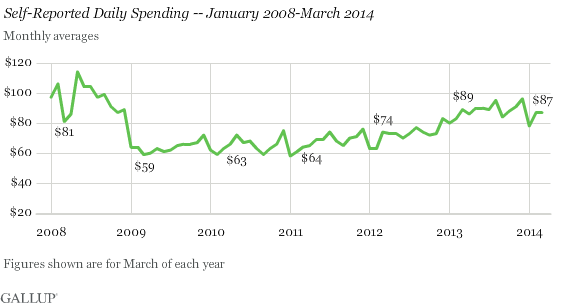 "The stall in spending, both month-over-month and compared with a year ago, most likely signals a continuation of the lackluster retail sales seen so far in 2014," wrote Gallup's Lydia Saad. "Although government figures show that total retail sales, excluding motor vehicles [which is in-line with Gallup's definition of consumer spending measure], rebounded in February after January's anemic sales." Year-over-year sales were up by only 1.6 percent in January and 1.3 percent in February. These are the weakest retail growth figures recorded since November 2009. "Given the Gallup data, it is reasonable to expect that the March report [from the Department of Commerce], due April 14, will show more of the same," she added.
Data from industry trade groups describe a similar reality. The weekly snapshot of retail sales compiled by the industry trade groups — the International Council of Shopping Centers and Johnson Redbook — may have shine a light on only a small segment of retail sales, and therefore provide only a limited insight on changes in consumer spending habits, but the two same-store sales indices do provide some of the most timely indicators of consumer spending. While consumer spending was weak throughout the month of February and March's numbers have been volatile, the sources of this weakness have not generally been the customer, the paycheck, or the tough job market. Rather, intemperate weather and unfavorable comparisons with the Easter holiday have impacted recent index readings for both reports. Of course, systemic problems — like poor year-over-year comparisons — have no bearing on the Commerce Department's numbers and both indices provide a much more narrow reading of consumer health; ICSC's and Johnson Redbook's figures are not always a strong predictor of the government's figures. Yet, numbers reflect an ongoing weakness in consumer spending that cannot be ignored. A weak retail sales report could renew concerns about the health of the American consumer and the strength of the economy. Comparatively, April numbers have begun relatively strong.
For the week ended April 5, the ICSC-Goldman Sachs same-store sales index posted a strong week-over-week comparison. Yet the 1.5 percent gain did pale in comparison to the previous week's 3.6 percent surge. On a yearly basis, growth remained soft, although the measure expanded at a 1.5 percent — up from the previous week's 0.6 percent growth. More problematic is the four-week average for the year-over-year growth rate, which — at 1.3 percent — stands at the lowest rate of the recovery excluding early February's weakness. "Weekly sales — adjusted for the shift in Easter — rose this past week as customer foot traffic and spending appeared to have improved in the latter part of the month," ICSC Chief Economist Michael Niemira explained in a Tuesday press release. "With the 2014 celebration Easter (April 20) later than in 2013, the holiday spending ramp-up will likely be seen over the upcoming two weeks."
ICSC Research has predicted same-store sales will increase roughly 3 percent, following February 2.2 percent growth.
Johnson Redbook's reading came in stronger than last week's figure, rising from a 2.3 percent year-over-year growth rate to a 2.9 percent rate of expansion.
Weak data from the Department of Commerce for March will pose a sharp contrast with February. Late in 2013 and early this year, as retail sales remained stagnant, economists postulated that the extremely cold and wintery weather was responsible for low spending and many other problems with the economy, including weak job creation. But with the release of February's retail data, it was clear that consumer spending was no longer the hostage of cold temperatures, even if spending is soft in comparison to pre-recession levels and the highs hit last year.
Meanwhile, February's Personal Income and Outlays report showed consumer spending rose as outlays on services recorded their largest increase since late 2001. Likely, it was demand for heat and increased spending on healthcare, as Americans began to enroll and pay for the Affordable Care Act-mandated insurance coverage, that fueled that jump. But still, "despite all the winter economics, it points to better than expected income, wage and spending growth," IHS Global Insight Director of Consumer Economics Chris Christopher told the Los Angeles Times, referring to the consumer spending gain. "However, a significant amount of the spending occurred on necessities and not on discretionary items."
More From Wall St. Cheat Sheet:
Follow Meghan on Twitter @MFoley_WSCS