Does Ebola Have an Airline Ticket? Not Likely
President Barack Obama spoke out about the threat of Ebola on Wednesday to squash panic after two health workers were reported to have contracted Ebola from a Dallas patient, Thomas Eric Duncan, the first patient in the U.S. to die from the disease. "The dangers of a serious outbreak are extraordinarily low," said President Obama. "But we are taking this very seriously at the highest levels of government." Obama, who cancelled a campaign trip in order to focus on the the disease, outlined the steps planned for treatment and prevention. "We are monitoring, supervising, overseeing in a much more aggressive way exactly what has taken place in Dallas initially and making sure that the lessons learned are then transmitted to hospitals and clinics all across the country," he said.
While Dallas nurses Amber Vinson and Nina Pham both wore the proper covering in treating Duncan, they were still exposed — something that's caused a great deal of concern, especially given the bumpy initial treatment procedure in Dallas. "A lot is being said about what may or may not have occurred to cause Ms. Pham to contract Ebola. She is known as an extremely skilled nurse, and she was using full protective measures under the CDC protocols, so we don't yet know precisely how or when she was infected. But it's clear there was an exposure somewhere, sometime. We are poring over records and observations, and doing all we can to find the answers," said Dr. Daniel Varga, chief clinical officer and senior vice president for Texas Health Resources, according to NBC.
While the hospital's practices are important to consider, and the president's goals are all clear and concise efforts toward a cautious and thorough approach for the disease, the issue of Vinson's flight out of Dallas prior to being isolated and diagnosed with Ebola is particularly concerning for many. So, to evaluate how much concern is appropriate, let's look at where America stands right now, what's been done to contend with the airline exposure, and how experts view the airlines in general in connection with spreading disease.
Public Opinion
A public opinion poll from The Wall Street Journal and NBC shows that a majority of Americans believe the United States is ready for an Ebola outbreak, at 56%, compared to the 42% who do not believe the U.S. is "prepared enough or at all."
Perhaps more telling is the awareness Americans have of the disease. Nothing attracts attention quite like fear, as is proven by comparing Americans' knowledge/awareness of Ebola with other important issues. The WSJ/NBC poll shows that 98% of respondents knew about the outbreak in West Africa and 97% were informed about the patient in Dallas, beating out interest in ISIL beheadings and immigration policy.
What Steps Has the Airline Taken?
The plane in question — N220FR — made a total of five flights before being alerted to the status of Vinson's infection, including Cleveland, Fort Lauderdale, and Atlanta. The six staff — four flight attendants and two pilots — were given a 21-day paid leave and the plane was thoroughly cleaned, with the seat covers and carpeted area around the seats all removed close to where Vinson was located.
"This was over and above CDC guidance that stated that our flight crews were safe to fly," said Frontier Airlines CEO David Siegel in a statement, according to ABC. On top of that, the plane itself has been grounded since its Tuesday flights.
What Do the Experts Say?
Back in June of this year, NPR spoke with infectious disease specialist Kamran Khan of St. Michael's Hospital in Toronto about the chances that Ebola would spread out of West Africa and into Europe and the U.S. Now, obviously, the question of whether or not Ebola will cross into other countries is beyond moot, as is evident in the BBC map below showing case per country.
However, his input on the issue remains relevant. He said that his team had been looking at different viruses and bacteria in order to see how they spread globally. "We look at many outbreaks and decide what paths they're going to take. The big question is whether sick people are going to get on a plane and spread the disease," he said. Khan's emphasis was particularly relevant for diseases like SARS, but as aviation disease expert Dr. Mark Gendreau pointed out, Ebola is spread in a different manner, and is therefore less likely to be passed during a flight.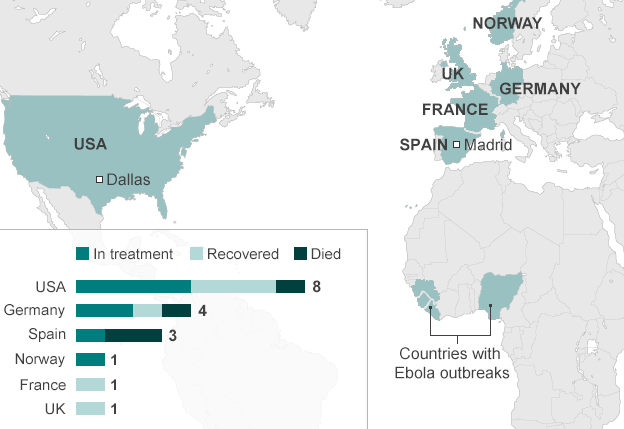 "Transmission requires very close contact with bodily fluids," said Gendreau, "like blood or mucus. You need prolonged contact with somebody." Reports show that both nurses in the Dallas hospital were heavily in contact with fluids during the treatment of Duncan, so their subsequent infection, while concerning when it comes to the protective gear and procedure of the hospital there, does not reflect the threat level of an airplane exposed when Vinson was very slightly feverish with a temperature of 99.5 degrees — and not producing bodily fluids that would be transmit the disease as Duncan was.
"The patient was not showing any other symptoms while on board the plane — no vomiting or diarrhea. The only symptom Amber was showing was the fever," said CDC spokesman Tom Skinner to ABC. The CDC were aware of her elevated temperature, but allowed her to board anyway. What's more, there are a number of anecdotal examples of similar diseases, like Lassa Fever, being present on an airline without any subsequent infections as no real opportunity for infection occurred. Ebola is not airborn and it is not passable unless patients are symptomatic, making the spread much less likely.
Follow Anthea Mitchell on Twitter @AntheaWSCS
More from Politics Cheat Sheet: