Does Obamacare SCOTUS Ruling Mean Trouble for Abortion Rights?
Abortion rights have faced increasing limitations over the last few years, and with the latest Hobby Lobby Supreme Court ruling, many are probably wondering what the case means for abortion and where abortion law stands today. Ultimately, while the case of Burwell v. Hobby Lobby Stores, Inc. was hardly a win for women's accessibility to contraception and set a vague and difficult to define precedent, it's more of an added challenge than the end all of abortion rulings. In fact, it could almost be argued that the ruling in McCullen v. Coakley will have a greater impact on those who chose to seek an abortion, as it struck down state law holding abortion protestors 35 feet away form the entrance area of abortion clinics. Some states may feel very little abortion related impact from the Hobby Lobby case, but interacts outside clinics will be considerably more invasive and tense — not a reflection on the validity of the ruling, simply a predictable outcome already being seen.
A report from the Guttmacher Institute gives some important practical facts when considering how the Hobby Lobby case changes things, pointing out that states have already made most of the big dents in abortion insurance coverage. As a boundary setter and definition maker, the case is vital, and it is likely to have a major limiting effect on emergency contraception options as well as limiting birth control choices and other health items. But as the report points out, "Several states already restrict private insurance coverage of abortion; these restrictions also apply to plans sold on the exchanges," and that "more often, states have banned abortion coverage in public employees' insurance policies or in other cases where public funds are used to insure employees."
Specifically, it shows that 9 states restrict abortion for private insurance plans, 25 states restrict coverage on insurance exchanges, 19 on insurance plans for public employees, and 17 for multiple categories. State laws have been restricting the coverage since 2010, the report shows, so the Hobby Lobby case, while of enormous import, isn't a lone crushing blow reigning down particularly hard on abortion in particular.
The case does address certain drugs that business owners believe cause abortions, saying that they fail the least-restrictive-means test; the government cannot show that the "substantial burden to a person's exercise of religion" is being placed using the least restrictive means — compared to, say, immunizations. In that sense, the principle of the ruling could eventually be very dangerous to abortion as a whole.
The year 2014 has been hard-hitting in anti-abortion legislation on other fronts, with Mississippi's latest anti-abortion laws taking effect this summer, disallowing women from abortions after 20 weeks regardless of whether or not the pregnancy was a result of rape or incest. Louisiana, Arizona, and Missouri all passed their own restrictive abortion laws this summer, and according to FiveThirtyEight, 23 states require 24 wait times, mandated counseling is required by 12 states, and increasingly there have been indirectly restrictive measures passed across states.
For example, in Louisiana, the provision that an abortion may not be performed unless within 30 miles of a hospital that has given the clinic admittance privileges, at the time of passage, only two of five abortion clinics in the state met the requirement. The Guttmacher Institute reports that between 2011 and 2013 there were more abortion restrictions put into place than seen in the the decade leading up, as show in the table below.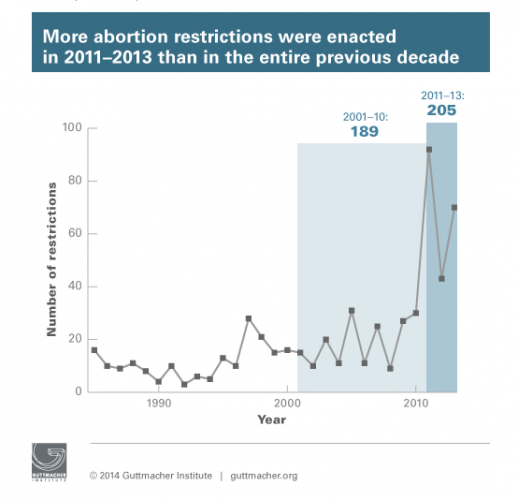 Given the heightened focus on abortion and contraception in recent years, the Pro-Choice bill headed for Congress should be big news. Unfortunately, the bill, which would prevent states from enacting Targeted Regulation of Abortion Providers (TRAP) legislation, is unlikely to pass.
Senator Richard Blumenthal (D-Conn.) introduced the Women's Health Protect Act of 2013, which states that, "Many State and local governments are imposing restrictions on the provision of abortion that are neither science-based nor generally applicable to the medical profession or to medically comparable procedures," and claims that "many of these abortion-specific restrictions do not advance the safety of abortion services and do nothing to protect women's health," and also "interfere with women's personal and private medical decisions." It points out that some of the provisions make it harder and more expensive for women to get abortions, and limit the availability to certain groups. The bill outlines a long list of prohibited measures that states would not be able to make in targeting abortion clinics and practices, with additional notes for contraception as well.
"The proposal is so sweeping and extreme that it would be difficult to capture its full scope in any short title, calling the bill the "Abortion Without Limits Until Birth Act" would be more in-line with truth-in-advising standards," said Carol Tobias, president of the National Right to Life Committee in testimony before a Senate Committee on the Judiciary held Tuesday. Comparing the bill to Roe v. Wade — which upheld women's right to decide to have an abortion — Tobias claimed that even then the court had now shown "such an utter disregard or disrespect for pre-born members of the human family, as we find reflected in this bill." She argues that simplifying abortion to the level of any other medical treatment is innacurate.
"These restrictions harm women's health by reducing access not only to abortion services but also to the other essential health care services offered by the providers targeted by the restrictions, including contraceptive services, which reduce unintended pregnancies and thus abortions," reads the bill. Likely both arguments are made in vain, as the bill is very unlikely to make it off the ground, especially given the midterms, gridlock, and polarizing provisions of the legislation.
More From Wall St. Cheat Sheet:
Follow Anthea Mitchell on Twitter @AntheaWSCS