Obamacare: Is the Reform Really Working?
Healthcare experts are not surprised costs are rising. "Anyone who tells you that he or she can make the healthcare system more universal, improve quality, and also reduce costs is in denial or misleading you," wrote Aaron Carroll MD, MS — director of Indiana University's Center for Health Policy and Professionalism Research — in a 2012 blog post. "When it comes to election season, those people are often politicians."
Together, access, care quality, and costs are known as the iron triangle of healthcare, a relationship defined by the geometry of that shape. Just as a triangle's legs can be lengthen if another side is shortened, one or "perhaps even" two of those components of healthcare can be improved, but those improvements have to come at the expense of a third, as Carroll noted. Therefore, to ensure a healthcare system can achieve better outcomes, costs will increase or some change in access will be required.
But the uninsured rate is dropping, meaning that Obamacare's primary goal of increasing healthcare access is closer to being reality.
Uninsured Americans
Data from Gallup-Healthways Well-Being Index proves that even though a majority of Americans continue to disapprove of the Affordable Care Act, the country's uninsured rate is decreasing, as the healthcare reform intended. The problem is declines in the number of Americans without health coverage depends heavily on the degree to which their state of residence supported the Affordable Care Act and participated in its key provisions, the expansion of Medicaid, and the creation of insurance marketplaces.
When Obama signed the healthcare reform into law on March 23, 2010, fourteen state attorneys general filed lawsuits. They claimed that the law's requirement that every American — who did not qualify for an exemption — purchase health insurance on the ground was unconstitutional, even though it had been central to the GOP's healthcare reforms for two decades. In response to the legal opposition, Erwin Chemerinsky, the dean of the law school at the University of California at Irvine, told The New York Times that, "There is no case law, post-1937, that would support an individual's right not to buy healthcare if the government wants to mandate it."
Indeed, Chief Justice John Roberts sided with Justices Ruth Bader Ginsburg, Sonia Sotomayor, Stephen Breyer, and Elena Kagan in deciding that Obamacare was a valid exercise of Congress' power to tax, meaning the government could require individuals to purchase insurance or face a tax penalty. What the court did rule unconstitutional was the mandated expansion of Medicaid, finding that taking away all a state's funds for its entire Medicaid program because it refused to make the expansion would be coercive. Instead, the Medicaid expansion was made optional.
States with Republican-heavy voter bases, Republican legislatures, and Republican governors by and large failed to participate in the optional changes legislated by the Affordable Care Act. As of March 2014, 26 states — plus Washington D.C. — had decided to widen Medicaid eligibility, with nearly every single Southern State and a broad swatch of the Midwest opting out. Plus, 36 states declined to set-up and operate their own insurance exchanges, meaning approximately 70 percent of all states defaulted to federally-facilitated exchanges — a far greater percentage than expected by the administration. Several states approached exchange operation by partnering with the federal government, and those states are typically counted with the 14 states and the District of Columbia, which operate their own marketplaces. Only four states — North Dakota, New Jersey, Ohio, and Arizona — have decided to expand Medicaid while declining to administer a state-based exchange.
Many states are still in the process of debating these two measures; Utah, a conservative state with a Republican governor, Gary Herbert, remains in negotiations with the Centers for  Medicaid and Medicare to receive more flexible terms than those detailed by the reform law. If Utah receives acceptable terms and expands the program, Indiana and Pennsylvania could follow.
But, meanwhile, several states are considering scrapping their state-based exchanges in favor of defaulting to the federally-created and facilitated model. Oregon — a state that spent an estimated $248 million to create and operate its exchange only to enroll not a single private insurance customer online — voted in April to abandon its own portal. Maryland has chosen to modify its state-based change after the successful portal created by Connecticut. Both Massachusetts and Hawaii, states who had relatively low uninsurance rates before, saw extremely low enrollments and are now considering a switch to federally-facilitated exchanges as well. To Gallup, that indicated that, "Locally managed exchanges are not necessarily optimal for insurance sign-ups in some states."
Data collected between January 3 and June 30 for the Gallup-Healthways Well-Being Index reveals a sharp divide in the declining number of uninsured residents between the states that left changes to insurance systems to the federal government and those that expanded Medicaid and created their own insurance marketplaces. On average, the insurance rate in the 21 states and the District of Columbia that have implemented both measures fell from 16.1 percent in 2013 to 12.1 percent in the first half of the year — a decline of 4 percent. By comparison, in the remaining states that took only one or neither of those actions, the uninsurance rate dropped from 18.7 percent to 16.5 percent — a decrease of 2.2 percent.
Are Obamacare's Technical Problems the Only Reason for Pessimism?
The functionality of the insurance exchanges are supremely important to the success of the Affordable Care Act's main task: making healthcare coverage more accessible to millions more Americans. Last August's debut of the marketplaces created and operated by the federal government, connected through the web portal healthcare.gov, was marked by technical glitches that prevented the system from handling high traffic numbers, which derailed enrollments. While those glitches have been primarily been remedied and enrollments surpassed the Obama administration's goal of 8 million, a large portion of the American public remains unconvinced that the exchange websites will function correct.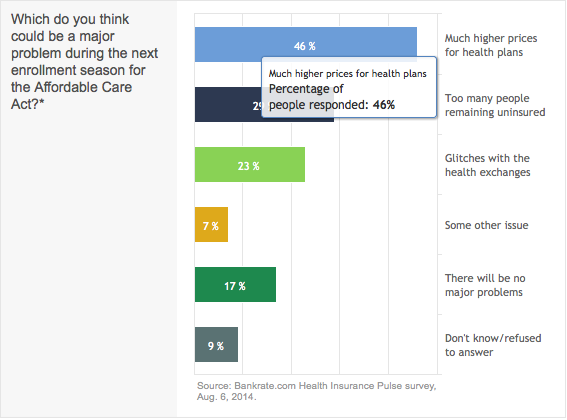 However, respondents to Bankrate's recent assessment of the public's opinion of the Affordable Care Act did not highlight functionality problems with the exchanges as a major concern. Rather, "much higher prices for health plans," was identified as a major concern for the upcoming enrollment period by 46 percent of Americans, while 29 percent said too many people remaining uninsured would be a major problem. Twenty-three percent expect glitches with the health exchanges will be problematic, 17 percent said there will be no major problems, 9 percent did not give an answer, and 7 percent picked a different issue.
Bankrate also found that answers varied depending on respondents' political ideology and the sector of the country in which they live. For example, 66 percent of Republicans predict healthcare costs will increase, while only 50 percent of Independents and 27 percent of Democrats gave the same opinion. Twenty percent of Midwesterns say there will be no major problems, compared with 15 percent of Northeasterners; and 35 percent of rural Americans worry the law will fail to substantially draw down the number of uninsured Americans, versus 29 percent of suburban residents and 26 percent of urban residents.
Bankrate also identified the Supreme Court's recent Hobby Lobby as a reason for the decline in public opinion. On June 30, the Supreme Court ruled that closely held for-profit companies — like plaintiff Hobby Lobby, a nationwide arts and crafts supply store chain owned by a Christian family — would not be forced to comply with the Obamacare requirement that employers provide insurance policies covering contraceptive coverage. While the Kaiser Health Survey found that a slight majority of respondents disapproved of the ruling, and nearly six and ten Americans think it is "very" or "somewhat" likely that employers will use the Hobby Lobby decision as a basis to deny workers coverage for other types of healthcare services, the ruling is not necessarily the reason for growing dissatisfaction in general. Despite expressing concern that the Hobby Lobby case will become a dangerous precedent, 50 percent of Americans — including 55 percent of men — believe the decision will not impact women's access to birth control. Forty-seven percent responded that it is women's responsibility to pay for contraceptives if employer has religious objections.
"Fifty percent of the respondents are living in states with congressional opposition to the Affordable Care Act, so they have weathered not only the Hobby Lobby case, but their congressmen coming home to talk about it on the Fourth of July," Deborah Chollet, a senior fellow at Mathematica Policy Research in Washington, D.C., told Bankrate, providing background for the firm's recent assessment of the public's opinion of the Affordable Care Act.