Economist: Consumer Spending Has 'Literally Frozen'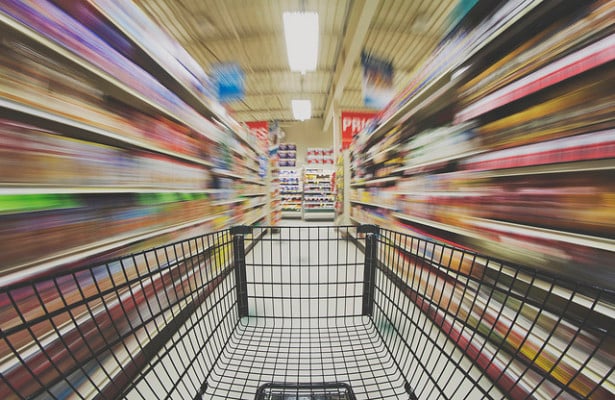 "Consumer spending has literally frozen," UniCredit Research chief economist Harm Bandholz told the New York Times last week after government data showed retail sales fell more than expected last month.
Following the release of January's retail sales figure from the Department of Commerce on February 14, the concern was that the frigid weather experienced by much of the country that month depressed consumer spending. Retail sales totaled $427.8 billion last month, a decline 0.4 percent, and December's sales figure was downwardly revised from 0.2 percent gain to a 0.1 percent drop, making January the second consecutive month of negative growth. But while many economists have cited the poor weather as the reason for the low spending numbers, Customer Growth Partners Chief Executive Officer Craig Johnson told Forbes that sales were weak — "and not just due to weather." In fact, January produced "the worst year-over-year growth since 2009," when the United States economy was in recession.
Johnson thinks that, "The numbers reflect the ongoing rotation in spending from discretionary to non-discretionary goods, from wants to needs." A January decrease is consumer spending is by no means a surprise; shoppers often decrease expenditures following the holiday season. However, January's decline was not only significantly larger than the typical drop, but National Retail Federation President and Chief Executive Officer Matthew Shay found it concerning that initial claims for unemployment benefits rose higher than expected last week while consumer spending — excluding more volatile categories like automobile purchases — came in flat with December. It was "not the way to kick off a new year," he said.
Now, for economists and the retail sector, the question is whether consumer spending will pick up in February, and whether retailers' big discounting and pent-up demand — both products of the cold weather — will be enough to clear lasting winter inventory. February is an important month for retailers; it is when retailers "get a read on spring trends," as Retail Tracker Managing Partner Mark Friedman told Bloomberg Television's "Bottom Line." Given the weather, it has been hard for retailers to make any projections. Yet, like other retail analysts, he believes that factors beyond cold weather have been hurting retail sales. There are "more fundamental issues" at play, Friedman commented, without delving into specifics. But weak job creation in January and December are likely a contributing factor, although slow hiring has also been attributed to freezing temperatures.
Early last year, it became clear that American consumers were keeping their purchases limited to immediate necessities as confidence in the economy, and the economy's ability to created enough jobs to fill the gap left by the recession, remained weak. While the overall picture of consumer spending has been one of improvement, a closer view reveals more conflicting indicators about the health of the American consumer. Sales of big-ticket items like cars and houses were strong for much of last year, likely the result of pent-up demand, but spending has generally been sluggish in retail stores and restaurants. That pattern suggests that American consumers are more confident purchasing longer-term "big ticket" items than they are increasing everyday expenditures. Plus, stagnant wages and higher payroll taxes have affected spending for lower-income earners.
Snapshot of retail sales compiled by the industry trade groups — the International Council of Shopping Centers and Johnson Redbook have indicated that consumer spending has been similarly impacted by the weather this month. But nevertheless, in the first full week of February, a consumer tracking survey conducted by ICSC and Goldman Sachs found "considerable improvement in apparel‐specialty stores, wholesale clubs, and furniture stores, while department, drug, office supply, electronics, and other specialty stores had moderate gains."
For the week ended February 14, readings from both the same-store sales index compiled by ICSC with Goldman Sachs and the Johnson Redbook index showed modest improvements when compared to the previous week's weak figures.
Throughout early February the ICSC-Goldman Sachs index — one of the most timely indicators of consumer spending — has recorded extremely weak readings. Early in the month, year-over-year same-store sales growth hit a recovery low of 0.0 percent. But last week, the index rebounded on both a weekly and a yearly basis. The index rose 2.5 percent week over week, a significant reversal from the 0.3 percent drop recorded in the previous week. On a year-over-year basis, same-store sales growth did lose ground, expanding 2.1 percent rate after the previous week's 2.3 percent rate of expansion.
Given the disappointing first month of the year and the poor weather, ICSC Research announced same-store sales rose 3.3 percent last month, higher than the firm's expectation for growth of 3.0 percent. For reference, December's same-store sales grew 3.4 percent.
"Valentine's Day gave consumers the much needed spark to shop and spend this past week," ICSC Chief Economist Michael Niemira explained in the data release. "However, the week's potential demand was pared somewhat by significant winter storms again." Once again, the "ICSC‐GS consumer tracking survey found modest improvement versus the same week of the prior year for drug, department, apparel, wholesale clubs, specialty stores (such as jewelry stores), office, and furniture stores," Niemira added. But "dollar stores were down sharply — according to the survey, while demand was weaker for grocery and discount stores as well."
Johnson Redbook's weekly reading also inched higher. The index has expanded 3.2 percent over the past 12 months, which compares with the previous week's 2.8 percent rate of growth. In addition, Redbook's monthly comparison improved, contracting at a 1.2 percent rate following the previous week's 1.4 percent rate of contraction.
To economists, the low January retail numbers point to slowing economic growth. "I don't see the argument for why consumer spending will sustain a strong pace," stated Pierpont Securities chief economist Stephen Stanley. "I don't see a dramatic improvement in the labor market. It is more of the same. I don't see any big wage gains coming." But just weeks ago, economists were describing how consumer spending was expected to strengthen in 2014 and drive greater economic growth. Strong consumer spending is essential for the recovery of the American economy. Consumer spending accounts for approximately 70 percent of gross domestic product in the United States, and because government and business spending largely remained remained weak in 2013, the economy depended even more on household spending to fuel growth. Household purchases increased 3.3 percent in the fourth-quarter, the greatest gain since 2010, and that growth pushed the economy expanded at a 3.2 percent annual rate in the final three months of 2013.
More From Wall St. Cheat Sheet:
Follow Meghan on Twitter @MFoley_WSCS