Economist: Labor Market Will Gain Momentum This Year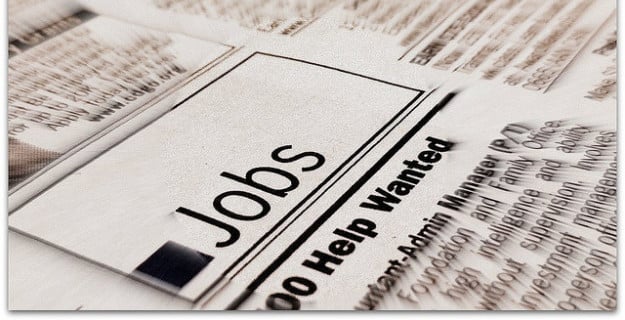 Initial applications for unemployment benefits seem to have been slightly volatile since the beginning of the year. In each of the past seven weeks, jobless claims have reversed course with regularity. Data released by the Department of Labor's Bureau of Labor Statistics Thursday showed jobless claims declined 3,000 to 336,000 in the week ended February 15, only slightly offsetting the 8,000-claim increase posted in the previous week. While analysts projected a slightly larger drop to 335,000 new claims and claim figures have generally been volatile, the numbers still suggest that firings remain muted. As cold weather has slowed many industries, from manufacturing to housing, employers may be holding off on increasing their workforces, but the frigid temperatures have yet to spur mass layoffs.
Continuing claims have been elevated in recent weeks, rising 37,000 to 2.981 million in the week ended February 8.
Jobless claims may be currently trending just above pre-recession levels, but "firing is still at very low levels," 4cast senior economist Sean Incremona told Bloomberg before the claims numbers were released. Last week, the total number of claims remained at a level consistent with moderate labor market growth. Economists say any claims figure below 350,000 indicate moderate job creation. But it is important to remember that employment growth in January was far less than expected and far less than is needed to significantly reduce the high level of unemployment. Earlier this month, the Employment Situation Report showed U.S. employers added only 113,000 jobs to payrolls in January, and that weakness in the labor market provided cause for concern.
But, because economists believe economic growth will "gain momentum later this year," as Incremona said, "job gains will also have momentum." St. Louis Federal Reserve President James Bullard also thinks U.S. labor market conditions are improving. Unemployment may still be high and many economists may be debating the drivers behind last month's decrease in the jobless rate, but he sees the headline unemployment rate as a positive indicator of the overall health of the labor market. "In particular, the recent, relatively rapid declines in unemployment can be understood as representing an improving labor market," he said in remarks prepared for delivery to the Exchequer Club on Wednesday.
Bullard and Atlanta Fed President Dennis Lockhart both believe Federal Reserve policymakers will continue to wind down its monetary stimulus program in coming months. "As long as the outlook remains solid and does not deviate dramatically from the path we believe it's on, I would expect the tapering of asset purchases to continue over the balance of the year," Lockhart said in a speech Wednesday. "I expect the asset purchase program to be completely wound down by the fourth-quarter of this year."
Initial claims for unemployment benefits — which serve as a proxy for layoffs — paint a picture of a strengthening and resilient labor market; the general downward trend of jobless claims offer a sign that even though job creation was not strong in December and almost equally weak in January, businesses have remained confident enough to keep workers even if they were not inclined to increase payrolls significantly in the past few months. If initial claims for unemployment benefits defined the whole labor market story, then the narrative of the jobs recovery would be easy to summarize: progress is steady, or at least, the labor market situation is not worsening.
Low levels of job creation — the other half of the jobs recovery story — do not indicate the same degree of progress as jobless claim numbers, but supporting the theory of a resilient labor market is the fact that the unemployment rate declined for the right reason in January. More people began looking for work last month, a notable change for a labor market often characterized in recent months by its high number of disheartened workers.
Since October, the unemployment rate has fallen from 7.2 percent, largely because a high number of disheartened workers have dropped out of the labor force. As a result, the labor force participation rate — the share of working-age Americans who were employed or looking for work — fell to a several-decades low. The fact that more people began looking for work in January was a sign of optimism, and some of those job hunters found employment, which contributed to the percentage point decline in the unemployment rate. From December's 6.7 percent, the unemployment rate fell to 6.6 percent — the lowest rate since October 2008.
The fact that the unemployment rate fell as labor force participation rose by close to half a million suggests that the underlying employment trends are stronger than the headline jobs number would suggest. Capital Economics' Paul Ashworth described the so-called "guts of the January employment report" showed much more strength than payroll additions.
But the recent volatility that has characterized recent jobless claim numbers was evident in Thursday's report. Jobless claims provide the first look at the employment situation for any given month, but since the weekly figures can be volatile, economists use the four-week moving average to understand wider trends. In the week ended February 8, that average increased for the second consecutive week to 338,500 — an increase of 1,750 from the previous week's unrevised average of 336,750. It is important to remember that it is "the trend in employment that matters," as Mesirow Financial Chief Economist Diane Swonk told CNBC at the end of last and, in general, the trends have been good. "In an economy you tend to miss stuff overtime. You miss turning points," she added. "These numbers aren't very good at picking up turning points. They only catch it in the revisions."
Of course, trends in jobless claims, a leading economic indicator, only offer indirect clues about the pace of hiring. However, there is a relationship between jobless claims and job creation; typically, applications for unemployment benefits wane before hiring accelerates. That relationship was askew for much of last year. While businesses dismissed fewer employees, they were hesitant to expand payrolls and that hesitancy is still evident. Recovery in the labor market is "far from complete," Federal Reserve Chair Janet Yellen said last week.
It should be noted that the week of February 15 is the week in which the Labor Department surveys businesses and households to calculate February payroll additions and the unemployment rate.
More From Wall St. Cheat Sheet:
Follow Meghan on Twitter @MFoley_WSCS