Eric Holder: State AGs Shouldn't Have to Defend Gay Marriage Bans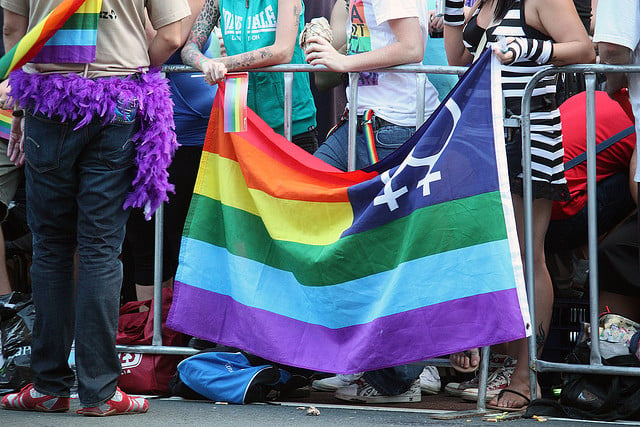 State attorneys general need not defends their state's bans on same sex marriage, at least according to attorney general Eric H. Holder Jr on Monday. Advice of that kind offered by the state attorneys general is uncommon, and Holder was notably cautious, certain to clarify that he was not suggesting that they impugn their state laws, simply that they need not defend bans on gay marriage if they have examined them closely and have a full understanding of their implications.
So far, this has already been done by six all-Democrat state attorneys general, resulting in objections from Republicans wh0 argue that it is the responsibility of the attorneys to go to bat for their state laws, regardless of their personal feelings on them. Holder disagrees, stating that, "If I were attorney general in Kansas in 1953, I would not have defended a Kansas statute that put in place separate-but-equal facilities," according to the New York Times.
"Engaging in that process and making that determination is something that's appropriate for an attorney general to do," said Holder, going on to call gay rights "the defining civil rights challenges of our time." He compares gay rights issues to the civil rights movement, and has in the past drawn fire from Republicans for suing Texas and North Carolina for laws that forced voters to show ID, something that is less likely to be available to poor and minority individuals, and in 2011, he refused to defend the Defense of Marriage Act.
"It really isn't his job to give us advice on defending our constitutions any more than it's our role to give him advice on how to do his job. We are the ultimate defenders of our state constitutions," said attorney general J.B. Van Hollen (R-Wis.) according to the New York Times. "If there's one clear-cut job I have, it's to defend my Constitution. There is no one else in position to defend the State Constitution if it comes under attack," he said.
He's not the only state attorney to make that argument. In an opinion piece in the Washington Post, attorney general John W. Suthers (R-Colo.) argued against Holder's point. "I personally oppose a number of Colorado's laws as a matter of public policy, and a few are contrary to my religious beliefs. But as my state's attorney general, I have defended them all — and will continue to," said Suthers.
"The answers to these questions are crystal clear," said Gary Buseck, the legal director of Gay and Lesbian Advocates and Defenders, to the New York Times. "Attorneys general can't close their eyes to something that's blatantly unconstitutional. They're not supposed to defend the laws at all costs." Michigan is presently facing a federal court challenge to its ban on gay marriage, the challenge stemming from a Detroit couple, April DeBoer and Jayne Rowse, who are presently unable to marry and adopt the others' children.
Dana Nessel, attorney to the couple, said to the Chicago Tribune that, "They are cautiously optimistic." However, Michigan's attorney general is not one likely to refuse defense of the state law, having said in court papers that, "There is no dispute that there is a fundamental right to marry. But there is no fundamental right to marry a person of the same sex."
More From Wall St. Cheat Sheet: