Fallon and Springsteen: Christie's Bridgegate in Song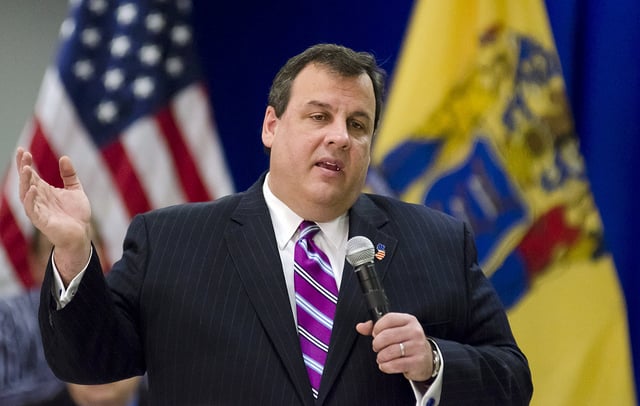 The hubbub around the New Jersey bridge scandal — known by some as "Bridgegate" — may have died down for some, but Bruce Springsteen and Jimmy Fallon haven't forgotten. While the actual events of the Fort Lee traffic jam are well known, the extent and nature of Governor Chris Christie's involvement is not fully understood. New Jersey's George Washington Bridge had a number of intentional lane closures that resulted in days of heavy traffic in the Fort Lee area, creating a public safety hazard, according to officials.
Politico reports that Christie's removal of two of his advisers — a result of emails discovered, which indicate they were involved in the bridge lane reduction — could all center around a political disagreement with a Fort Lee politician. Some suspect that he is covering his own involvement, while others applaud him for his straightforward tactic in dealing with the situation. "Chris Christie went up, manned up, took it on, and was decisive," said Rick Santorum, a former presidential candidate for the Republican Party — according to Yahoo News.
Christie himself has been rumored to be a possible candidate for the upcoming presidential election, as has Hillary Clinton. Monday, Pew Research released a poll revealing that the Govenor's bridge scandal hasn't gained public interest as much as some might expect. Sixty percent of those polled said their views of Christie hadn't changed, and cold winter garnered 44 percent of pollees news interests, compared to 18 percent who said they were closely following Christie's apology for the closure.
Jimmy Fallon and Bruce Springsteen took the opportunity on Fallon's late night show to remind America about the Christie mess through music. "In the day we sweat it out on the streets, stuck in traffic on the G.W.B.. They shut down the toll booths of glory, cause we didn't endorse Christie. Sprung from cages on highway nine, we got three lanes closed, so Jersey get your ass in line. Maybe this Bridgegate is just payback — it's a bitchslap to state democrats. We gotta get out, but we can't, we're stuck in governor Chris Christie's Fort Lee New Jersey traffic jam," sings Fallon, to the tune of Born to Run, wearing a cut off jean shirt, sunglasses, and bandanna.
"You got Wall St. masters stuck cheek to cheek with blue collared truckers — and man I really gotta take a leak. But I can't! I'm stuck in governor Chris Christie's Fort Lee New Jersey Traffic Jam," sings Bruce Springsteen himself, joining Fallon on stage.
More From Wall St. Cheat Sheet: