Fortune 500 Ahead of the Times on LGBTQ Rights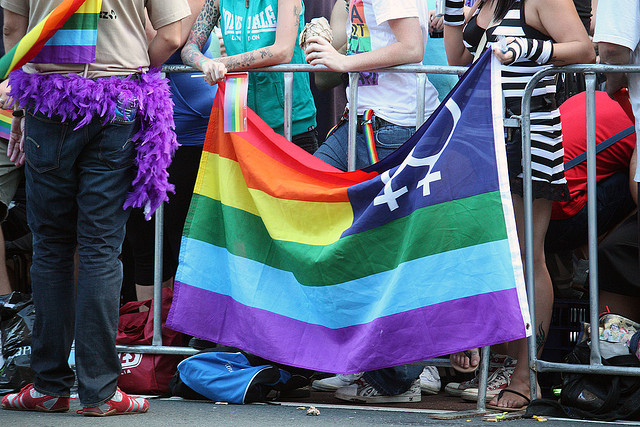 Are Fortune 500 companies more considerate of LGBTQ workers' rights? According to the Human Rights Campaign, the answer is a resounding yes, with a survey showing in December that 91 percent of Fortune 500 companies offer nondiscrimination protection for sexual orientation and 61 percent for gender identity. Sixty-seven percent have same-sex partner benefits, and 28 percent offer the health care benefits needed for transgender employees. The group's explanation for the record-breaking numbers lies in need for a skilled workforce. "Businesses across the South and Midwest — in states where legal equality is nonexistent — realize that enacting these policies help them to attract and retain the best and brightest LGBT workers," wrote Chad Griffin, president of the Human Rights Campaign.
Businessmen and women agree, such as a former manager of Raytheon, who signed onto health benefits there with her partner. She told The Wall Street Journal, "It's expensive to hire people, and you don't want to lose someone because they're gay. For companies, it will always be a business decision: 'Does it or doesn't it help me make money.'"
"I think what is historically correct is that corporate America — Fortune 500-type companies — has generally been ahead of public opinion and certainly ahead of federal and state laws on LGBT policies," said Gary Gates, economist at Williams Institute at UCLA, to The Wall Street Journal. Guinness's removal of sponsorship from New York's St. Patrick's Day Parade — when the parade organizers told gay marchers that they were not allowed to bring signs on LGBT issues — would be one example of corporate America being a step ahead.
"We were hopeful that the policy of exclusion would be reversed for this year's parade. As this has not come to pass, Guinness has withdrawn its participation. We will continue to work with community leaders to ensure that future parades have an inclusionary policy," said Guinness in a press release, according to PR News. Following quickly after, Heineken USA and Sam Adams also pulled their sponsorship for the parade.
Pew Research conducted a poll in February that showed U.S. public opinion is considerably behind some companies when it comes to LGBTQ rights. For example, same-sex marriage is only supported by 54 percent of Americans, a considerably smaller number than the companies offering benefits for partners. Unsurprisingly, support for same-sex marriage is generationally tied, as well as partisan. Pew Research shows that in Democratic and Republican parties, 18-29 year olds have the highest favor for gay and lesbian marriage — 77 and 61 percent respectively — and 65 year olds and up have the lowest percentage of support — 62 and 22 percent respectively. In corporate America, it seems, it pays to think young — and you'll want to attract young talent to your field, as well as older veterans.
"Even if the corporations didn't go into this with the intention of creating social change, in the process they crated social change," said Lee Badgett, director of the Center for Public Policy & Administration at the University of Massachusetts, to The Wall Street Journal. "I'm an economist. I believe in the invisible hand. Sometimes you get unintended consequences."
More From Wall St. Cheat Sheet:
Follow Anthea Mitchell on Twitter @AntheaWSCS