Goodbye Cantor, Hello McCarthy: What's Next for a Split GOP?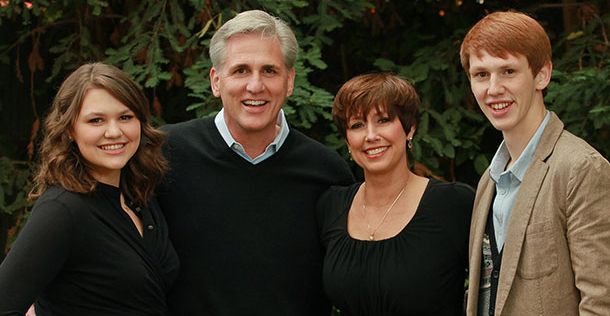 With the surprise exit of former Republican House of Representative Head Eric Cantor, the Republican party was in need of new leadership — but what form that new leadership took was of particular importance to the party at this juncture. When Cantor lost his bid for reelection, surprising many — himself included — he suggested that the loss was in part a result of internal splintering within the GOP. Such a statement was likely motivated in part by his loss to David Brat, funded by the Tea Party, which has become the divisive player in the GOP Cantor is likely referring to.
"There is a divide within our party. I think that what we need to focus on, and I'm hopeful that I'll be able to do something about, bridging this divide," said Cantor to ABC, expressing his hopes that Republicans would be able to step beyond their differences in order to win a strong conservative Congress in the midterms. The campaign period for the leadership position was relatively short, a mere week in order to keep the competition from further dividing the Republican party, and ultimately resulted in the Thursday announcement of Kevin McCarthy's win.
USA TODAY reports that representatives predict the differences in leadership will be largely in approach, with McCarthy tending towards a more relaxed front compared to Cantor. "Kevin is much different than Eric so I think you're going to see someone who is much more jovial," Rep. Devin Nunes (R-Calif.) told USA TODAY. Generally, the two are political allies and have similar stances, but on one position McCarthy isn't likely to follow in Cantor's footsteps — his Republican version of health care reform, which hasn't been particularly popular within the party.
The other legislative item he'll be watched quite closely on is immigration — a topic some feel was in part responsible for Cantor's reelection loss; Cantor's support of specific amnesty pathways was unpopular with some. Which makes McCarthy's perspective on the issue that much more salient. In the past, he's supported Rep. Jeff Denham's (R-Calif.) citizenship pathway efforts for those immigrants who were part of the military. In 2013, Politico called McCarthy "immigration reform's whipping boy," in reference to the way he was being targeted by immigration reform movements who blamed him for not pushing his party for greater reform, despite the large number of immigrants in his district.
At the time, McCarthy said in a statement, "I have long said that our immigration system is broken, but rather than take up the Senate bill, the House will move in a step by step approach that first secures the border," reflecting a Republican stance that is commonly heard once again in 2014 with elections approaching for so many. It is somewhat ironic that with immigration such a topic of concern for the stability of the party and the loss of Cantor, McCarthy should take the position when a year ago there was an immigration-related sit-in in his California office.
Cantor may hope to be a part of keeping the party united, but a more salient question is whether or not McCarthy will be able to. Still, the commentary on his election has so far been positive. Denham unsurprisingly has his back, telling CNN that "We've been friends for many, many years now, but he looks at things differently. He has the foresight to know when to push and when not to push and he understands when's the right time to get something done.
"He invites members to his office and it's like sitting around the dinner table," said Denham. "He also takes the time to go to people's districts all across the nation." If that's not a friendly plug for GOP unity, I don't know what is. Clearly the conservative Tea Party side of the party is a concern for those hoping to retain a solid voting majority within the House, and for those looking hopefully at the Senate and eying Obama's approval ratings.
For his part, McCarthy named "a failed health care law" and "stagnant economy" as signs that the country is facing a difficult time. Americans, he said, "are looking for individuals that put people before politics. I make one promise: I will work every single day to make sure this conference has the courage to lead with the wisdom to listen" — according to Fox. Some argue that the loss of Cantor and McCarthy's attempt at replacing him for leadership is just the first amongst an incoming power juggle within the GOP, one that could even shift House Speaker John Boehner (R-Ohio) out of his position — it may seem unlikely, but many did not see Cantor's removal coming either.
More from Wall St. Cheat Sheet:
Follow Anthea Mitchell on Twitter @AntheaWSCS