Gov. Chris Christie: Federal Investigation Over Relief Funds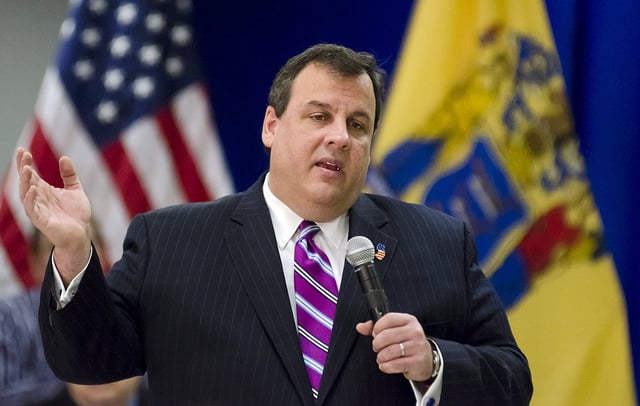 Where did that $25 million in Sandy relief funds go, Chris Christie (R-N.J.)? The answer — towards a New Jersey tourism ad — has federal inquiries honing in on Governor Christie's recent actions. According to Bloomberg, an audit from the U.S. Department of Housing and Urban Development inspector general will be taking place, as reported and requested by Representative Frank Pallone (D-N.J.).
Democrats have accused Christie of using the money for "Stronger Than the Storm" commercials that were really akin to government subsidized campaign ads for Christie's second term, which he won by 22 percentage points over Senator Barbara Buono (D-N.J.). Jumping to his defense, Colin Reed, Christie's spokesperson, told Bloomberg that this investigation was encouraged to happen at an ideal political time for Christie's political opponents.
"Amazing that the inspector general's investigation leaks now generating the headlines 'Feds investigating Christie's use of Sandy relief funds' when the governor is at his lowest point, no?" Mr. Reed posed, according to Bloomberg.
"This was money that could have directly been used for Sandy recovery. And, as you know, many of my constituents still haven't gotten the money that is owed them to rebuild their homes or raise their homes or to help," said Representative Pallone, according to USA Today.
The ad featured Christie and his family standing on a beach, speaking on New Jersey's recovery. "Federal Agency reviews are routine and standard operating procedure with all federally allocated resources to ensure that funds are distributed fairly. We're confident that any review will show that the ads were a key part in helping New Jersey get back on its feet after being struck by the worst storm in state history," said Reed — as reported by USA Today. According to Live Science, the death toll from Sandy was at least 149, twelve of those in New Jersey, and had streets flooding and power lines damaged, as well as many homes destroyed.
More From Wall St. Cheat Sheet: