Gynecologists Make More Than Umpires: Industries and How Well They Pay
Have you ever wondered how much an orthodontist makes? A professional athlete? Or perhaps you'd just like to know what the best industries are these days in terms of jobs and wages in the employment market. Luckily, the U.S. Bureau of Labor Statistics' (BLS) new report on occupational employment and wages has come out for the month of May in 2013. Let's take a look at a few highlights from the report.
First off, lets satisfy some wage curiosity before outlining general top job markets and best paying industries. Orthodontists make an average of $196,270 in annual salary, while athletes and sports competitors make an average of $71,850 — a number that would undoubtedly be higher if one were looking specifically at averages of big league teams. Umpires make about $33,020 a year, and clergy members make around $47,540 in the same span. Funeral Service Managers make $80,250, and gynecologists make about $212,570 every year, while psychiatrists make $182,660 — all payed more than operators of nuclear-power reactors who make an average yearly salary of $78,410. Crossing guards, on the other hand, pull in $26,530 annually.
Fast-food cooks make an average of $18,870, with the top paying job in the food preparation and serving industry, chefs and head cooks, at just over twice that at $46,620. Anesthesiologists earn the highest yearly salary on average at $235,070. This includes beating out surgeons as the second highest. The BLS gives an average salary for writers in the media and publication fields that suggests, on average, I should probably be given a raise.
In general, the largest occupations within the U.S. in 2013 were, in order from smallest to largest: retail salesperson, cashier, food prep and serving, office clerks, registered nurses, waiters and waitresses, customer service representatives, laborers and movers of goods, secretaries and administrative assistants, and janitors and cleaners (excluding maids and housekeepers.) Cumulatively, these ten occupations made up for 21 percent of all U.S. employment in 2013, however, most of the ten are "relatively low paying" industries, with the top choice amongst them being a registered nurse, offering a yearly wage of $68,910 — the only one above the total average of all industry jobs, at $46,440. Of those ten, the largest set of jobs lies in office and administrative support, would combined accounts for 16 percent of U.S. jobs.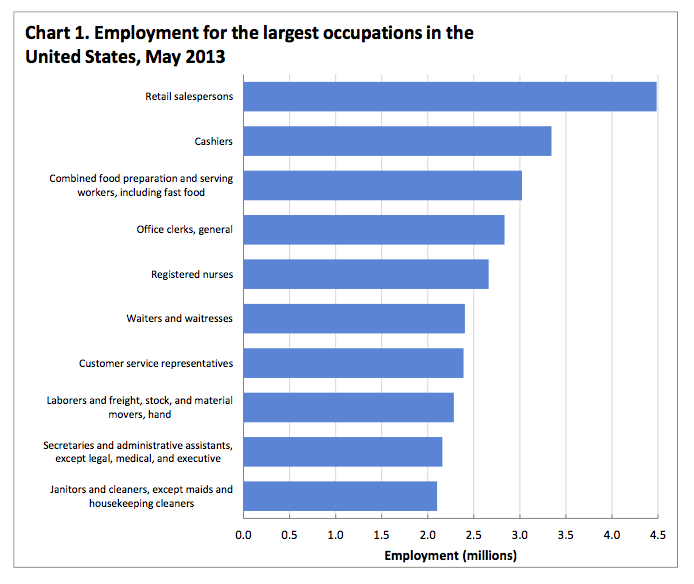 As for what jobs pay best on average, the BLS reports the top six as management, legal, computer, mathematical, architecture, and engineering jobs all fall in the highest pay averages. While they don't make up for as large a percent of employment as other industries, they do show high paying jobs across subsets within the field, as opposed to some industries that average to a high wage, but have many lower paying positions within it. According to the report, all 19 math and computer occupations averaged within the study were higher than the all occupations mean of $46,440, the lowest being $50,450 for computer user support specialists, and the highest being that of computer and information research scientists at $109,260 annually.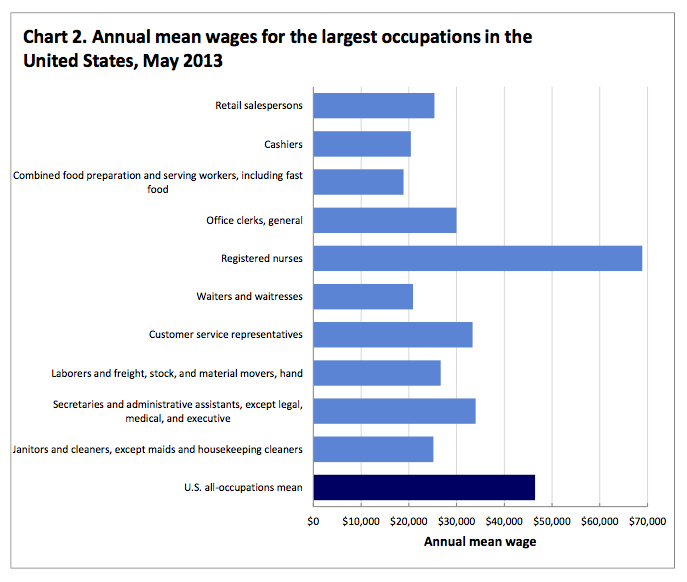 More From Wall St. Cheat Sheet:
Follow Anthea Mitchell on Twitter @AntheaWSCS