Has Obama Broken His Transparency Promises?
"My Administration is committed to creating an unprecedented level of openness in Government," said President Barack Obama in a memorandum back in 2011. It wasn't the first time he committed himself and his administration to a transparent government. In fact, just after taking office and being sworn in back in 2009, he immediately put out a note to government departments saying, "All agencies should adopt a presumption in favor of disclosure, in order to renew their commitment to the principles embodied in FOIA, and to usher in a new era of open Government." Since his time in office began, the president has paid a great deal of lip service to transparency.
Now that his time in the Oval Office is nearing its end, critics are taking the time to evaluate Obama on his follow through; did he really create a more open and transparent government? Were Freedom of Information Act (FOIA) requests and whistle blowers treated in a better manner under his leadership, than the leadership of the past?
According to PBS, over 700,000 requests were made by citizens and journalists under FOIA rules, but 39% (or 250,000) were either denied or censored. Of course, that's only one side of the argument. Different stats have been quoted by different groups. For example, the Associated Press claims that 36% of requests (or 244,675) were denied or censored out of 704,394, and additionally, 196,034 requests were responded to with claims that the department in question was unable to find the information, requester didn't pay for copies, or the government decided the request was not within reason.
George Washington University's National Security Archives published a study this month reporting that only one third of 90 government bodies had improved over years prior to Obama's swearing in. According to the LA Times, shortly after this study, Rahm Emanuel, White House Chief of Staff, published anther memo emphasizing the importance of FOIA follow through.
George Washington University also published a report on whether FOIA requests have been put on record correctly in accordance with the FOIA law. Specifically, if requested documents went online as e-documents following repeated requests, those documents "likely to become the subject of subsequent requests." The law requires documents to be put up after three or more releases have been made to interested parties. However, as GW University points out, for that to work properly the department must be keeping record of the number of requests per document, which is usually not the case.
It then ranks the various agencies based on who had the best overall performance proactively meeting the 21st Century Standard of posting all or nearly all FOIA releases online. Amongst the worst performers, or "E-delinquents," were departments including (ironically) the Recovery Accountability and Transparency Board, the Privacy and Civil Rights Oversight Board, Federal Financial Institutions Examination Council, the DEA, and the Armed Forces Retirement Home, along with many others. Nearly in the red on FOIA publication were Departments including the DOJ, USDA, and the VA.
It's worth taking into account the other side of the argument. White House Press Secretary Josh Earnest defended the Obama administration's progress on March 17, saying, "The administration, in Fiscal Year 2014 alone, processed 647,142 FOIA requests, and over 91% of those requests resulted in the release of either some or all of the requested records." He added that 2014 was "the sixth year in a row in which more than — at least or more than 91% of Freedom of Information Act requests were complied with in a way that included response of either or part or all of the requested records."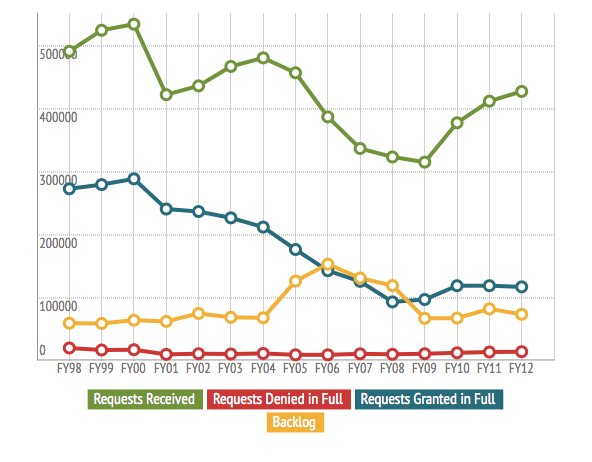 American University also points out that while FOIA request denials have been growing, privacy is the most commonly given reason for refusal. In fact, in 2012 52.54% of denials stemmed from privacy reasons, while 26.02% were for law enforcement reasons, 14.84% for executive privilege, and a mere 0.69% for national security reasons. When one starts to look at reasons for censor — these numbers predictably change, as reported by the Huffington Post in 2013, which cited security as a major reason given for denial or censorship of documents. And as shown in the graph above, the number of requests made has grown drastically since 2009, reaching considerably greater heights than were seen during the Bush administration. The graph below, produced by the FOIA Project, shows a more simplistic graph comparing 2007 to 2008 and 2011 to 2012 in terms of FOIA lawsuits filed in the Bush and Obama administrations respectively.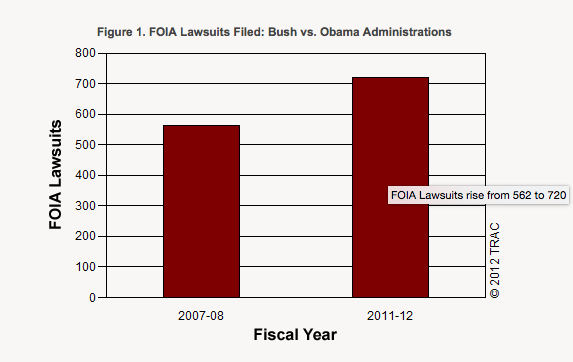 More from Politics Cheat Sheet:
Follow Anthea Mitchell on Twitter @AntheaWSCS
Check out Politics Cheat Sheet on Facebook