Here Are Yellen's Greatest Economic Fears, Foreign and Domestic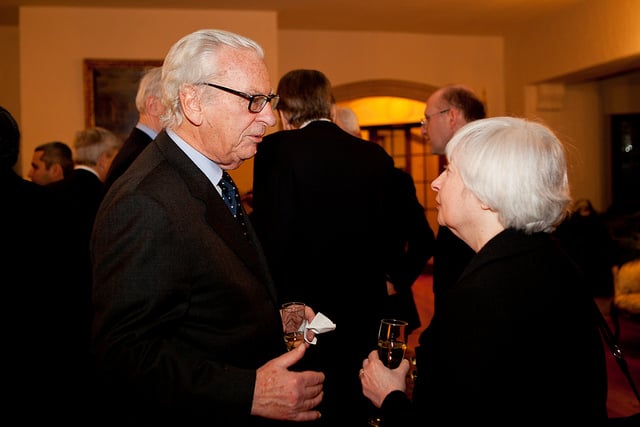 Federal Reserve Chair Janet Yellen spoke Wednesday to Congress' Joint Economic Committee on the economic condition of the United States, touching on issues within the nation as well as those outside that could still tug on the strings of the global and American economic health. There was a heavy emphasis in the session, from both her and the congressional panel gathered to question her, on predictive abilities of the Fed, especially concerned over inflation and labor markets. While overall Yellen had positive things to say about the direction of the U.S. recovery, she noted that there were a few issues that worried her going forward, specifically international issues and internal concerns regarding the housing market's slump.
Looking global first, Yellen discussed international political strife as one risk factor to the global and American economies. "At present, one prominent risk is that adverse developments abroad, such as heightened geopolitical tensions or an intensification of financial stresses in emerging market economies, could undermine confidence in the global economic recovery," said Yellen. With the situation in Ukraine creating tense relations between Russia, the U.S., and the EU, international strife is indeed a strain on the economy.
The markets certainly are paying attention to the conflict, at least based on analysis from Penn Capital Management senior portfolio manager Eric Green. "We need confidence that the Russia situation remains isolated; getting that would do a lot to stabilize the market," he told Reuters. "Of course, anything that suggests more escalation is on the way would be a real negative for the market." But escalation is what some in Washington seem to be demanding — of course, that's not what they say they want — but Republican lawmakers are calling President Barack Obama's foreign policy weak, and demanding harsher sanctions and responses to Russia. This is especially true for those that have only to gain from criticism of the left's leadership with midterm elections upcoming.
Republicans have long characterized Obama as too weak in asserting American power abroad. Yet, until recently, foreign policy has not hurt his second term approval ratings, with Americans about as likely to endorse his approach as to disapprove. But Americans are once again turning an eye to the president's foreign policy, and it appears that the evolving situation in eastern Europe has played a role in redefining how American's see Barack Obama as a leader, while focusing attention on the question of the country's international role. A poll by The Associated Press found that 57 percent of the public dislike how the president has handled the situation in Ukraine and 54 percent disapprove of how he has interacted with Russia. Yet, nearly half of the poll's respondents said they support imposing tougher sanctions if Russia pushes deeper into Ukraine or any other country.
The threat to European energy markets from Russia's influence on a vital part of the gas industry is playing a big role in destabilizing and lowering confidence globally. Yet even positive signals from Russian President Vladimir Putin and the Organization for Security and Cooperation in Europe recently on progress in efforts being made to deescalate the situation may not ultimately yield results. It would not be the first time Putin professes a willingness to work on issues with Ukraine and Crimea only to fail to do so in the end. For now, Putin has indicated that both an upcoming referendum that will allow eastern Ukrainian resident to say whether they want sovereignty from Kiev and presidential elections scheduled for later this month are both "a step in the right direction." However, he did add that the May 25 vote will "not solve anything unless all of Ukraine's people first understand how their rights will be guaranteed" after the election concludes.
Moving closer to home and internal problems within, Yellen also noted concerns over the housing market and the detrimental effects the unemployment rate is having on all aspects of the economy. "Another risk — domestic in origin — is that the recent flattening out in housing activity could prove more protracted than currently expected rather than resuming its earlier pace of recovery," she commented.
Even if it comes with certain caveats — such as low interest rates and inventory levels — the recovery of the housing market has been one of the biggest economic stories of the past year, until recently. With the winter's exceedingly cold temperatures and ongoing increases in mortgage rates, demand for both new and existing homes has slowed. That also means that sales of new and existing homes have decreased, as has new housing construction.
While the housing market contributed to U.S. gross domestic product last year, in the first-quarter — when the economy expanded at a anemic 0.1 percent — the softening housing recovery was a significant drag on the first quarter. Residential fixed income lowered GDP growth by 0.18 percentage points. The winter's cold weather was a major culprit; for example, in January, housing starts — a measure of residential construction — dropped to the lowest level experienced in almost three years.
Yet, there are other factors at play in the slowdown of the U.S. housing market. According to David Blitzer, who chairs the Standard & Poor's committee responsible for compiling the S&P/Case-Shiller home price index, the reason prices recorded slower-than-typical pace of growth in February was also related to "difficulties in qualifying for loans and concerns about consumer confidence."
But even though the first-quarter was weak, Yellen maintained that recent reports have shown the pace of U.S. economic growth to be improving. Now that the exceedingly cold winter has passed — which had a detrimental effect on much of the market — spending and production are expected to continue on a upward trend. Still, she said that the housing market numbers were "disappointing" so far this year and "will bear watching."
Yellen's comments to Congress on Wednesday morning follow closely behind the April 30 meeting of the Federal Reserve's Free Open Market Committee meeting, which we covered late last month. Here is a quick recap of what went down in that meeting:
Coming as no surprise, the Federal Reserve tapered its monthly bond buying by a further $10 billion, dropping its monetary stimulus to $45 billion. While that decision may have been expected, it was still a vote of confidence in the economy. Since December, the central bank has been winding down its extraordinary economic stimulus program; the effectiveness of the Federal Reserve's highly accommodating monetary policy has diminished, and policymakers were well aware of that fact. Originally, the Fed began its assets purchases as a means to push down long-term borrowing rates so as to spur investing and hiring. But monetary stimulus had begun to service an unproductive addiction to easy money more than the favorable dynamic of job creation, rising incomes, and increased spending that Yellen described in a November congressional hearing. For that reason, and because the economy was soldering through a slow but real recovery, the FOMC announced at the conclusion of its December meeting that it would reduce the flow rate of assets being purchased for quantitative easing.
Yet, while the recovery may be real, its slowness is remarkable. While it has been nearly five years since the United States economy began expanding after the seventeen-month recession, in many ways, this recovery is unique and lopsided. The stock market rally of 2013 was record breaking; home prices in many regions of the country are returning to pre-recession levels; and, corporate profits hit new highs last year and accounted for 11.1 percent of the nation's economic output. But many companies are not putting back that cash into the economy by hiring new workers. With hiring trending below pre-recession levels, leaving unemployment and underemployment exceedly high and labor force participation near record lows, workers have little leverage to push for higher wages. For that reason, a full recovery seems far away.
More Wall St. Cheat Sheet:
Follow Anthea Mitchell on Twitter @AntheaWSCS