Here's How Frigid Weather Is Hurting the Economic Recovery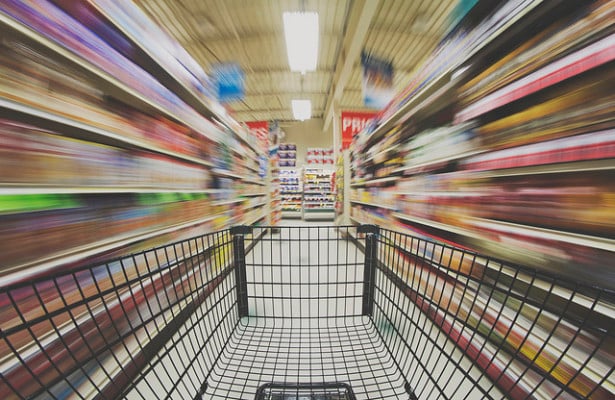 For the United States, 2013 was a "year of big improvement in consumer spending after two years of very weak growth," JPMorgan Chase global economist David Hensley told the Associated Press. "Businesses were pleasantly surprised by the increase in consumption." Economists at Morgan Stanley say fourth-quarter numbers will show that consumer spending rose at its fastest pace in three years during the final three months of the year, and now, economists are beginning to believe that consumers will drive stronger growth in 2014.
While the overall picture of consumer spending is one of improvement — improvement that is gaining momentum — a closer view showed more conflicting indicators about the health of the American consumer, especially when the inspection is made along socioeconomic lines. For much of last year, sales of big-ticket items like cars and houses were strong, likely the result of pent-up demand, but spending was generally sluggish in retail stores and restaurants.
That pattern suggests that American consumers were more confident purchasing longer-term "big ticket" items than they were increasing everyday expenditures. There was also evidence that American consumers were keeping their purchases limited to immediate necessities. Confidence in the economy and the economy's ability to create enough jobs to fill the gap left by the recession remained low for much of 2013.
Economists have identified several trends that will help to further strengthen consumer spending patterns, and chief among them is an ongoing low rate of inflation. With low inflation, shoppers will be able to stretch their dollars, euros, and yen further. Furthermore, because the Federal Reserve Bank of the United States, the Bank of England, and other central banks have kept interests rates very low, borrowing has been less expensive, enabling consumers to afford higher-cost items like cars and appliances.
Excluding December, job creation gained momentum in the final months of the year; similarly, consumer spending posted the strongest numbers of the year. Yet for 2013, retail sales increased 4.2 percent from the previous year, a pace significantly lower than the 5.2 percent rate of growth recorded in 2012 and the 7.7 percent rate of growth posted in 2011, according to the Department of Commerce. Still, consumer spending is expected to boost U.S. gross domestic product significantly in the fourth quarter.
But cold weather is making for a slow start to consumer spending this year. The weekly snapshot of retail sales compiled by industry trade groups the International Council of Shopping Centers and Johnson Redbook provide a glimpse of the January's spending trajectory.
Both indexes ended December with slowing or negative growth, and it seems slow growth has stuck. However, it is important to remember that January is typically a transitional month in which business volume is low and sales are driven by price markdowns employed to clear inventories. In general, recent numbers suggest that consumer spending habits are shifting away from holiday patterns and back toward basic commodities and food.
Throughout January, the ICSC-Goldman Sachs index has been slightly volatile. Frigid weather caused the same-store sales index to fall steeply in the week ended January 18, dropping 1.9 percent on a weekly basis after contracting 1 percent in the previous week. On a year-over-year basis, growth continued to expand but at far slower pace.
The index posted a 0.9 percent gain, which compared to the previous week's 1.3 percent increase and represented the lowest reading recorded during the economic recovery. Given the disappointing first week of the month, ICSC Research expects same-store sales to rise between 3 percent and 3.5 percent in January. For reference, December's same-store sales grew 3.4 percent.
"Traditionally January is a clearance month for retailers, however, even with widespread sales incentives consumers held back their spending this past week," Michael Niemira, ICSC vice president of research and chief economist, said. "As the industry heads into the final weeks of January and the fiscal year for most retailers, the snowstorm in the East will likely curb sales in the coming week."
Johnson's Redbook index also exhibited softness, though the numbers were better than those recorded in the previous week. The index has expanded 3.1 percent over the past 12 months, which compares with the previous week's 2.9 percent rate of growth. Redbook's monthly comparison also improved, contracting at a 0.2 percent rate following the previous week's 0.3 percent rate of contraction.
More From Wall St. Cheat Sheet:
Follow Meghan on Twitter @MFoley_WSCS