Here's How Governor Walker Showed the Dark Side of Citizens United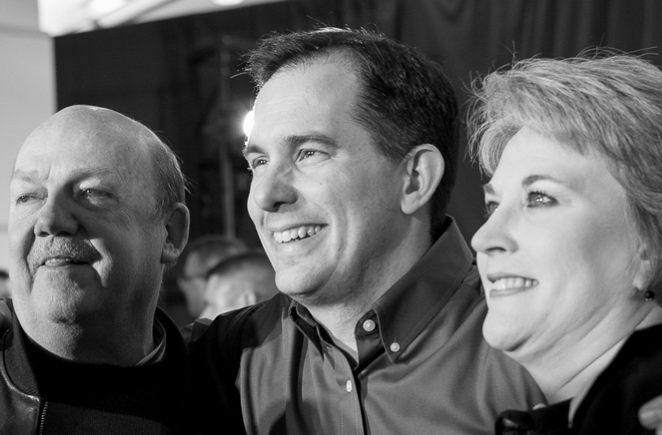 Now is hardly a good time for Governor Scott Walker (R-Wis.) to face a criminal scandal. He's running for reelection this year for the first time and he has been considered and considering a 2016 presidential run. Before ruling him out for any political office, it's worth remembering that scandal didn't stop Chris Christie, it hasn't stopped Hillary Clinton, and with Governor Walker flatly denying allegations, it may blow over.
That said, Mike Tate of the Democratic Party chair in Wisconsin spoke to The Washington Post to the effect that Wisconsin wouldn't be dealing with any illegal action form its gubernatorial candidate. "This is a shocking development. You have a Republican prosecutor saying Scott Walker is at the center of a criminal scheme. You've got communication between Scott Walker and Karl Rove dictating activity that by all appearances is in violation of Wisconsin law. We're not New Jersey, we're not Illinois. We don't send our governors to jail," said Tate, whose rhetoric holds the confidence lent by a party with an opponent doing well in the polls — Mary Burke (D).
The allegations are in reference to Walker's recall election two years ago against Tom Barrett, suggesting that he took part in organized campaign funding efforts with independent groups that resulted in millions of additional funding. This is activity that Wisconsin deems illegal, and that should it prove accurate, will highlight funding concerns brought up by the Citizens United case back in 2010. In some ways, the case was one of the most important election issues to hit the Supreme Court — if not the most important — and held that the First Amendment protected freedom of speech in the form of money spent on campaigns from outside groups.
The ruling was made on the condition and assumption that such groups would not be working with candidates in their efforts, and as such would not be aiding campaigns in exceeding spending limits and donation caps. Walker's alleged crimes — which he is currently and strongly denying the truth of — would mark a concerning deviance from this expectation and demonstrate the importance of careful campaign monitoring and contribution control. Unfortunately, it also reveals just how difficult monitoring of this nature can be.
For example, the investigation into the recall elections is now awaiting news of an appeal after the organization in question, Club for Growth, won a suit ending the investigation for freedom of speech reasons. The suspicions in this particular case stem from documents and emails disclosed in which Walker discusses the work of said organization and how it had aided Republican efforts in Wisconsin, including his own. Disclosure is one condition under which some types of cooperation between candidates and outside groups are allowed, but those accusing Walker insist these conditions were not met with the Club for Growth. Additionally, Walker's legal situation reminds watch dogs as well as other politicians just how difficult certain aspects of "cooperation" can be to police, such as the relocation of strategists from parties to PACs, or even something as simple as shared election resources like video footage to be sliced up for ads across groups and affiliations.
For his part, Walker is clear that he's taking a position of denial and innocence, having called accusations "categorically false," according to The Washington Post. In an interview transcribed on his election page, Walker discussed the accusations with Fox, claiming they're clearly inactionable political attacks. "The facts are pretty clear. You've had not one, but two judges, a state judge and a federal judge … no charges, case over. Both judges said they didn't buy the argument … This is a case that's been resolved. Not one, but two judges have said it's over. We're just learning about it because it became open in documents yesterday, but there is no argument here," said Walker. "They did it two years ago in the recall election. They're going to do it again now. We've got another tough election this fall," said Walker.
Tough is right — with polling from New Marquette Law School showing Burke at 46 percent support from registered voters, Walker receiving 46 percent, and 6 percent polling as undecided. In March, the local law school reported a 7 point lead for Walker at 48 to Burke's 41. Less than a day after the documents hit the public eye, Walker was on the offense, publishing an attack ad against Burke, focusing on her association with former Governor Jim Doyle during her time as Commerce secretary, and saying the pair "gambled taxpayer money on dreadful policy," hitting hard on taxpayer hikes and pro-middle class/retirement rhetoric. The attack was likely timed in an attempt to stave off further drops in polling and combat bad publicity in the media.
More From Wall St. Cheat Sheet:
Follow Anthea Mitchell on Twitter @AntheaWSCS