Here's How Obama Proposes to Spend $4 Trillion in 2016
President Barack Obama has unveiled his proposal for the 2016 federal budget, and it is packed full of surprises and, well, some fairly predictable expenditures. The headline figure is that Obama wants to spend roughly $4 trillion in total and calls for boosting funding for government programs, paid for with tax increases on America's wealthiest citizens. Middle-class citizens would also receive a tax break under the proposal, which Republicans are effectively rolling their eyes at.
"I want to work with Congress to replace mindless austerity with smart investments that strengthen America," Obama said in a speech at the Department of Homeland Security, USA Today reports. "I'm not going to accept a budget that locks in sequestration going forward. It would be bad for our security, and bad for our growth."
Sequestration budget cuts also come to an end under Obama's plan, as does a new tax on overseas earnings that will go toward funding for public works projects. Republicans in the House and Senate, however, aren't having any of it.
"A proposal that never balances is not a serious plan for America's fiscal future, especially when we have to borrow money just to afford the programs we already have," Rep. Tom Price (R-Ga.) and Sen. Mike Enzi (R-Wyo.) said in a joint statement, according to Politico.
Senate Majority Whip John Cornyn of Texas also expressed his dismay, saying that "after six straight years of trying to have it all and losing control of both the House and Senate in the process, it's time for the President to try something new: listening to the American people."
A visual, graphic representation of the budget in its entirety can be seen above, showcasing where exactly most of the funding in Obama's plan is set to go. Obviously, there are four major standouts that swallow up an incredible amount of funding, which isn't much of a change from previous years. Health care is the biggest area of consumption, followed closely by Social Security, defense, and income security.
Health care
As previously mentioned, health care is the biggest area of expense under Obama's 2016 proposal. There is some good news, as part of the health care appropriations call for the authority to negotiate prices of drugs, as a part of the more than $1 trillion in spending. If that were to pass, it could mean substantial savings down the line. But it could also mean a big hit to profits for pharmaceutical and health care companies, which will likely fight to keep that provision — introduced under earlier legislation — intact.
The New York Times reports that the plan, which calls for nearly $590 billion in medicare expenses, to reduce those expenditures over the next decade. Essentially, the plan would shift some costs away from the government and onto individual citizens, which has some senior citizens and others worried.
Social Security
Another huge entitlement expense is Social Security, on which Obama plans to spend $944 billion in 2016. This is one of the more interesting provisions in the overall proposal, because it sets up a fight with Congressional Republicans who implemented a rule last month blocking a transfer of revenue from the retirement fund to the disability fund. Some viewed the move as an attempt to further weaken Social Security as a whole, and Obama says that he wants to strengthen it to care for low-income seniors.
This is an area which will become increasingly stressed in coming years, as the baby boomer generation ages and starts, or continues to, retire. There will likely need to be a major systematic overhaul at some point, but for now, Obama seems set on making due with the current structure. For good measure, Obama added a special provision allowing older LGBT couples access to Social Security spousal benefits, if they live in states that still don't recognize same sex marriages.
Defense
Defense spending is one area in particular that Obama is looking for a big increase. The president is looking for $585 billion for the military and other defense spending projects in 2016, which is a $38 billion increase over the budget levels under sequestration. Slate puts the number at even higher than that, at just under $621 billion. Regardless, it represents a 4% increase over last year's spending levels. Several defense contractors look to make out big under Obama's proposal, which may be an indication that their lobbying dollars are hard at work.
With the winding down of military operations in both Iraq and Afghanistan in recent years, many probably thought that Obama may pander more toward the left-leaning constituency and gut the defense budget. Obviously, that's not going to happen. In all, defense spending represents 15% of the overall budget proposal.
Income security
Under the "income security" blanket in Obama's budget, it's clear that the president is planning on focusing even more on the lower and middle class. Through entitlement spending that includes things like food and housing assistance, the president's proposal seems to fit with the narrative that Democrats are trying to establish ahead of the 2016 general election.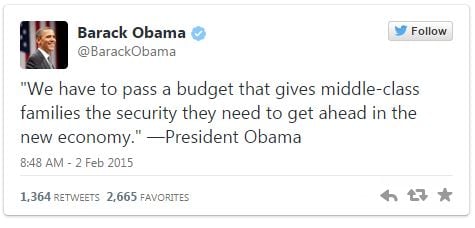 Total spending for income security, as Obama's proposed budget lays out, calls for $546 billion in spending, encompassing earned income and child tax credits, unemployment compensation, and again, food and housing assistance. These are "safety net" spending measures and are likely to be challenged by Republican lawmakers who would like to see cuts in entitlement spending. That hasn't stopped Obama's Democratic allies from praising these kind of spending provisions, however.
"By addressing the wage stagnation that hinders growth, by strengthening our national defense, by investing in innovation and education, the president's budget strengthens the financial security of working families who are the backbone of our country," said House Democratic leader Nancy Pelosi in regard to Obama's proposals, per Yahoo!.
Everything else
While the aforementioned categories swallow up the vast majority of Obama's 2016 federal budget proposal, there are a number of other, albeit less expensive, items on the docket. The president plans to allocate $283 billion on net interest and more than $180 billion on veteran's benefits. There is just under $99 billion included for transportation and infrastructure projects — an area in which the country is in dire need of investment.
Another form of investment, that in the future of our children through education, will see more than $106 billion under Obama's proposal. That includes money for job training, financial aid for college, special education, and other school funding, and it all comes at a price that is less than what Obama plans to spend on earned income and child tax credits alone.
A constantly hot and exciting topic, we should make a note about science and research spending. For organizations like NASA, the president has decided to allocate more money than in previous years. Scientific American says that scientific research and development is getting a boost of 6% to $146 billion as a part of Obama's budget, but, again, getting Republican lawmakers on board with that increase is the true challenge.
Taking a step back and looking at the budget as a whole body of work, it's easy to focus on the good or the bad, and even easier to pinpoint the areas where the president can expect a fight from opposition leaders. For businesses, it's important to point out that Obama does propose reducing the top corporate tax rate from 35% to 28%, which would help America compete globally, and step away from the dubious distinction of having the highest corporate taxes in the world. But the president also wants to tax global profits 19%, which would probably be harmful in the long run.
Obama's 2016 budget proposal will receive praise from those on his side of the aisle, and is already being picked apart by those that disagree with him. Four trillion is a very large number, and as we've discussed, most of that money looks to be spent in relatively few places. As with any proposal, it has its positives and negatives, but surely won't get far with the amount of resistance Republicans are already putting up.
More from Business Cheat Sheet:
Want more great content like this? Sign up here to receive the best of Cheat Sheet delivered daily. No spam; just tailored content straight to your inbox.