Here's How Obama's Immigration Plan Began a Fight Over States' Rights
The number of states aiming to sue President Barack Obama over deferred action for immigrants has risen to 26. "This lawsuit is not about immigration. It is about the rule of law, presidential power, and the structural limits of the U.S. Constitution," reads the declaration of complain and injury, filed originally by Texas, Alabama, Idaho, Indiana, Kansas, Georgia, Louisiana, Montana, Nebraska, South Carolina, South Dakota, Utah, West Virginia, Wisconsin, Mississippi, Maine, North Carolina, Idaho. Tennessee and others have joined since then.
There are 12 other states that have filed defense briefs in favor of the president's actions, saying, "Plaintiffs' speculative allegation that the directives will harm states is both unsupported and inaccurate. The truth is that the directives will substantially benefit states, will further the public interest, and are well within the President's broad authority to enforce immigration law." Signing onto this were states including California, Connecticut, Hawaii, Illinois, Iowa, Maryland, Massachusetts, New Mexico, New York, Oregon, Vermont, Washington, and the District of Columbia.
The case is being considered by a federal judge in the state of Texas and is expected to be decided soon. Those opposing the case have suggested the choice of judge was biased, those in favor have argued an overabundance of speculation on the outcome is being done, and the obvious arguments over the potential benefits and/or injuries from Obama's action.
So why and how did states chose which side to fall on? Why have some states remained silent? John Feere of the Center for Immigration Studies tweeted the following updated map, color-coded to show how states have shaken out on the issue.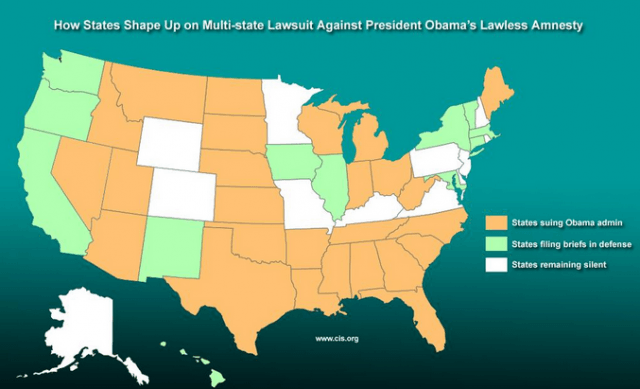 Only 12 states have remained out of the issue, but perhaps the two most interesting and obvious explanations for state breakdown come from Texas and California. Pew Research considered the lawsuit and those states on each side of the issue, than compared the number of immigrants without documentation who might be within Obama's deferred action category living in each state. It found that of those 26 looking to block the action, only 2.3 million eligible immigrants out of the total 5 million were. Comparatively, those not seeking to block the effort contain 2.7% of that population, half a million more. However, the two states that stick out in each category as having a large proportion of the population are Texas and California. In fact, Texas has as many unauthorized eligible immigrants as 22 other states combined at 825,000. It is also heavily Republican politically.
Comparatively, California has 1.2 million eligible immigrants living there illegally, but is fairly liberal politically. So it may seem obvious that two of the states where the issue is most relevant, and two of the most politically polarized states, would be on opposite sides of the matter. But is it really an issue of relevancy? "Many of the states suing have relatively few unauthorized immigrants who may qualify for relief," reports Pew Research. "For example, Maine, Montana, North Dakota, South Dakota, and West Virginia each have fewer than 5,000 potentially qualified unauthorized immigrants residing in their states." The research group did point out, however, that all states opposing the action, but two had either a Republican governor or a Republican state attorney general. So once again, it does appear to be more a matter of party polarization than relevancy.
So why did some states keep out of the discussion. That's perhaps where relevancy comes in once more — that or some states are simply a little slow on the uptake. Alaska, for example, is commonly considered a fairly red state. However, it hasn't taken a stand on the issue of Obama's executive action, or "amnesty" as opponents call it, and the reason is fairly obvious when one looks at Slate's map of the populations of immigrants living in the country illegally by state.
Only 10,000 of the 690,000 population in Alaska was made up of immigrants living there illegally in 2010, when the data was compiled. That's a mere 1.4%. The other states that have yet to officially support either opinion include a mix of Democrats and Republicans, but they all have something in common. With the exception of New Jersey, none had greater than a 3.6% population of immigrants without documentation, much less than were eligible for Obama's deferred action.
Wyoming had a 1.8% population, Colorado had 3.6%, Minnesota had 1.6%, Kentucky had 1.8%, Virginia had 2.7%, Missouri had a mere 0.9%, Pennsylvania had a 1.3%, Delaware and Rhode Island had 3.0%, and New Hampshire had a 1.2% population of immigrants living there illegally. New Jersey was the exception, with a 6.2% population. So while low immigrant population does not guarantee neutrality, it does make it easier to remain uninvolved in a lawsuit.
Follow Anthea Mitchell on Twitter @AntheaWSCS
More from Politics Cheat Sheet:
Check out Politics Cheat Sheet on Facebook