Here's How the U.S. Is Helping Israel Fight Hamas
Given the current situation in Gaza, which as of Tuesday a.m. saw another temporary ceasefire between Israeli forces and Hamas, now seems an opportune time to examine U.S. aid to Israel. Historically, and still today, the U.S. has maintained a very strong relationship with Israeli forces against extremist terrorist groups. There has been increased controversy over the number of civilian Palestinian deaths; so far, 1,800 Palestinian deaths, with Israel losing 64 soldiers and three civilians, according to The Guardian. However, negotiations this week look likely to be strained.
The United States' role in supporting Israel is an important one, and it is therefore worthwhile to outline just what type of connection the U.S. has. We'll look at the National Security Agency's relation with Israel in intelligence sharing, U.S. military support, financial support, and diplomatic support.
Intelligence and Israel
A memorandum between the NSA and the Israeli Sigint National Unit (ISNU) discussed shared intelligence information flowing from the U.S. to Israel. It outlined rules to govern the logistics of this exchange, and in it, the document states that, "NSA routinely sends ISNU minimized and unminimized raw collection" and is "part of the SIGINT relationship between the two organizations. This mutually agreed upon exchange has been beneficial to both NSA's and ISNU's mission and intelligence requirements."
The document is both evidence of the open, working relationship between the two organizations, and evidence of a privacy problem in some minds, as The Guardian points out. American communications are also sometimes in amongst the information passed on, because the data isn't filtered to remove such content. As a result, the document outlines rules for how any such information, when found, should be dealt with.
Of course, the NSA isn't the sole point of contact between the two countries. An information paper published April of last year by the NSA noted an "expansion" of US and ISNU relations. "Significant changes in the way NSA and ISNU have traditionally approached SIGINT have prompted an expansion to include other Israeli and U.S. intelligence organizations such as CIA, Mossad, and Special Operation Division (SOD.)" This report outlines the biggest items of mutual interest, which include communications, security, weapons, and intelligence information. This extends across a number of regions: the Middle East, South Asia, the Persian Gulf, and former Soviet Union republics.
The U.S. provides Israel with "expanded geographical access to world-class NSA cyptanalytic and SIGINT engineering expertise" as well as technology and equipment. The ISNU gives the NSA the same exact thing, as well as "access to large poll or highly qualified analysts."
Military Support
In July, ABC reported that Israel received tank rounds, grenade launchers, and illumination rounds in a weapon transaction with the U.S. taken out of the $1 billion worth of ammunition stockpiles the U.S. has set aside for Israel. The stockpile can be drawn upon in emergencies and for convenience sake. The sale was controversial as it took place after the violent outbreak in Gaza, but according to a statement from Pentagon spokesman Rear Admiral John Kirby to ABC, the sale was in line with the objectives of the U.S. to "assist Israel to develop and maintain a strong and ready self-defense capability." The stockpile is available to the Israeli government for purchase and is maintained and resupplied with items such as armored vehicles and ammunition of various types, as well as missiles.
The U.S. government isn't the only one supplying Israel with weaponry. British ministers recently stated — according to The Guardian – that the $13.49 billion (8 billion euros) worth of military sales are under review to ensure they remain appropriate in light of events in Gaza, but that Israel has a "legitimate right to self-defense."
Fiscal Support
According to a Vox analysis of Foreignassistance.gov data, the largest foreign aid request for fiscal year 2015 was overwhelmingly for Israel at $3.1 billion worth, the second most being the foreign aid request for Afghanistan of $1.6 billion. This is of particular interest because, as Vox points out, Israel is comparatively a rather rich nation, and there are far fewer people in Israel as compared with other struggling Middle Easter recipients, including Afghanistan, Egypt, and Pakistan, as shown in the table below.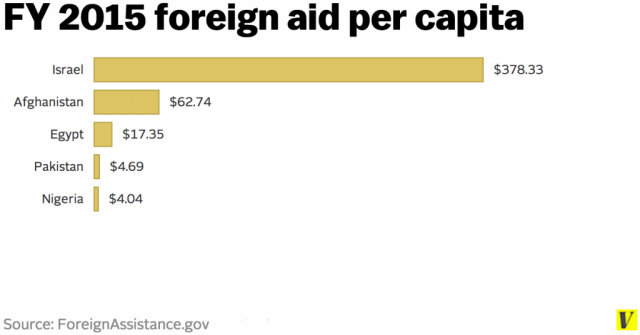 Diplomacy
The U.S. has stood firm on its support of Israel's policy against Hamas, even in light of recent violence. In both of the recent phone calls with Prime Minister Benjamin Netanyahu, it has been clear that President Barack Obama recognizes the problematic number of civilian casualties, but phrases it as "serious concern about the growing number of casualties, including increasing Palestinian civilian deaths in Gaza and the loss of Israeli soldiers" or as the "worsening humanitarian situation in Gaza."
He very clearly draws the line in the sand, though, in "reiterat[ing] the United States' condemnation of attacks by Hamas against Israel, and reaffirm[ing] Israel's right to defend itself," while emphasizing that a ceasefire is being worked on by all parties and noting that "any lasting solution to the Israeli-Palestinian conflict must ensure the disarmament of terrorist groups and the demilitarization of Gaza."
More From Politics Cheat Sheet:
Want more great content like this? Sign up here to receive the best of Cheat Sheet delivered daily. No spam; just tailored content straight to your inbox.
Follow Anthea Mitchell on Twitter @AntheaWSCS