Here's the Cost of Obamacare
The Affordable Care Act was promised to both lower health care costs and improve health care quality. In simple terms, the idea was that increasing an individual's access to preventative care will improve health and therefore reduce expensive trips to the emergency room (that they patient can often not pay for) and decrease the incidence of chronic illnesses. The administration argued that ensuring that a far larger majority of Americans were insured made financial, moral, and practical sense.
And as presidential candidate in 2008, President Barack Obama argued that health care was a right. During the second presidential debate with Republican Senator John McCain of Arizona, his populist campaign platform evolved as he acknowledged that many Americans had seen their health care premiums increase substantially in recent years. "We've got to reform health care to help you and your budget," he stated. "So one of the things that I have said from the start of this campaign is that we have a moral commitment as well as an economic imperative to do something about the health care crisis that so many families are facing."
In that same debate, he explained that families who liked their insurance coverage could keep their current plans, and pledged his administration would work with employers to lower family premiums by as much as $2,500. "If you don't have health insurance, you're going to be able to buy the same kind of insurance that Senator McCain and I enjoy as federal employees. Because there's a huge pool, we can drop the costs," he added, flushing out further details of his plan. "And nobody will be excluded for pre-existing conditions, which is a huge problem." During his 2009 inauguration speech, Obama further expounded on the importance of health care reform, noting that the high cost of health care "causes a bankruptcy in America every 30 seconds."
More than six years have passed since that inaugural address; the health care reform has been hammered out, hotly debated, passed without a single Republican vote, and caused a shutdown of the federal government. Its key provision — the individual insurance marketplaces, designed to allow consumers to comparison-shop for health insurance policies in online marketplaces where their collective bargaining power will theoretically foster competition and drive down price — have launched. But the costs of the reform are still a subject of much debate.
How does public opinion view Obama's promise?

By 2014, the Affordable Care Act "will eliminate all discrimination for pre-existing conditions, start the process of expanding health insurance coverage for an additional 32 million Americans, and provide the largest middle-class tax cut for health care in history," promises the Democrat National Committee on its website, under the issue heading "health care."
Yet, despite the magnitude of that promise, unfavorable views of the Affordable Care Act grew in July. After remaining steady for several months, the Kaiser Health Tracking Poll found the share of the public expressing an unfavorable view of the health care law rose to 53 percent last month — an increase of eight percentage points from the previous month's reading. And that jump was accompanied by a decrease in the number of respondents who declined to give their opinion on the reform, which dropped from 16 percent in June to 11 percent. Comparatively, the share of Americans who view the law favorably has remained fairly stable since March, when the first enrollment period for the reform's health care exchanges ended. While that measure edged down to 37 percent from June's 39 percent, it is above January's 34 percent. Republicans continue to oppose the law in greater numbers than their Democrat counterparts, yet the survey showed the increasing dissatisfaction was even across the political spectrum in July. However, the share of Americans who would prefer lawmakers continue to improve the law outnumbers those who rather the reform be repealed, even among Republicans.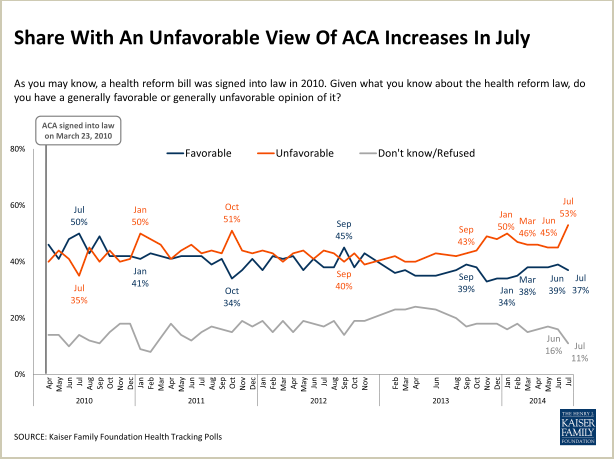 The survey does not expressly give a reason for why Obamacare lost ground. On June 30, the Supreme Court ruled that closely-held for-profit companies — like plaintiff Hobby Lobby, a nationwide arts and crafts supply store chain owned by a Christian family — would not be forced to comply with the Obamacare requirement that employers provide insurance policies covering contraceptive coverage. And while the Kaiser Health Survey found that a slight majority of respondents disapproved of the ruling, and nearly six and ten Americans think it is "very" or "somewhat" likely that employers will use the Hobby Lobby decision as a basis to deny workers coverage for other types of health care services, the ruling is not necessarily the reason for growing dissatisfaction in general.
Despite expressing concern that the Hobby Lobby case will become a dangerous precedent, 50 percent of Americans, including 55 percent of men, believe the decision will not impact women's access to birth control. And 47 percent responded that it is women's responsibility to pay for contraceptives if employer has religious objections. More likely, the cause of increasing dissatisfaction is more personal. Fifty-six percent of the public responded that they have not yet been impacted by the law, but almost twice as many feel the health care reform has hurt them and their family, with 28 percent citing increased health care and health insurance costs as the reason. Negative Obamacare ads have contributed to the public's opinion about the law. And, given the promises made by the president on the campaign trail, rising health care costs will hurt how the Affordable Care Act is viewed.
Why are health care costs rising?
Health care experts are not surprised costs are rising. "Anyone who tells you that he or she can make the health care system more universal, improve quality, and also reduce costs is in denial or misleading you," wrote Aaron Carroll MD, MS, — director of Indiana University's Center for Health Policy and Professionalism Research — in a 2012 blog post. "When it comes to election season, those people are often politicians." Together, access, care quality, and costs are known as the iron triangle of health care, a relationship defined by the geometry of that shape. Just as a triangle's legs can be lengthen if another side is shortened, one or "perhaps even" two of those components of health care can be improved, but those improvements have to come at the expense of a third, as Carroll noted. Therefore, to ensure a health care system can achieve better outcomes, costs will increase or some change in access will be required.
"The ACA starts from a place of wanting to make sure that all individuals can obtain affordable insurance, even if they have a prior medical condition," wrote Carroll. "But if you guarantee access to insurance to everyone and mandate that people with preexisting conditions can't be charged higher rates than their healthier peers, you need to prevent adverse selection (having relatively sicker individuals more likely to buy insurance coverage rather than relatively healthy people) and people gaming the insurance market (forgoing coverage and enrolling only when they become ill) — thus, the mandate that everyone must purchase insurance or pay a penalty. And if you demand that people buy insurance, then you have to make sure they can afford it. That's why you have subsidies," he argued. "The plus is that many more people get access. The negative is that it costs people and the government money. That's the trade-off."
The Affordable Care Act aimed at improving access; enabling a greater number of Americans to be insured through subsidies granted by the federal government. And while the law also sought to bend down the cost curve of health care spending over time, its most important focus was lowering the uninsured rate in the United States. And the link between the accessibility of health care and the lowering of overall systemic costs has been repeated often by the Obama administration. The logic is that when more Americans have coverage, trips to the emergency room, which are very expensive, will decrease because the previously uninsured will have more options for care.
But as sound as that logic is theoretically, research from Massachusetts and Oregon show that increased coverage actually results in more emergency room usage as well as a greater number of discretionary surgeries. And contrary to the administration's dialogue regarding the value of preventative care, a review of preventative measures published in the New England Journal of Medicine revealed that less than 20 percent of 279 preventive measures saved money. Childhood immunizations and newborn screenings have proven to be cost-saving, while the remainder of those procedures result in varying amounts of increased spending. Still, the fact remains that the primary objective of the health care reform was to make coverage affordable for a large portion of the uninsured population, through the expansion of Medicaid and the subsidized coverage offered through the exchanges.
Who do rising health care costs hurt?

Carroll's main point is that "You have to take the bad with the good," and "If you want to save money, you have to cut spending." In the case of the Affordable Care Act, the bad is that spending on health care from emergency room visitations, prevention, and procedures will increase. But the benefits are not to be discounted. Carroll argues that "sometimes good things cost money," and many of the people visiting emergency rooms, having those surgical procedures needed that care. In his opinion, "it's likely" that much of that care will improve long-term health. It is also possible that overall health care spending may remain flat or even decrease as the result of other changes to the American health care system or completely separate economic factors.
And early data suggests that the number of uninsured Americans has decreased. According to a survey conducted by the Commonwealth Fund, the proportion of working-aged Americans without insurance fell from 20 percent in the late summer of 2013 to 15 percent in late spring of this year, a time-period that approximately corresponds to the enrollment window for the Affordable Care Act's insurance exchanges.
And while there remains millions of uninsured Americans, that drop is roughly equal to 9.5 million people who became insured. Comparatively, the recent decline in health care spending growth was a function of the recession and slow economic recovery rather than any change in government policy, according to a recent study from Brookings.
So are premiums going to increase?
However, questions of sustainability remain. And the Affordable Care Act has yet to prove the bad is worth the payoffs. Obamacare's success depends on the affordability of insurance premiums; if that basic cost is prohibitively expensive, fewer Americans will enroll, fewer people will believe they are getting a good deal, and the portion of the bill picked up by the federal government will increase as a greater portion of premiums will be subsidized for lower-income Americans. It is nearly impossible to say how premium costs will increase from year to year in the United States as a whole. Prices will vary greatly from state to state because each exchange contains a different composition of individuals, and the age, gender, and health of enrollees dictate the price of premiums. Before the exchanges opened for enrollment last October, the worry of Obamacare's critics was that the insurance policies offered through the Affordable Care Act marketplaces would not be affordable enough to attract millions of uninsured Americans. Those fears were not realized. But generally, 2014 saw across-the-board premium increases, with women experiencing rate hikes in 82 percent of U.S. counties and men a jump in 91 percent. Premium price changes ranged from an increase of 271 percent for men in Buchanan County, Missouri to a 70 percent decrease in northern New York state, and on average, premiums rose 49 percent. For 2015, premium prices are expected to see only minor increases. A few states — including Virginia, Washington, Florida, and California — have disclosed rate increases, but it is likely that fears of a double-digit hike nationally are overblown.
Are hospitals and insurers benefiting?
Companies, from hospitals to insurers, have a huge stake in the stability of the health care reform, and already the winners and losers have begun to emerge. With 8 million people enrolled in insurance policies purchased through the Affordable Care Act's exchanges, a number of hospital operators (but not all) have seen a significant increase in admittance rates, evidenced by sizable jumps in revenue. Filings show Tenet Healthcare saw patient volumes increase 4 percent year-over-year in the second quarter, accompanied by a 22 percent decrease in uninsured inpatient admissions and a 37 percent jump in earnings before interest, taxes, depreciation, and amortization. The hospital operator's chief executive, Trevor Fetter, told The Wall Street Journal that the maternity care, spine treatment and a number of other procedures were especially sought out by patients covered by policies purchased through the marketplaces, many of whom were previously uninsured and had likely delayed care. Hospitals in states that chose to expand Medicaid also saw a rise in patient volumes. And while it must be noted that a number of Americans have also newly obtained insurance coverage as the result of a healthier labor market, the U.S. economy has added at least 200,000 jobs in each of the past six months, hospitals estate that one-third to one-half of their patient volume increases are thanks to the health care reform law. Medical device companies and other hospital suppliers have begun to enjoy the trickle down effects of those gains.
As for insurers, a number of providers — including Cigna — are dealing with a flood of costlier-than-expected patients, which forced them to allocate a larger share of premiums collected in the second quarter on medical expenses than last year. And insurers' medical loss ratio, a key measure of financial success, is increasing partly because those individuals with exchange coverage, who were likely previously uninsured, are seeking health care at higher rates. During a recent interview with the Journal, Cigna Chief Executive Officer David M. Cordani said that, based on current enrollment, Obamacare exchanges are "not a sustainable model." But he does expect enrollment demographics to evolve, with overall numbers increasing and therefore obtaining a more healthy mix of  customers. However, that process will take time. "I have a feeling we're going to go through an incredible amount of tumult for the next probably five to 10 years," said Glenn Steele — chief executive of Geisinger Health System, a nonprofit hospital-operator and health plan owner in Pennsylvania — told the publication.
Another key concern is how doctors have been impacted. As PBS reported, the changes to private plans mandated by the Affordable Care Act mean insurers reimburse health care providers at a far lower rate than previously in a number of states. "I cannot accept a plan [in which] potentially commercial-type reimbursement rates were now going to be reimbursed at Medicare rates," Hartford, Connecticut-based Dr. Doug Gerard told PBS. "You have to maintain a certain mix in private practice between the low reimbursers and the high reimbursers to be able to keep the lights on."
Furthermore, employers are experiencing an increase in health costs, partly due to new taxes on insurance premiums implemented to support the health care reform.
What is the fiscal cost?
The last cost to be considered is the fiscal impact of the health care reform. The nonpartisan Congressional Budget Office calculated last month that between 2009 and 2012 the federal government recorded the largest budget deficits relative to the size of the economy since 1946, which caused the national "debt to soar." And excessive deficits and the increasing amount of federal debt held by the public is harmful to the nation's credit, slows investment in the economy, and breeds uncertainty for the public and private sectors. The CBO projected that deficits will continue to grow until 2039, at which time the federal debt held by the public expressed as a percentage of gross domestic product will hit 106 percent — a level that has not been touched since the aftermath of World War II spending. And the agency attributes that deficit growth to increases in mandatory spending on entitlement programs — specifically, Medicare, Medicaid, Social Security, and Obamacare.  Both economists and lawmakers on both sides of the political spectrum attribute agree these programs are the main drivers of the national debt, which is close to $18 trillion. And while entitlement programs were financially unsustainable before Obama was elected, the health care reform and the expansion of Medicaid added additional strain. Plus, with labor force participation at historical lows, the country's ability to pay off the debt is decreasing.
Namely, the Affordable Care Act is pushing federal government spending higher through the expansion of Medicaid and health care subsidies. To fund the tax credits the federal government will distribute to subsidize the cost of health insurance for those Americans earning between 138 percent and 400 percent of the federal poverty level — a income bracket that may include as many 17 million individuals — the federal government is boosting tax revenues by $1 trillion over the next ten years. But subsidies are also adding to the deficit.
Still, the CBO also noted that cost-control measures included in the reform law will help to reduce the growth in overall federal health care spending.
Does Obamacare have a political cost?

It is dubious whether Republicans will be able to leverage the health care reform into political capital. But the party's leaders are trying. As Politico reported this week, with fewer than 100 days left before November's congressional midterm elections, Republican pollsters have completed tests on fifty-seven criticisms of the Affordable Care Act. The claims voters found most "persuasive" were that huge numbers of Americans will be forced off their health insurance plans and into more expensive coverage, that the reforming is increasing premiums to such a degree that businesses are being forced to cut workers' hours, and that Obamacare represents a government takeover of health care. Yet a majority of these arguments are exaggerated, misleading, or simply false; and all are contested by Democrats. And, as the Kaiser Family Foundation tracking poll proved, most Americans report the law has little to no direct impact on their lives — a fact that shows the rhetorical debate over the law has little basis in Obamacare realities.
Yet, even though anti-Obamacare advertisements are on the rise and the popularity of the reform law dropped in the past, Kaiser polling experts did not find any statistical difference in public opinion in Senate battleground states and states without competitive statewide congressional races.
More From Politics Cheat Sheet:
Follow Meghan on Twitter @MFoley_WSCS