Here's What Republicans Are Planning for 2015
Now that elections are over, it's time to get down to business in government, or at least everyone hopes that's the case. Gridlock and bipartisan failure may well have followed Congress and Obama like two small, unloved puppies convinced there's snacks hidden in everyone's pocket. But, with any luck, common ground can be found and legislative efforts will soon be underway.
There's no question though that Democrats and Republicans have different priorities and preferences for this coming year, but with Republicans holding the majority in both the House of Representatives and the Senate after a brutal midterm for Democrats, their priorities have more voices. Let's see what top five items many in the GOP will have on their list.
1. Out with Obamacare
Unsurprisingly, repealing Obamacare was a major running point for many senatorial candidates during the election, and proving how little has perhaps changed since the shutdown last year, many Republicans are still hoping to remove Obama's signature health care law.
House Majority Leader John Boehner (R-Ohio) and Senate Majority Leader Mitch McConnell (R-Kent.) co-wrote a piece for the Wall Street Journal just after the November 4 election and Republican's victory was assured, stating that to "honor the voters' trust" they would, among other things, be "renewing our commitment to repeal ObamaCare, which is hurting the job market along with Americans' health care."
2. Get construction started on the Keystone Pipeline
This was discussed a great deal last week when Sen. Mary Landrieu (D-La.) and Rep. Bill Cassidy (R-La.), who is vying for her seat in Louisiana runoff elections, pushed to get motions passed to continue construction on the Keystone XL Pipeline, a major legislative item for their state's economy, if proponents are to be believed.
While Landrieu may be on board with Republican sentiments, as are quite a few Democrats whose states would benefit from having the pipeline run through and subsequent job creation, it's still certainly more of a Republican priority — and currently is an item the Obama administration has been pressing pause on until environmental reviews are available on potential effects.
"In the days since the election, Republicans have begun to make good on our vow to honor your trust by focusing first on jobs and the economy," said Rep. Brad Wenstrup (R-Ohio) this week. "On Friday, the House voted to approve the Keystone XL Pipeline which will help lower energy costs and get people back to work. We ask President Obama and Senate Democrats to finally give this project the green light that the American people have been waiting for." The passage of a Keystone measure was good news for Cassidy's fight for Louisiana — though realistically he may not need the boost at this point.
3. Cut down Dodd-Frank
The Dodd-Frank Wall Street Reform is another item, next to Obamacare on Republicans' hit list. Sen. Boehner tweeted Monday "#DoddFrank has failed to end 'too big to fail' & hurts small community banks & local credit unions," alongside the image below: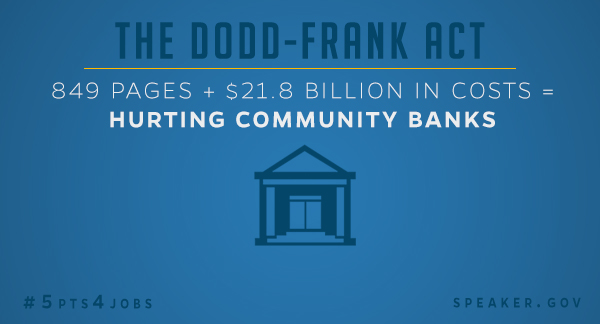 Signs do point to regulatory side effects that have limited certain areas of banking, and for Republicans the Wall Street reform, meant to handle some of the causes of the U.S. recession. Peter J. Wallison, a fellow at the Financial Policy Studies with the American Enterprise Institute, wrote a piece for The Weekly Standard describing Dodd-Frank as "Obamacare for the financial industry," writing, "Like its health care counterpart, it leaves the members of the massive financial service industry as privately owned firms, but blankets them with so much regulation that they are no longer really independent operators."
Political opposition to the reform on the part of the GOP certainly is reminiscent of Obamacare's dog-with-a-bone mentality. Republican opponents argue that non only has the act systematically socialized banking further, but it has had the opposite of intended effects in terms of preventing another financial crisis and big banking bailout.
4. Support the National Security Agency
Realistically all government regulation and reform on government intelligence gathering should be suspect; bipartisan suspicion is the way to be when it comes to privacy and surveillance. However Republicans moreso than Democrats tend to sympathize with security interests than with policy curtailing data collection, at least based on the bill passed by the House in May.
Tech companies criticized this May measure for allowing continued collection of Internet data, according to Bloomberg Businessweek. Conservatives are far more supportive of surveillance programs, in opposition to Obama's emphasis on net neutrality and privacy protection.
5. Keep amnesty out of immigration reform
While it's in the interest of both parties to see immigration reform passed, each has a very different strategy for how this should be done. Republicans place an emphasis on border security, and many are highly vocal in their opposition to any form of path to amnesty policy.
President Obama has indicated that he plans to pass executive action rather than wait on the Republican Congress to pass immigration reform, a move many in the legislature's GOP have warned against, especially considering the action would be more sympathetic toward amnesty than conservatives are comfortable with. "It's like waving a red flag in front of a bull," said Sen. McConnell, according to the NYT. "When you play with matches you take the risk of burning yourself," said Boehner, according to the Huffington Post, "and he's going to burn himself if he continues down this path."
Rep. Wenstrup also addressed this issue in his talk earlier this week, saying, "The president also continues to raise the possibility of taking unilateral action on executive amnesty. We've warned him that such action would make it that much harder to pass immigration reform and find common ground."
More from Politics Cheat Sheet:
Follow Anthea Mitchell on Twitter @AntheaWSCS