Here's Where the Labor Market is Heading
"Steady as she goes in the job market," reported Moody's Analytics economist Mark Zandi Thursday morning. And there is plenty of data to support that assessment. Data from Gallup shows that Americans' satisfaction with job security has returned to high pre-recession levels; both unemployment and employment levels remain stable; and the percentage of Americans reporting their employers are hiring and expanding their workforces has held constant at a six-year high for several months.
The monthly National Employment Report compiled by payroll processor ADP and Moody's Analytics calculated that private sector employment increased in August by 204,000 jobs, growth consistent with a healthy labor market. Economists consider the addition of 200,000 jobs a key labor market benchmark. Furthermore, outplacement consultancy firm Challenger, Gray & Christmas data revealed that planned layoffs continued to decline last month while emerging unemployment remains well within normal bounds. But the lesson of the more than five-year long recovery remains true: Headline numbers often tell a more positive story than the narrative told by the complete range of labor market and economic data.
Wage stagnation, mediocre but stable economic confidence, improving views on job security, stronger job creation numbers, low layoffs, and the return of emerging unemployment to pre-recession levels weave together the backstory for the Department of Labor's key August Employment Situation Report, which will be released Friday.
ADP's National Employment Report
"At the current pace of job growth the economy will return to full employment by the end of 2016," noted Zandi in Thursday's report. The 229,000 positions added to payrolls in May meant all the jobs lost during the recession have been recaptured, leaving employment at an all-time high of 138.4 million people. Of course, in the five years of the recovery, the U.S. population has grown, and so the percentage of Americans that are employed remains smaller than before the recession began. According to an analysis conducted by the liberal-leaning Economic Policy Institute, more than 7.1 million jobs need to be created to fill that gap. And that reality indicates to the think tank's economist Heidi Shierholz that the United States is "far, far from healthy labor market conditions." And Zandi expects that as long as employment gains continue to surpass 200,000 per month that gap will take more than two more years to close. Still, his reading is far better than the estimate economists made last year, when slow growth proceeding Labor Day 2013 prompted analysts to pinpoint 2021 as the year in which all jobs lost or never created in the recession would be regained.
The employment report produced by payroll processor ADP and Moody's Analytics, a less authoritative precursor to the Department of Labor's Employment Situation Report, confirmed that businesses are curbing layoffs and hiring more workers, which will improve consumer confidence. ADP data showed payrolls expanded by 204,000 jobs in August, down from the previous month's 218,000 payroll additions. And while August's figure was below expectations, the gains were "broad based across industries and company sizes," according to Zandi. Small companies, employing between one and forty-nine workers, added 78,000 jobs to payrolls; job growth for medium businesses, with between fifty and 499 employees, totaled 75,000; and large companies, with more than 500 workers, expanded payrolls by 52,000. And, as has been typical of job growth throughout the recovery, the service-producing sector accounted for a large percentage of the month's employment gains, creating 164,000 jobs while the goods-producing sector added only 41,000 jobs. New positions were concentrated in the professional and business service industry, where companies expanded payrolls by 51,000 jobs. The trade, transportation, and utilities industry added 28,000 jobs; manufacturing created 23,000, the highest total since December 2012; construction added 15,000 jobs; and, in the financial industry, employment grew by 5,000.
Economists expect the government's official Employment Situation Report to show U.S. employers added 230,000 jobs last month, above the 209,000 created in July, while the headline unemployment rate is projected to decline from 6.2 percent to 6.1 percent.
Data from both the Labor Department and ADP indicates that even though job creation numbers have topped (or are expected to surpass) the key benchmark level of 200,000 in both July and August, job creation is losing momentum, likely because employers are confident they can meet consumer demand after boosting hiring earlier in the spring. After all, consumer spending, and ultimately greater economic growth, will be held back as long as wages remain stagnant, even though total employment statistics have improved significantly so far this year.
Jobless claims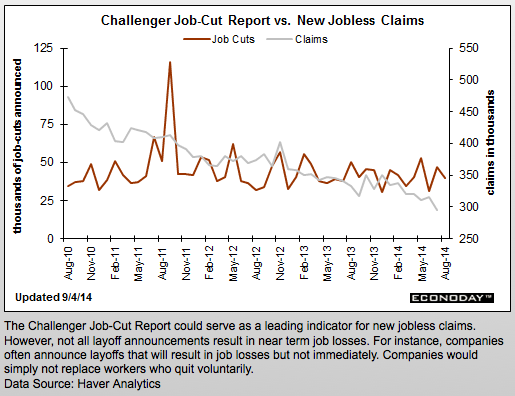 While job creation may slack slightly in the coming months, "layoff activity is very low," as Ameriprise Financial senior economist Russell Price told Bloomberg. And he believes that "companies have a need for the current people on the books and are looking to hire more," albeit at a slightly lower pace than in the second quarter. If jobs growth tops 200,000 in August as is expected, that will mark the seventh consecutive month in which that benchmark level has been reached, making it the longest streak of healthy job creation since 1997. And the health of the labor market can also be seen in the ongoing decline in layoffs, a trend that is evident in the stabilization of emerging unemployment numbers. The fact that initial application for unemployment benefits, otherwise known as jobless claims, are trending around pre-recession levels suggest that hiring will continue to proceeded at or above the key benchmark level of 200,000.
Jobless claims — which serves as a proxy for layoffs and emerging unemployment — fit within the strong recovery narrative. In the week ended August 30, the number of Americans filing initial jobless claims did slightly rise, with applications increasing 4,000 to 302,000. However, the total number of Americans receiving unemployment benefits fell to its lowest level in seven years; the number of workers continuing to draw unemployment benefits — a measure reported with a one-week lag — dropped by 64,000 to 2.46 million in the week ended August 23.
The increase in weekly jobless claims was accompanied by a jump in the four-week moving average. Jobless claims provide the first look at the employment situation for any given month, but since the weekly figures can be volatile, economists use the four-week moving average to understand wider trends in employment, which are far more telling of labor market health than weekly readings. Last week, that key measure rose 3,000 to 302,750.
Last week's increases in initial jobless and the four-week moving average is by no means concerning. TD Securities strategist Gennadiy Goldberg told The Wall Street Journal that he sees "potential for further improvement in this [emerging unemployment] indicator as momentum remains to the downside," meaning the analyst believes that labor market and economic indicators suggest initial jobless claims will continue to decrease in the near future. Historical evidence indicates the take-up rate — or the percentage of Americans who are eligible for and take advantage of unemployment benefits — should continue to fall as the average duration of unemployment shrinks and out-of-work Americans become more confident in their ability to find employment quickly. Typically, decreasing layoffs numbers prepare the labor market for an acceleration in job growth. And the fact that employment gains have been consistently strong over the past several months, pushing the headline unemployment rate down a significant 11 percentage points over the past twelve months, has improved Americans' views of their prospects of finding employment. The share of consumers who said jobs are "plentiful" increased to the highest level recorded since March 2008, according to Conference Board data.

Planned layoffs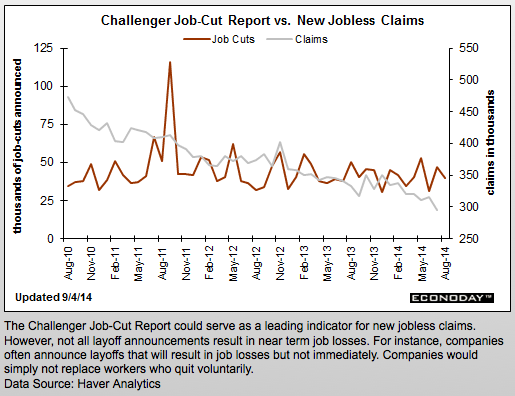 The Challenger Job Cut report further quantifies how employers are managing their workforces. In August, US-based employers announced a total of 40,010 planned layoffs — a 15 percent decline from July's reported job cuts and a 21 percent decrease from the number of layoffs announced this time last year. This marked only the fourth time in 2014 that the monthly layoff total was lower than the comparable period of last year, but still the year's total job cuts are down 4 percent from 2013 levels thus far. And, to John A. Challenger, chief executive officer of the outplacement consultancy firm, the majority of the job cuts "appear to be motivated by fundamental changes in the industry" rather than "economic weakness."

"Electronics, computer, telecommunications, transportation, and entertainment are all areas that should be flourishing right now. And, in many cases, firms in these industries are doing well," he noted. 'The cuts we are seeing, are coming from companies that did not keep up with the rapidly changing trends that are constantly redefining what products and services are in demand. Now, they are playing catch-up, laying off workers in some areas, hiring in others, and simply cutting layers of management in order to become more nimble and better prepared to meet the next trend shift." For example, electronic firms — like Cisco Systems, which announced plans to reduce its payroll by 6,000 jobs following weak quarterly results — have experienced the largest increase in year-over-year jobs cuts.
But while fewer Americans are being laid off, long-term unemployment remains elevated and the labor force participation rate stands near record lows — the dual concerns of Federal Reserve Chair Janet Yellen.
Wage stagnation
Despite the increasing optimism of labor market analyses, the economic recovery is more notable for resurging corporate profits than for the quality job creation or wage and salary growth.
"Five years after the official end of the Great Recession, corporate profits are high, and the stock market is booming. Yet most Americans are not sharing in the recovery. While the top 0.1% of income recipients — which include most of the highest-ranking corporate executives — reap almost all the income gains, good jobs keep disappearing, and new employment opportunities tend to be insecure and underpaid. Corporate profitability is not translating into widespread economic prosperity," noted William Lazonick, professor and director of the University of Massachusetts Center for Industrial Competitiveness, in a paper published by the Harvard Business Review.
In 2013, after-tax corporate profits made up the largest share of the United States economy since 1965, while labor compensation accounted for the smallest percentage since 1948. And since 1979, wage growth has not kept pace with productivity gains. From the first half of 2013 to the first half of 2014, research from the Economic Policy Institute shows that hourly wages, adjusted for inflation, dropped for nearly all Americans. The only exception was a small gain experienced by the bottom 10 percent of wage earners thanks to minimum wage increases made by 13 states this year. These trends leave most workers with stagnant or falling wages and corporations, shareholders, and executives with big gains.
More from Business Cheat Sheet:
Follow Meghan on Twitter @MFoley_WSCS