Here's Why Americans May Not Turn Out for Elections This Year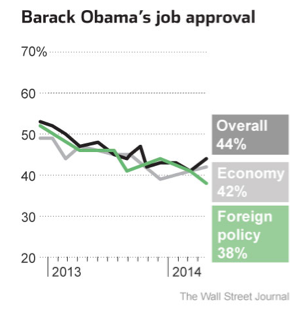 This past year has put a strain on American's relationship with Washington. There was the IRS scandal, Fast and Furious, the government shutdown over Obamacare, and the Snowden leaks and NSA scandal — not to mention a distinct lack of progress on major items such as immigration. Americans are frustrated, and for politicians headed into election, this will be bad news. Midterm elections are usually a little slower in terms of voter turnout — especially for Democrats — but this year may prove an especially big challenge both in getting votes for incumbents and encouraging voters to show up at all.
The newest poll from The Wall Street Journal/NBC News shows that across parties, the feeling is largely negative. It reports that only 36 percent of Democrats feel positively towards Democrats and 25 percent report positive feelings for Republicans. The poll puts positive feelings for Hillary Clinton at 48 percent, President Barack Obama at 44 percent, Rand Paul at 23 percent, and Jeb Bush at 21 percent. Gallup put Obama's job approval slightly lower, at 42.4 percent in April, a slight increase over the initial 41.2 percent in the previous quarter.
The Journal/NBC poll also looked at public confidence in various organizations, and showed telling comparisons. The military and high-tech industry fared well, both over the 50 percent mark at 69 and 53 percent, respectively. Religious leaders/organizations, national news media, large corporations, and the federal government all received discouraging marks, though. Religious leaders did best of the four, at 24 percent saying they have a great deal or quite a bit of confidence. After that comes the national news media with — ouch! — 19 percent confidence, the federal government at 16 percent, and large corporations at 13 percent. The stats on the federal government was then broken down by partisanship, which showed that Republicans, of course, had less confidence, with 59 percent saying they had very little or no confidence. Still, even Democrats showed 30 percent saying they had very little to no confidence in the American national government, 5 percent more than report having quite a bit or a great.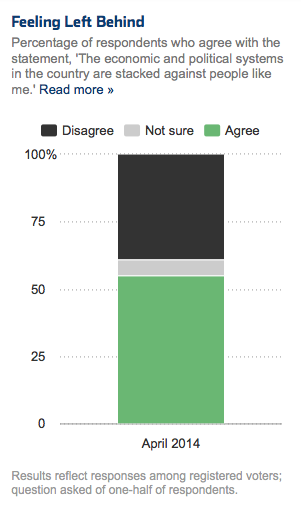 This lack of confidence in the federal government, combined with particularly poor polling results on whether or not the U.S. is headed in the right direction — under 50 percent since 2004 — and frustration with both Republicans and Democrats alike seems like it should push Americans to action, perhaps through a visit to the voting booth. A Gallup poll shows that the opposite looks more likely to happen.When asked whether or not they were more or less enthusiastic about voting in this election compared with the 2010 election, 53 percent report they're less enthusiastic, with only 35 percent saying they are more enthusiastic.
Democrats are less enthusiastic than Republicans, with 32 percent of respondents saying they are more enthusiastic and 55 percent less enthusiastic, compared to 50 percent of Republicans who are less enthusiastic, and 42 percent who are more. The enthusiasm of voters could have two key components. The first is that it may indicate how well voters believe their parties will do in the elections. It makes sense that Democrats would be less enthusiastic facing a potentially worse outcome this time around. The other is that enthusiasm may be predictive of voter turnout.
"The lower level of engagement at this point compared with similar points in prior years may indicate that overall voter turnout will be lower than in the last two midterm election years," said Gallup. While that's bad news for both parties, it looks to be worse news for Democrats.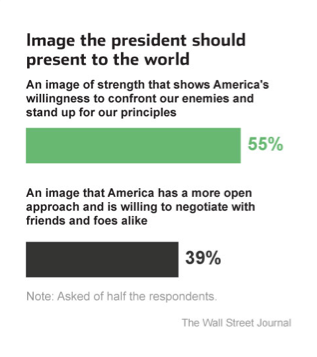 With low voter participation projected for November's coming elections, the survey does far more than project a dismal reality for American democracy. The results also reflect Americans' changing perception of their place in the world. The Journal/NBC poll found that a large number of Americans want the United States to limit its role in world affairs — even as the conflict between Russia and Ukraine intensifies and increasingly preoccupies Washington.
Now, slightly under 50 percent of the American public believes that the U.S. should be less active, up from 14 percent in 2001 and 34 percent in the late 1990s. Obama's foreign policy is also judged poorly. But still, 55 percent of the survey's respondents said the president should project an image of strength that shows America's willingness to confront our enemies and stand up for our principles. Comparatively, 39 percent said he should project an "image that America has a more open approach and is willing to negotiate with friends and foes alike."
These findings are by no means isolated. As we wrote late last month, Americans overall express strong opposition to the country' involvement in world affairs and a majority desire less activity internationally.
The desire for a more aggressive foreign policy tactic comes in large part from Republicans in Congress such as Senator Bob Corker (R-Tenn.), who has said that he believes further "tepid" sanctions against Russia will be ineffective, and suggested that the U.S. focus on that country's financial and energy sector while also providing aid to Ukraine's military. "After a week of rhetoric from the administration, I had hoped we would have responded to Russia's blatant violations of its commitment to cease efforts to destabilize Ukraine with more than just a slap on the wrist," he said on April 28. "Until Putin feels the real pain of sanctions … I don't think diplomacy will change Russian behavior and de-escalate this crisis."
Obama also spoke at a press conference in the Philippines that week, addressing his foreign policy critics and the pressure some lawmakers were placing on him to either send weapons and military support to Ukraine. "Typically, criticism of our foreign policy has been directed at the failure to use military force. And the question I think I would have is, why is it that everybody is so eager to use military force after we've just gone through a decade of war at enormous costs to our troops and to our budget?" Obama suggested that some may not have "learned the lesson of the last decade" in Iraq, and that foreign affairs "may not always be sexy."
More From Wall St. Cheat Sheet:
Follow Anthea Mitchell on Twitter @AntheaWSCS