Here's Why Americans Still Aren't Confident in the Economy
Despite the fact that spring has come and the cold weather that plagued much of the country in the early months of the year — hurting U.S manufacturing output, residential construction, consumer spending, and job creation — has passed, Americans still believe the economy is getting worse.
Gallup's Economic Confidence Index, which averages how Americans rate current economic conditions with their expectations for the future, dropped in the week ended April 27, recording a reading of -17. That level reflects poll results that say 33 percent of Americans believe the economy is in poor shape, while just 20 percent say the economy is in excellent or good condition; 57 percent of Americans believe the economy is getting worse, compared to the 37 percent who say it is improving.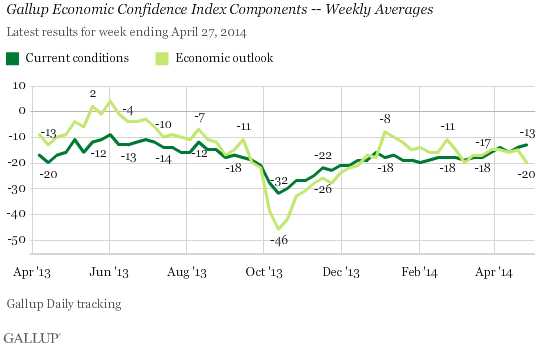 Throughout the nearly five year-long recovery of the U.S. economy, Gallup's economic confidence measure has never reached into positive territory. The highest it has gone is a reading of -3, which was recorded in late May 2013. Since then — as rising mortgage rates stalled the housing market recovery, job creation slowed, and consumer spending struggled to gain momentum — the index has dipped down, dropping as low as -39 during October's government shutdown.
But economic confidence has been fairly stable so far in 2014, although current levels are still depressed. Last week's reading represents the lowest point hit by the index in the past month. "This drop is attributable to a decline in Americans' outlook for the economy, even as their perceptions of current conditions have improved slightly, Gallup says.
After reaching its highest level in more than six years, consumer confidence edged slightly lower this month. The Conference Board's Consumer Confidence Index fell 1.6 percentage points, to 82.3, in April, a decrease from March's upwardly revised reading of 83.9 and below the reading of 83 expected by economists.
Still, April's figure remained the highest reading recorded since January 2008. Comparatively, the lowest point hit by the index last year was January's 58, while the highest point, 82.1, was reached in June. During the Great Recession, the index averaged a dismal 54. Americans are still optimistic about the future, but the Present Situation Index made a notable decline.
Weak confidence in the economy has shaped the recovery to a great degree. Analysts have blamed low consumer confidence for recent weakness in the housing market, including the slowing in demand for both new and existing homes. Consumer confidence is highly dependent on the economy, especially the labor market, where recovery has been notably slow.
With April's 192,000 payroll additions, employment has increased, on average, by 188,000 jobs over the past six months; 183,000 over the past 12 months; 182,000 over the past 24 months; and 187,000 since the beginning of 2011. As those numbers make clear, the job recovery has proceeded, but only at a plodding pace. Of course, steady job growth is better than none, but the lingering high levels of long-term unemployment — which has ticked down to only 10.5 million from the 2009 peak of 15.4 million — indicate all is not well with the economy.
The relationship between business spending, job creation, and consumer spending is a close one. U.S. businesses do not want to increase labor costs unless there are consumers who will spend money on the goods and services they produce. However, consumers who are not confident about their job prospects are not likely to spend beyond everyday necessities.
Plus, stagnant wages and higher payroll taxes have affected spending for lower-income earners. Over the past year, average hourly earnings rose a less-than-stellar 2.1 percent, a very small increase by historical standards. With wage growth stagnating while unemployment remains stubbornly high, many households have been forced to dip into their savings in order to maintain spending.
That reality can hardly be described as ideal for an economy heavily dependent on consumer spending – household expenditures account for approximately 70 percent of U.S. gross domestic product. As economist Robert Reich — a University of California, Berkeley professor and a former Labor Department secretary — has said in the past, "America's real job creators are consumers," and "if average people don't have decent wages, there can be no real recovery and no sustained growth."
Still, it is important to note that economic confidence has ticked up from lows recorded earlier this year, including early March's -20 reading, and that renewed optimism has translated to better retail sales numbers. After the weaker growth recorded in December and January, retail sales figures from the past two months have shown the U.S. economy to be gaining momentum.
Improving weather has boosted weekly readings of the health of the retail sector. A snapshot of retail sales compiled by industry trade groups the International Council of Shopping Centers and Johnson Redbook can hardly be described as strong, yet they do reflect more strength than has been recorded so far this year. However, both indexes provide a narrower snapshot of consumer spending habits than the Commerce Department's data — excluding categories like automobile purchases, which primarily drove March's strong retail sales growth.
In general, throughout the recovery, American consumers have been more confident purchasing longer-term, "big ticket" items than increasing everyday expenditures. And that is why the ICSC-Goldman Sachs and Johnson Redbook indexes reveal important trends in consumer spending habits beyond these "big ticket" items.
The ICSC-Goldman Sachs index — one of the most timely indicators of consumer spending — has recorded extremely weak readings so far this year. While year-over-year same-store sales growth has rebounded from the recovery low of zero percent hit last month, the four-week moving average has remained near its recovery low for weeks.
But in the week ended April 26, same-store sales growth recorded the highest year-over-year rate since September, expanding at a 3.1 percent rate after the previous week's 1.9 percent rate of expansion. The index also inched up 1.6 percent on a weekly basis, a significant improvement from the 0.4 percent gain recorded in the previous week.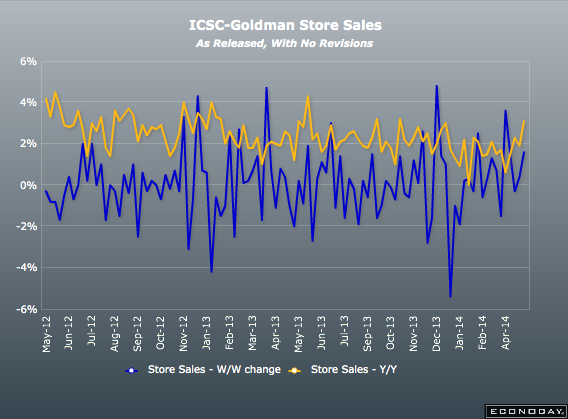 Meanwhile, Johnson Redbook's weekly reading has also been trending low, although its year-over-year numbers have been stronger than those of ICSC-Goldman Sachs. In fact, Johnson Redbook's measure reflected some strength in same-store sales during the week of April 19.
The index has expanded 3.8 percent over the past 12 months, which compares with the previous week's 3.7 percent rate of growth. However, Redbook's monthly comparison pointed to lingering weakness, contracting at a 0.3 percent rate.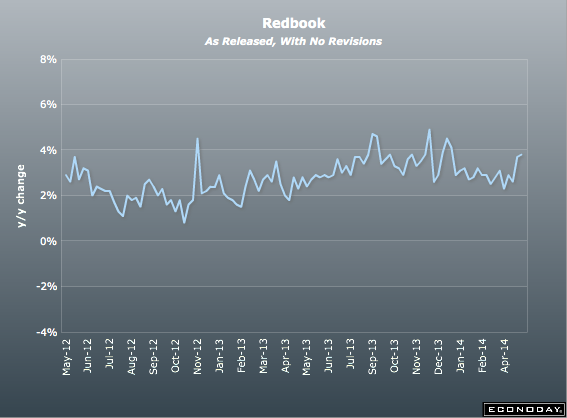 More From Wall St. Cheat Sheet:
Follow Meghan on Twitter @MFoley_WSCS