Here's Why Economists Expect Best GDP Growth Since Recession This Year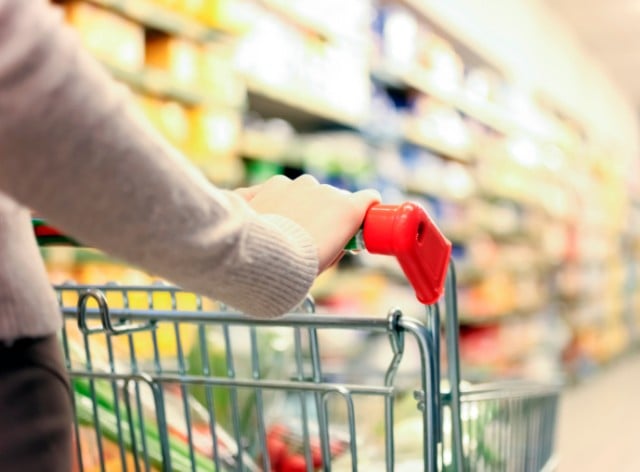 Wages have not appreciably increased since the Great Recession; consumer spending is still low compared to average spending patterns in the years leading up to the financial crisis. But in order for the U.S. economy and the world economy to keep growing, consumers need to keep spending on the cars, electronics, and other products they once bought in greater quantities.
It is true that marginal improvements in incomes and consumer spending have been reported in recent data releases.
The weekly snapshot of retail sales compiled by the industry trade groups — the International Council of Shopping Centers and Johnson Redbook — may shine a light on only a small segment of retail sales, and therefore provide only limited insight on changes in consumer spending habits, but the two same-store sales indices do provide some of the most timely indicators of consumer spending. While consumer spending was weak throughout the month of February and March's numbers have been volatile, the sources of this current weakness is not the customer, the paycheck, or the tough job market. For the week ended March 29, despite recording the fourth coldest temperatures in more than 23 years, the ICSC-Goldman Sachs same-store sales index posted a strong week-over-week comparison, surging 3.6 percent after the previous week's 1.5 percent contraction. This represented solid growth. However, on a yearly basis, the measure expanded at just a 0.6 percent pace — down from the previous week's 1.7 percent growth rate — thanks to the placement of Easter. With the holiday coming three weeks later this year, the current yearly comparison is depressed. But, "looking ahead, we anticipate pent-up consumer demand for spring apparel to drive sales as warmer weather return," ICSC Chief Economist Michael Niemira explained in a Tuesday press release.
By comparison, Johnson Redbook — a less consistent indicator than the weekly ICSC-Goldman index — recorded its lowest reading since experiencing Easter comparison distortions in April last year. After recording growth of 3.1 percent in the previous week, the measure fell to 2.3 percent in the week ended March 29.
A more complete diagnosis of the health of the American consumer was provided by the Department of Commerce's Personal Income and Outlays report showed that personal consumption expenditures — which includes spending on products ranging from shoes to fuel oil — rose 0.3 percent last month. That slight gain followed January's even smaller 0.2-percent rise, which itself was more modest than expected; last Friday's report downwardly revised January's gain from 0.4 percent. While the size February's consumer spending increase does suggest that the cold weather that plagued much of the country early this year has loosened its frigid grip on the U.S. economy, spending is overall still quite soft.
 For the past several months, as retail sales remained stagnant, economists have postulated that the extremely cold and wintery weather was responsible for low spending and many other problems with the economy, including weak job creation. But with the release of February's retail data it is clear that consumer spending is no longer the hostage of cold temperatures, even if spending is soft in comparison to pre-recession levels and the highs hit last year.
The Commerce Department's retail sales figure showed a similar reality as Friday's personal incomes and outlays data; for the first time in three months retail sales increased on a month-over-month basis, rather than decreasing, posting a 0.3 percent gain. Furthermore, U.S. employers added 175,000 jobs to payrolls last month, economists — and the American public — were given evidence that the economy may not be creating jobs at pre-recession levels but "inroads" into unemployment are being made. However, continued improvements in the labor market and gains in wages are needed to sustain higher consumer spending levels; rising stocks and home values only help a certain sector of the American population.
Job growth is accelerating while factory output and consumer spending are strengthening once again after posting concerning drops early in the year. "The consumer appears to be back in the game," noted TD Securities deputy chief economist Millan Mulraine after the Department of Commerce's February retail sales data was released. "We see this as further confirmation that the underlying momentum in the economy remains quite favorable." In February, for the first time in three months retail sales increased on a month-over-month basis, rather than decreasing. The retail sales growth reflects a comparable pickup in consumer spending, a measure that accounts for approximately 70 percent of gross domestic product in the United States.
Some economists have postulated that once the cooling effects of this winter's harsh weather has completely worked its way out of the U.S. economy, consumer spending will gain momentum and perhaps even post its strongest annual growth in nearly a decade. The reason for this optimistic outlook is the combination of an improving job market, the release of pent-up consumer demand, and the easing of certain government policies. Consumer spending numbers ended 2013 on a strong note; the Department of Commerce released its third and final calculation of fourth-quarter gross domestic product growth last week, which showed the economy grew at a 2.6 percent annual rate in the final three months of last year. That expansion was propelled by the most robust increase in consumer spending recorded for any quarter in the past three years. The momentum consumer spending had going into the year sparked predictions by economists for a strong 2014. And, while the harm January and February's exceedingly cold weather had on the job market and consumer spending did worry some analysts, recent economic data has shown consumer spending is likely to regain that momentum. Even though GDP likely slowed to an annual rate of 2 percent or less this quarter, a number of economists now expect the economy to grow at a 3 percent annual rate this year, and that level would represent the strongest expansion for any year since 2005, before the Great Recession began.
Still, in addition to the cold temperatures and snowy weather, the continuing high levels of long-term unemployment have weighed on the economy thus far in 2014. In particular, late December's expiration of the emergency unemployment aid for 1.3 million out-of-work Americans likely has contributed to a slowdown in spending.
More From Wall St. Cheat Sheet:
Follow Meghan on Twitter @MFoley_WSCS