Here's Why Eric Cantor Lost (Hint: It Wasn't for Lack of Funds)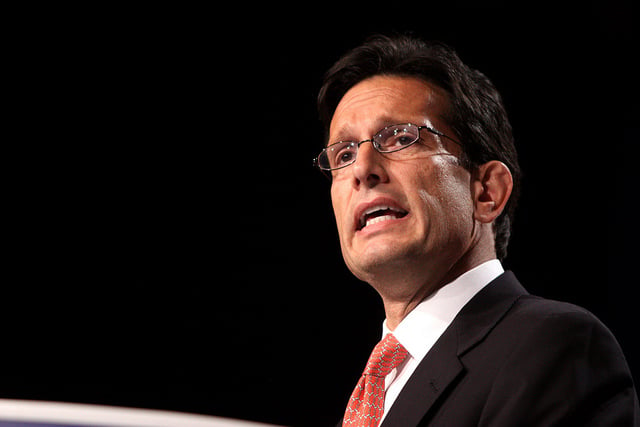 Come 2015, Eric Cantor will no longer represent the 7th district of Virginia. A Tuesday loss to Dave Brat, a little-known and poorly-funded Tea Party challenger, in the Republican primaries has ended his fourteen years in the House of Representatives. Cantor's defeat is an epic loss by historical standards; he is the first sitting House Majority Leader to lose his party's primary since the position was created in 1899, according to the University of Minnesota's Smart Politics blog. It was also not a narrow election, Cantor won 44.45 percent of the vote to Brat's 55.55 percent. By comparison, two years ago, Cantor won 80 percent of the vote.
Unlike the congressional elections in 2012 and 2010, political analysts predicted that establishment Republican incumbents would not be in danger of losing their seats to Tea Party challengers. And in the early days of this year's primary season, it did appear that the establishment wing of the Republican Party had taken significant strides toward neutralizing the Tea Party faction, putting the party closer to winning enough seats in November's midterms to gain the Senate majority. Kentucky's renomination of Mitch McConnell — the Senate Minority Leader — served to cement that assumption that in the intervening two years the Republican Party had learned how not to shoot itself in the foot.
For the first time since he was first elected in 1984 McConnell faced a well-financed Republican primary opponent. But contrary to early political analysis, which saw the senator vulnerable to a conservative challenge, his victory over businessman Matt Bevin came easy. Yet, it is important to note that McConnell did not entirely eschew the Tea Party element in his campaign; he consulted his colleague, fellow Kentucky senator, and Tea Party favorite Rand Paul and hired a campaign manager with Tea Party credentials.
But Mississippi's primary produced different signals. Party infighting was on display. Before voters went to the polls last week, political analysts saw the Mississippi election as the best opportunity for the Tea Party to edge out the Republican incumbent. But that race turned out to be tight, so tight that Tea Party candidate Chris McDaniel and incumbent Thad Cochran are heading to a June 24 runoff. And that runoff has the presented problems for the broader Republican party. The harsh campaigning that is to come has the potential to damage the image of the eventual nominee. And that could hurt the Republican party's ability to hold on to that Mississippi Senate seat.
Tuesday's surprising election results say even more about the state and struggles of the Republican party. And Cantor's loss will necessitate the reexamination of what has become conventional wisdom for this year's election cycle. The obvious conclusion is that anti-Washington sentiment remains strong enough that voters are looking beyond the establishment for their leaders. While Gallup survey data shows that a majority of Americans are okay with a split-controlled Congress, which for years has produced strongly partisan politics, a survey conducted by the research firm in late April showed that only 22 percent of registered voters say most members of Congress deserve re-election in November — the lowest percentage recorded in an election year. Seventy-two percent said most members of Congress do not deserve re-election. "A logical consequence of such dim views of Congress and its incumbents is that voters may take out their frustrations at the ballot box," noted the Gallup report. And that is a significant trend reversal. Typically, "incumbent members of Congress are generally quite successful in getting re-elected, with roughly nine in 10 of those who seek re-election winning." It is even rarer for an incumbent to lose in the primaries.
The Tea Party emerged out of the anti-establishment anger produced the financial crisis of 2007 and 2008 and the subsequent government bailout of a number of institutions deemed to by systemically important to the U.S. economy. From its beginning five years ago, the movement has fomented intraparty conflicts, led by conservative hard-liners such as Sen. Ted Cruz of Texas. But the Tea Party is influencing Republican primaries far more than was expected; at least one block of voters in Virginia chose a unknown university professor over a seven-term representative, who has long been called a "rising star" of the GOP, while the vote between an incumbent senator and a Tea Party challenger in Mississippi was so close a runoff must be held, a runoff that the senator is projected to lose.
Blaming the Tea Party for Cantor's loss oversimplifies the issue. Some have argued that these elections are not proof of the Tea Party's ongoing importance in the national political dialogue; rather, the problem was that both Cantor and Mississippi Senator Thad Cochran failed to listen to their constituents. And there is no arguing the point. Yet, it can also be argued that part of the Tea Party's appeal to conservative voters is the promise that candidates will focus on the needs and wishes of constituents instead of large power plays in Washington. Furthermore, regardless of the causes, there is still a deep chasm in the Republican party.
Another piece of conventional wisdom ia that Cantor's loss unset is that supporting immigration reform would not hurt the changes of GOP incumbents. And, to be clear, that position has not been dangerous for many senators and representatives running for re-election. North Carolina Representative Renee Ellmers and South Carolina Senator Lindsey Graham — who have expressed support for immigration reform — both survived primary challenges from Tea Party candidates. For Cantor, his support of "amnesty" for illegal immigrants was the chief aim of his opponent's attacks. And, as talk show host Laura Ingraham told The Wall Street Journal, Brat's victory was fueled by "fury with the GOP establishment on fiscal issues and immigration."
But more specifically, the political stands taken by Cantor in Washington likely guided voters to place a check by Brat's name rather than the representative's; by positioning himself as a voice of conservative Americans in the country's leadership, Cantor took blame for a number political deals that displeased the Republican base — most significantly, his refusal to agree to the so-called debt ceiling grand bargain between President Barack Obama and Speaker of the House John Boehner, which led to the downgrade of the United States credit rating. As Ryan Lizza wrote in his profile of the representative in the New Yorker, Cantor said it was a "fair assessment" that he talked Boehner out of accepting the deal because it would give the president a "political victory" ahead of the 2012 presidential election.
In early primaries, campaign financing muscle has played a key, but at times supporting, role. The wave of elections that took place on May 20 saw a massive influx of donations from big business. And while political commentators claimed that the financing was not the driving force in the results, meaning the final outcome should not be framed as the victory of big business over the extreme faction of the GOP, it is true that the role business played in the primaries was a large one. The United States Chamber of Congress backed McConnell as well as successful candidates in Georgia, Idaho, Oregon, and Pennsylvania; and, the National Realtors Association and the National Retail Federation played a role in the renomination of Republican Representative Mike Simpson in Idaho.
In Mississippi, the two Republican candidates raised dramatically different amounts, but they tied for votes. Incumbent Cochran has spent about $3.48 million of the $3.67 million he has raised, while his Tea Party rival McDaniel has spent more than $1 million of the $1.27 million he has raised. Yet, outside groups contributed more than $8 million on Mississippi's GOP primary race, and a great majority of that figure was put toward opposing Cochran or supporting McDaniel.
And big money failed to secure a win for Cantor in Virginia. The $5.5 million he raised — from Wall Street donors like Blackstone (NYSE:BX) and Goldman Sachs (NYSE:GS), the Republican establishment, and major lobby groups — was twenty-six times as much financing as Brat secured. Brat — an economics professor — had a budget of $200,000 and only two paid staffers. Plus, records from the Federal Election Commission shows he never received a single donation from a political action group. "This should send shockwaves through the establishment. They can have all the millions of dollars that the Chamber of Commerce can pump in," L. Brent Bozell, a conservative activist, told Politico.
The flow of money in the Virginia race says more about the two candidates' ideologically differences than about their fundraising abilities. In interviews, Brat argued Cantor was too allied with corporate interests. "The issue is the Republican Party has been paying way too much attention to Wall Street and not enough attention to Main Street," he told Fox News. And Ingraham wove the same narrative. "The lives of most Americans aren't getting any better year after year," Ingraham added. "Their wages are down or flat as the cost of living is going up. And for the past two years they've seen Eric Cantor focus an inordinate amount of time on how to improve the lives of illegal immigrants. So why should they be expected to return the same politicians back to Washington election after election? Eric Cantor was perceived as arrogant and disconnected–and voters thought it was time that he try to find a real job in this lousy economy."
Cantor's defeat speaks much to the state of the Republican Party. But questions remain. How will this election result impact November's midterms? Does this loss mark the end of politics for Cantor? Virginia law stipulates that Cantor cannot run against Brat as an independent in November's general election, but he might be allowed by the state to make a write-in bid. And how will the departure of Cantor impact the future of immigration reform? Likely, Congress will be even less inclined to move forward with the reform. And even more worrisome for Obama is the fact that Cantor's loss could potentially lead to more gridlock in Washington D.C. While the lawmaker was not ally to the White House, his replacement could be more conservative.
"My concern is that a lot of things are going to be dead and pushed aside," Representative Peter King, a Republican from New York said Wednesday on MSNBC's "Morning Joe" show. "Thank God there is no debt-ceiling vote coming up. Thank God there's not an opportunity to shut the government down in the next several months because I think we could get bogged down in those types of issues."
More From Wall St. Cheat Sheet:
Follow Meghan on Twitter @MFoley_WSCS