Here's Why Hillary Clinton Is No Longer Dominating the Polls
There have been two polls recently released in June that have shown Hillary Clinton is losing ground in the polls — losing quite a lot of ground when compared to 2012. A Bloomberg poll conduced in March showed Clinton's popularity has dropped down to 52 percent compared to 56 percent in March, and down from the 70 percent seen in December two years ago.
For a time, Clinton's name was the most common name put in the Democrats 2016 hat, making it seem increasingly likely that she would overwhelm other contenders in a primary — should she choose to run for office. Mere months ago, the discussion was on how the GOP would ever find a single candidate that could attract the same attention and popularity as the Democrats had found in Clinton. Now, though, this sentiment has faded, and Democrats may choose to begin looking more seriously for other contenders. A separate poll from Gallup reiterated Bloomberg's bad news for Clinton, showing that since reaching 59 percent in February her polling numbers have fallen to 54 percent for June, as shown in the table below.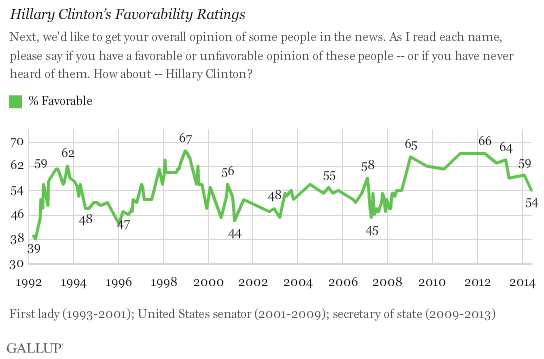 According to Gallup, this is the lowest Clinton's favorability reached since August of 2008 when it hit 54 percent as well, and the decrease is largely seen in Independents where it fell from 63 percent favorability in 2013 to 49 percent favorability in 2014. There are a number of possible explanations for the dip, the most obvious being continued criticism and publicity surrounding Clinton's role in the Benghazi attack. Wrapped up in this publicity has been her book tour for her just published book Hard Choices, which went into her decisions and experiences during her time in office. In a Washington Post/ABC poll, 50 percent said they disapproved of her handling of Benghazi, a mere 37 percent saying they approved.
Various interviews, including one Tuesday with Diane Sawyer on ABC, had Clinton answer continued questions on the attack. In the Tuesday interview, she made it clear it wouldn't dissuade her from running, though — in fact, quite the contrary. "Actually, it's more of a reason to run, because I do not believe our great country should be playing minor league ball. We ought to be in the majors," said Clinton. "I view this as really apart from — even a diversion from — the hard work that the Congress should be doing about the problems facing our country and the world."
As with other interviews, she took responsibility for the events, but not the blame. "I take responsibility, but I was not making security decisions," said Clinton. "What I did was give very direct instructions … I'm not equipped to sit and look at blueprints, to determine where the blast walls need to be or where the reinforcements need to be. That's why we hired people who have that expertise," said Clinton on ABC.
People disagree on how the memoir and resultant publicity is affecting her, but many argue it's not helping. More likely is that the publicity is leading to more conversations, and greater polarization, and as for the book, it seems likely it is welcome insight for those who like her and cannon fodder for those who don't. 
J. Ann Selzer, who was involved in the Bloomberg poll, told the publication that, "Hillary Clinton may be suffering from contagion from President Barack Obama's sinking scores. She is down across the board, even with groups that have been her most ardent supporters." She said that even with the decreased favorability though, this "doesn't appear to affect her electability — for now." Indeed, Clinton's rhetoric — especially as it applies to her criticism of Congress — is rather reflective of the President's, perhaps not the most helpful association given his low approval ratings. That said, with Congress itself faring so poorly in public opinion, it has become a popular target from all sides, especially midterm opposition seeking to take incumbents down in the upcoming election.
With more specific questions Clinton tends to fair better, as is clear in the recent Washington Post/ABC polls. While 50 percent disapproved of her handling of Benghazi, 60 percent said she is honest and trustworthy, and 67 percent said she is a strong leader. Fifty-nine percent said they think she has "new ideas for the country's future" and 55 percent say they believe she "understands the problems of people like [them]."
Finally, Clinton's latest bit of PR garnering a great deal of attention has been her discussion of her same-sex marriage position with Terry Gross of NPR. After an assertive series of questions on why and how Clinton had changed her stance on same-sex marriage over the course of her political career, depending on what office she held at what time, Clinton appeared to grow impatient. "I think you are trying to say that, you know, I used to be opposed, and now I'm in favor, and I did it for political reasons. And that's just flat wrong," she said, going on to talk about states rights and the changing understanding of LGBTQ rights issues over time. "I did not grow up even imagining gay marriage, and I don't think you probably did, either. This was an incredibly new and important idea that people on the front lines of the gay rights movement began to talk about and slowly, but surely, convinced others of the rightness of that position. And when I was ready to say what I said, I said it," said Clinton.
More From Wall St. Cheat Sheet:
Follow Anthea Mitchell on Twitter @AntheaWSCS