Here's Why Oversight of Afghan Reconstruction Will Now Be Classified
Early last month, a report from the Special Inspector General for Afghanistan Reconstruction (SIGAR) begged the question: How has congressional oversight failed the reconstruction effort in Afghanistan? The unfortunate answer was that it had failed in a myriad of ways. Some of these were unavoidable in all likelihood — corruption often goes hand-in-hand with reconstruction efforts, and a failure to procure data follows. At times there is a systematized corruption already in place that must be worked with and corrected locally before reform can be fully effective.
Money does go missing and will likely continue to be, but SIGAR reports that it has reclaimed $53.7 million and saved $12 million for the U.S. over the last quarter. And predictability and acceptability are two very different things; some of the problems were considerable and will need further review. In particular, the last report addressed the failure to set up an electronic human resources system, despite nine years of efforts, an overabundance of ID cards, a misapplication of wages, and general waste and potential corruption.
SIGAR released its 26th quarterly report to Congress last week. It will be the last one the public will be privy to. Further reports to Congress will be consider classified and unavailable for general access. "The decision leaves SIGAR unable to publicly report on most of the $65 billion U.S.-taxpayer-funded efforts to build, train, equip, and sustain the ANSF (Afghan National Security Forces)," reads the report. "This includes Afghan troop numbers, salaries, training, equipment (including planes and helicopters), and infrastructure projects." The reason for this classification was included in the report under Appendix F, and is shown below in full. However, the gist of it is that reports contain information with enough detail to be useful to enemies on the ground in Afghanistan and as a result pose a threat if allowed to continue to be publicly published.
"With lives literally on the line, I am sure that you can join me in recognizing that we must be careful to avoid providing sensitive information to those that threaten our forces and Afghan sources," writes General John F. Campbell in his request. On the one hand, the limitation on publicly accessible information is unfortunate in that it reduces the accountability of government funding to watching taxpayers. It also limits the amount of information available to academics and researchers who add to the dialogue on the effectiveness of outside involvement in Afghanistan's reconstruction, what could be improved, what should not be tried in other countries in the future, and so on.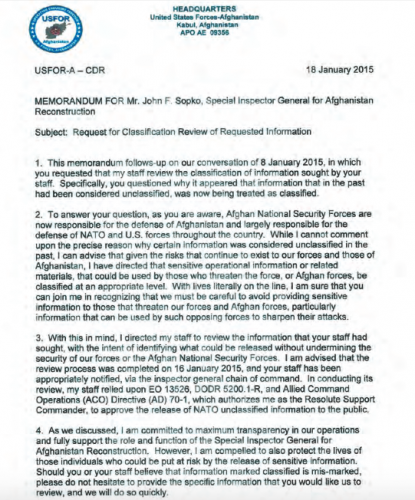 Yet the concerns listed by Campbell are entirely reasonable. With American, NATO, and Afghan men and women at risk of attack, information on anything from equipment to problems with human resource systems or ID cards could amount to a security risk. It's not merely a matter of sharing numbers of helicopters or troops; even knowledge of certain failures or corrupt sections of the security forces could amount to a vulnerability, and a subsequent strategic advantage.  What is concerning is that prior to this classification, the federal government failed to comply with information requests from SIGAR — an independent oversight group created by Congress with the specific purpose of helping avoid "waste, fraud, and abuse." This latest, and last, report made particular note of the fact that "despite requirement of Public Law 110-181 that federal agencies provide requested information or assistance to SIGAR, the State Department did not answer any of SIGAR's questions on economic and social development this quarter, and failed to respond to SIGAR's attempts to follow up." This failure to provide information occurred before the request that future reports be classified. But even after reports are no longer available to the general public, they will still first and foremost be sent to inform and advise Congress and other governmental bodies.
Which means that this information is not being communicated properly within the federal government to oversight committees — a concerning failure. It is possible that the information was not given over because it was not available. After all, oversight reviews, audits, and investigative reports of all types communally act as evidence that data is often missing, unrecorded, poorly outlined, and so on. This is especially likely given the admittedly somewhat disorganized and incomplete records already mentioned as a concern by past SIGAR reports. Even so, by losing media and public attention, SIGAR loses an edge toward gaining this information that is already difficult to obtain, and likely necessary for a full and accurate report to Congress.
More Politics Cheat Sheet:
Follow Anthea Mitchell on Twitter @AntheaWSCS
Check out Politics Cheat Sheet on Facebook