Here's Why Parents Should Worry About American Education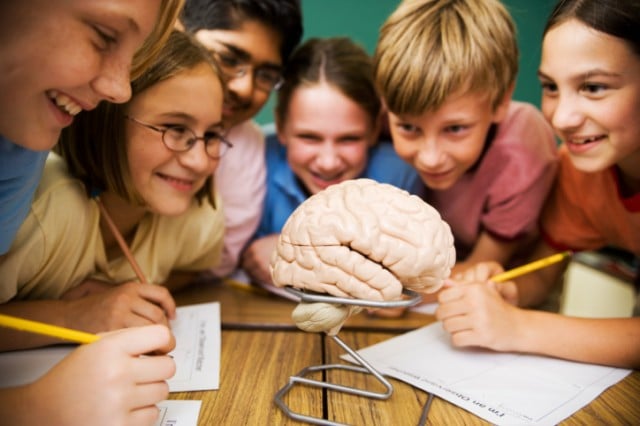 Thursday Gallup published a poll with some good news on the American education system. Comparing recent poll responses to the responses from the last decade or so show that satisfaction with Kindergarten through 12th grade education has increased markedly for the first time in a long time. Between 2005 and 2013 dissatisfaction with America's pre-university education system has ranged between 51 and 54 percent, with satisfaction down at 43 to 46 percent. Prior to that satisfaction and dissatisfaction numbers were slightly better; satisfaction hovered in the high 40 percentiles and dissatisfaction 50 and below — excusing a pleasant spike in 2004 and a nasty drop between 2000 and 2001 when satisfaction fell to 36 percent and dissatisfaction rose to 61 percent. So 2014 marks one of the first years in almost a decade to show significant reduction of dissatisfaction, dropping from 53 percent in 2013 to 49 percent in 2014 as satisfaction rose 3 percentage points to 48 percent, as shown below.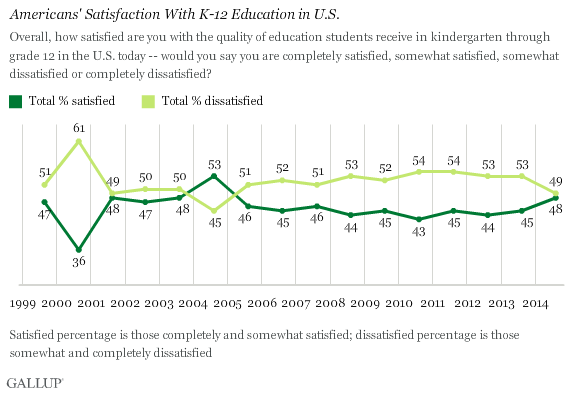 When you zoom in to look at individual parent's view of their children's education, the good news becomes far more obvious and optimistic. Seventy-five percent of American parents were satisfied with their child's education this year, up from 67 percent last year. Dissatisfaction decreased from 30 percent in 2013 to 22 percent in 2014. While Americans as a whole are certainly less positive about the education system — likely in part because they are passing judgement on the entire system instead of local systems, with some opinions over influenced by negative media — opinion has at least improved. Parents are certainly well pleased. But maybe they shouldn't be. Why American's Shouldn't Be So Satisfied
America's education system is vital for reasons that go beyond individual improvement and the pursuit of knowledge — though that's all very well and good. As a nation the U.S. needs to be competitive in a variety of highly technical fields requiring strong higher education backgrounds. It's vital for the sake of international competitiveness that American students have as much of an advantage as can be gained through the educational system from the start. But based on 2012′s Programme for International Student Assessment (PISA) results, we are far from competitive in critical areas.
Out of thirty-four OECD countries, the United States ranks near the very bottom in mathematics, in twenty-seventh place. The report notes hat this is a best estimate and America's rank may be anywhere between twenty-third and twenty-ninth place. Reading and Science scores were close to average, somewhere between fourteenth and twentieth place for reading, and between seventeenth and twenty-fifth place for science, but with no real change or improvement shown in these scores. One rather telling result shows Shanghai, China's best math scores two years ahead of students in Massachusetts, a U.S. state with high comparative math scores. What Can We Do?
"While the U.S. spends more per student than most countries, this does not translate into better performance. For example, the Slovak Republic, which spends around $53,000 per student, performs at the same level as the United States, which spends over $115,000 per student," stated PISA's report.
So if funding doesn't and can't make the difference, then what can? It only makes sense to consider where our education policy fails when looking at education's failures. And indeed, many Americans are uncertain about the most recent controversial educational policy, the Common Core State Standards. "The rush to implement the standards has also led to inadequate support for teachers, inadequate communications with our public and a major pushback from teachers who have connected Common Core with standardized testing," said Terry Holliday, Kentucky's state education commissioner, according to U.S. News & World Report.
Additionally, a Gallup poll shows some 56 percent of Americans say local school boards should have the greatest influence over public school curriculum, compared to 28 percent who say control should be in the hands of the state government, and 15 percent who believe it should be in the hands of the federal government. While the numbers do vary across party membership, the majority of respondents, across Democrats, Republicans, and Independents, say that the local school board should have the most influence.
On the other hand, some politicians stand behind the Common Core. Former-Governor of Florida Jeb Bush (R) is willing to split with his own party in support of the program, and considering the state of Florida's school — nearly always near the bottom of the national ranking according to The Tampa Bay Times – this is either evidence that he's willing to have an unpopular opinion for the sake of his suffering state, or evidence that his leadership and instincts didn't do the state any good before either. "Ultimately, the quality of the standards determines whether a high school diploma is worth more than the paper it is printed on," said Bush, according to The Herald Tribune. "To compete with the rest of the world in the 21st century, we must produce competitive high school graduates ready for college or meaningful careers."
More Politics Cheat Sheet:
Follow Anthea Mitchell On Twitter @AntheaWSCS