Here's Why Tensions Between China and the U.S. Are Growing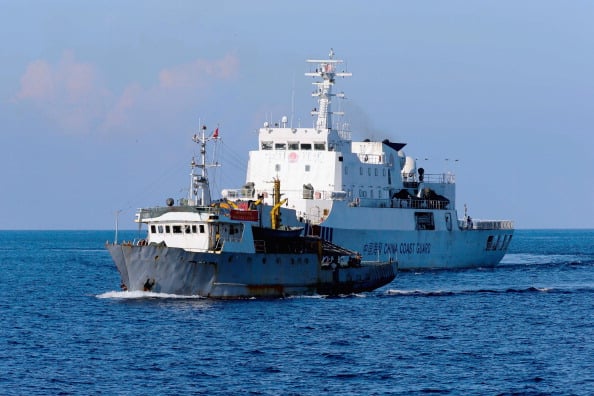 The United States and China have had a difficult year, and continued disagreement over a section of the eastern ocean may turn into the largest diplomatic difficulty yet. Earlier this year, China signed a gas deal with Russia in the face of heavy energy tensions between Russia, Europe, and the United States. The gas issue is one tied up in Russia's ongoing attempts at military and political interference in Ukraine, and Ukraine's own roll in Europe's energy market. At the time, the deal was enough to drudge up cold war memories and anxieties. Just prior to the gas deal, China and the U.S. clashed over economic cyber espionage targeting American companies. At the time, Qin Gang, Foreign Ministry spokesperson, said that, "This U.S. move, which is based on deliberately fabricated facts, grossly violates the basic norms governing international relations and jeopardizes China-U.S. cooperation and mutual trust."
Now, Political Science Professor and associate at Harvard's Center for Chinese Studies, Robert Ross, told The Washington Post that, "U.S.-China relations are worse than they have been since the normalization of relations, and East Asia today is less stable than at any time since the end of the Cold War." Indeed, Cold War comparisons have been coming with increasing ease in the news as of late. The disagreement in question deals with a stretch of small islands and cays in the eastern Asian ocean with defense advantages that China has lain claim to in conflict with Vietnam and other nearby nations.
Vietnam's government newspaper released a report saying that China had "brazenly moved the oil rig (Haiyang Shiyou-981) and a large number of ships into Vietnam's waters since early May, adversely affecting the relations between the two countries and threatening peace, stability and security in the region." Vietnam's Prime Minister Nguyễn Tấn Dũng gave a statement last Wednesday with "demands" that "China immediately withdraw the drilling rig" from Vietnam's "exclusive economic zone and continental shelf."
China, for its part, continues to claim that the islands and waters in question are legitimately within the Chinese territory. "China has the right to take archipelagos such as the Xisha Islands as an integral whole and use straight baselines to delimit its territorial sea … China also enjoys traditional fishing rights in certain areas within the exclusive zones or archipelagic waters of an adjacent state, and such rights should be recognized and respected as stipulated in the UNCLOS (United Nations Convention on the Law of the Sea)," reads an article published July 4 in the ChinaDaily, a state-owned publication. One day prior, the Chinese coast guard had reportedly detained a Vietnamese fishing boat for "conducting illegal operations in the territorial waters of China seven nautical miles to the south of Sanya of China's Hainan Island," a location North West of the Xisha Islands, also known as the Paracel Islands, as seen below.
The Republic of the Philippines has also seen maritime conflict over the region, with a Chinese Coast Guard ship attempting to block a government ship from bringing food and troops to its navy ship, which was damaged after locating strategically to cement it's own sovereignty counterclaims. According to The Associated Press, the Chinese Coast Guard radioed the ship, saying that, "You will take full responsibility for the consequences of your action," and was responded to by Lieutenant Ferdinand Gato with: "This is the Republic of the Philippines. We are here to provision the troops."
This tension with Vietnam and the Philippines — and the U.S. taking sides in the matter — is just one of a number of international conflicts in Asia with China's involvement. Japan, in turn, is clashing with the People's Republic over airspace, and has historically had disagreements with China over the Senkaku Islands — also claimed by Taiwan — claiming that China has "repeatedly made incursions into Japanese territorial waters," and with plans over the last few months to ramp up Japanese military presence on the islands with additional troops and a strategically placed military base.
The U.S. made its position very clear on the Senkaku Islands in opposition to China when President Barack Obama made a visit to the nation in April. "Let me reiterate that our treaty commitment to Japan's security is absolute, and Article 5 covers all territories under Japan's administration, including the Senkaku Islands," said President Obama in a joint press briefing in Tokyo with Prime Minister Shinzō Abe.
The United States has also been involved in the airspace dispute between Japan and China, flying planes (B-52 bombers) through the contested airspace without alerting Beijing to its plans in November of last year — a demonstration of America's position on where territorial lines fall. According to The Wall Street Journal, at the time China had warned of military action against any unauthorized flight into the air zone.
Separate from tensions with Taiwan, the Philippines, Japan, and Vietnam, China has been working to strengthen military ties with India and mitigate any possible border disputes there that would interfere with military cooperation, while working also to strengthen relations with South Korea. On July 9 through July 10, Secretary of State John Kerry will travel to China for the U.S.-China Consultation on People-to-People Exchange (CPE). Also taking place will be the U.S.-China Strategic and Economic Dialogue (S&ED), which will include Kerry, Treasury Secretary Jacob J. Lew, State Councilor Yang Jiechi, and Vice Premier Wang Yang. On July 8, the fourth Strategic Security Dialogue will take place between Deputy Secretary William Burns and Executive Vice Foreign Minister Zhang Yesui.
More From Wall St. Cheat Sheet:
Follow Anthea Mitchell on Twitter @AntheaWSCS