Here's Why the Labor Market Should Brush Off This Jobless Claims Jump
For the second consecutive week, the labor market has been handed evidence that layoffs have been increasing. Data released by the Department of Labor on Thursday shows that initial claims for unemployment benefits — which serve as a proxy for layoffs — climbed 24,000 to a seasonally adjusted 329,000 in the week ended April 19. By comparison, economists had only expected new applications to rise to 315,000 from the prior week's upwardly revised 305,000 claims. Still, economists say any claims figure below 350,000 indicate moderate job creation.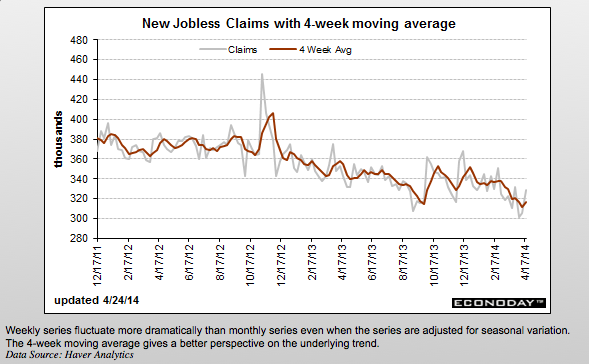 During the nearly eighteen months of the Great Recession and in the early days of United States economy's recovery from recession, layoffs remained elevated as employers pared their workforces about as much as possible to keep labor costs low. But over the course of the recovery, which began almost five years ago, the pace of layoffs has visibly slackened. Generally, jobless claims have painted a picture of a strengthening and resilient labor market. If initial claims for unemployment benefits defined the whole labor market story, then the narrative of the jobs recovery would be easy to summarize: Progress is steady, or at least, the labor market situation is not worsening. More specifically, initial jobless claims increased in late fall and early winter of 2013, just as employers slowed hiring. Claim numbers then once again began tracing a downward path early last month, briefly charting out new recovery lows before recording two straight weekly increases.
One likely reason for last week's increase in claims is the Easter holiday, which made it more difficult for Labor Department economists to make seasonal adjustments to the data. "It's largely reflective of the effect from the Easter holiday. We are not that concerned," Wells Fargo Securities senior economist Sam Bullard told Reuters regarding the uptick. Claims "have been on a declining track since December and consistent with the employment gains we have seen," he added.
Looking beyond this recent upswing, the fact remains that firings are generally trending down, signaling that employers are gaining more faith in the strength of the U.S. economic recovery, even if they are not hiring new workers at a fast enough pace to cure the country's unemployment woes. Plus, while the generally downward momentum of jobless claims can be described as a positive sign for the labor market, it is important to remember that jobless claims numbers are a leading economic indicator, and therefore only offer indirect clues about the pace of hiring — the other piece of the labor market story. While "inroads" into unemployment are being made, progress is still slow. In other words, job growth may no longer be bad, but it is still sluggish.
The increases in initial applications for unemployment benefits of the past two weeks were enough to change the course of the Labor Department's four-week moving average. Jobless claims provide the first look at the employment situation for any given month. But since the weekly figures can be volatile, economists use the four-week moving average to understand wider trends in employment, which are far more telling of labor market health than weekly readings. Rising 4,750 from the previous week's unrevised average 312,000, the four-week moving average for the week ended April 19 climbed to 316,750. Last week's reading of 312,000 was the lowest level recorded since October 6, 2007 — when the four-week moving average hit 302,000 claims.
Still, analysts should be "hard-pressed to make much of weekly wiggles, we still expect that the broader trend in claims will continue to hover around 300,000," RBC Capital Markets chief U.S. economist Tom Porcelli told Bloomberg. He predicted new claims would rise to 330,000. "At the end of the day, it's encouraging that the firing side of the equation continues to show improvement, and that's what's been happening, even with today's number."
As Porcelli's comments would suggest, this week's numbers are consistent with a modestly improving economy; both the civilian labor force and total employment increased in March, with the economy returning steady, but not great, job growth. Last month, retail sales expanded by the largest percentage since September 2012 and exceeded November's growth rate, which was the last month before the winter chill began; and, United States factory output extended solid gains.
Yet, economic growth in the first three months of the year is believed to have been slowed considerably from the final months of 2013 as frigid temperatures caused U.S. manufacturing output to record its biggest decrease in more than 4-1/2 years in January; kept job creation weak in December and January; contributed to a consumer spending slowdown; and negatively impacted residential construction with January housing stats dropping to the lowest levels experienced in almost three years. The recent expiration of the long-term unemployment benefits program and cuts to food stamps also stole momentum from the economic recovery. Economists have estimated that gross domestic product expanded at a 1.5 percent annual rate in the first-quarter, down from the 2.5 percent pace recorded in the fourth-quarter of last year.
Meanwhile, in the week ended April 12, the number of people continuing to receive jobless benefits for more than one week fell to the lowest level recorded since December 2007. Continuing claims, which are reported with a one-week lag, decreased by 61,000 to 2,680,000. "The ongoing improvement in continuing claims remains encouraging amid more positive labor market dynamics, suggesting that workers are not simply leaving the labor force but likely finding gainful employment," TD Securities economist Gennadiy Goldberg told Reuters. Furthermore, these declines suggest that the unemployment rate in April could fall from March's 6.7 percent.
More From Wall St. Cheat Sheet:
Follow Meghan on Twitter @MFoley_WSCS