Here's Why the U.S. Economy Shrank After Three Years of Growth
In the first-quarter of this year, the United States economy contracted for the first time in three years. At the end of April, the U.S. Department of Commerce calculated that gross domestic product — the broadest measure of economic activity — expanded at an anemic 0.1 percent rate in the first three months of 2013. That initial estimate of first-quarter growth was far lower than the 1.2 percent rate expected by economists and a significant decline from the 2.6 percent rate of growth recorded in the final three months of 2013.
Read more: Small Businesses: The Economy Improves, But Government Has Policy Paralysis
U.S. economic output clearly showed the extremely cold winter weather had stunted growth, but economists disagreed about the implications the quarter's results. "Here's why I'm not so worried about Q1 GDP: The components that are weak aren't persistent, while those that are strong tend to persist," Justin Wolfers, a senior fellow at the Brookings Institution, tweeted just ahead of the release. But Euler Hermes economist Dan North argued in an interview with The New York Times that even though "people have gotten used to [sub-3 percent growth] as the new normal," economic growth is still very weak.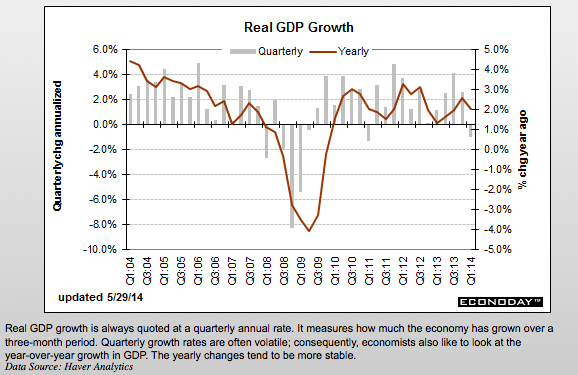 How Much Worse Was the First-Quarter?
Upon a second look, using "more complete source data" than was available when the advanced estimate was made earlier this year, government economists determined that GDP did not grow in the first-quarter, but rather contracted at a 1 percent annual rate. Comparatively, economists had expected growth to slow to a 0.6-percent decline.
Read more: 3 Charts Explaining the Health of the U.S. Economy
Consumers were big spenders in the first-quarter, propping up growth as they have for much of the recovery. But other sectors of the U.S. economy that have buoyed the recovery higher in recent quarters slumped in the early months of this year, dragging down growth. Much of the hurt was brought on by the winter weather. Frigid temperatures caused U.S. manufacturing output to record its biggest decrease in more than 4 and a half years in January; kept job creation weak in December and January; and blanketed construction projects with snow and ice, pushing housing starts to nearly a three-year low in January. That reality left personal consumption expenditures as the single biggest boost to economic output in the first three months of the year. But even consumer spending was impacted by the weather, which curtailed foot traffic at many retailers.
Why a Contraction?
The decrease in real GDP in the first-quarter primarily reflected negative contributions from nearly all major categories — business inventory investment, trade, both residential and nonresidential fixed investment, and state and local government spending — suggesting that economic malaise was widespread. Generally, the Commerce Department's revision of first-quarter growth did little to change the overall economic narrative, but higher-than-expected imports — which are treated as a subtraction in GDP calculations — and business inventories that grew slower than originally estimated pushed first-quarter economic output into negative territory.
U.S. exports declined at 6 percent rate, a slightly smaller drop than the 7.6 percent initially calculated, but imports ticked up 0.7 percent, completely reversing the 1.4 percent drop originally estimated. Nonresidential fixed investment — a measure of business spending on equipment, structures, and software — declined 1.6 percent, an improvement from the government's previous estimate of a 2.1 percent decline. The housing market — which slowed early in the year due to the weather, higher mortgage rates, and ongoing consumer caution — remained a significant drag as well; residential fixed investment contracted at a 5 percent pace and subtracted 0.16 percentage point from GDP growth, after contributing 0.33 percentage point to U.S. economic output for all of last year.
Further, slow growth in business inventories was the unfortunate — but expected — side effect of the big buildup in private inventories, which boosted economic growth in the third-quarter of 2013. With consumer spending too slow too bring down those inventories substantially, businesses were left with a hangover that weighed on first-quarter GDP. Inventories subtracted 1.62 percentage points from GDP growth, a massive jump from the initial estimate of 0.57 percentage points.
An increase federal government spending, the first in a year and a half, and further growth in personal consumption expenditures only slightly offset those drags on economic growth. Plus, the positive contribution made by federal government spending was completely erased by decreases at the state and local government level. Overall, government spending subtracted 0.15 percentage points from GDP for the quarter, compared with an initial estimate of a 0.09 percentage-point subtraction.
Still, the first-quarter's increase in consumer spending was good news for an economy dealing with decreasing government spending, a softening housing recovery, and months of worse-than-usual winter weather. Consumer spending — which account for 70 percent of GDP — was upwardly revised to a 3.1 percent increase, slightly above the 3 percent growth rate initially calculated. However, while consumer spending was an economic strong point, a majority of Americans are generally still hesitant about increasing expenditures beyond everyday necessities, keeping sales weak for a number of industries.
Consumer caution has left business equally cautious regarding investments, especially in new employees. U.S. corporations even posted lower profits during the first-quarter, according to the Commerce Department. After taxes, and without inventory valuation, corporate profits totaled a seasonally adjusted annual rate of $1.880 trillion, down from the previous quarter's $1.905 trillion.
What Does This Adjustment Mean?
This adjustment of first-quarter GDP growth put economic growth in negative territory, and the 1-percent contraction is weak even for an economy where normal growth is below 3 percent. The good news is that the negative growth of the first three months of the year is not seen as the beginning of a new trend. The temporary downturn fits within a pattern seen throughout the economic recovery. Since the recession ended nearly five years ago, GDP very rarely achieved what economists call ideal growth.
Looking back to the first-quarter of 2009 when GDP decreased 6.4 percent, recent data shows the extent to which the economy has rebounded even if the recovery has both failed to gain consistent momentum and remained slowed by historical standards. On average, the United States economy has grown at an annual rate of 3.3 percent since 1929. Generally, economists say a healthy rate of growth for GDP is between 2 percent and 4 percent. GDP growth fell just within that range in the final three months of last year, but the first-quarter presented another setback. The uneven nature of the economic recovery can been seen in the ongoing weakness of the labor market, where high levels of joblessness have persisted even if the unemployment rate has ticked down.
"Nobody thinks that there's any significance to the first-quarter being negative," Northwestern University economist Robert Gordon, a member of the National Bureau of Economic Research's business cycle dating committee, told The Wall Street Journal. But the negative growth is noteworthy given that the U.S. economy has only contracted a handful of times since 1947 when not in a recession, according to the Commerce Department's Bureau of Economic Analysis.
More Good News
A secondary measure of GDP — which strips out changes to private inventories — rose 0.6 percent, although that growth is slower than the 0.7 percent growth initially estimated. But more importantly, since March, economic activity appears to have picked up. Economists now forecast a 3.8 percent growth rate for the second-quarter of this year, which put GDP growth for the first half of 2014 well into positive territory.
As that estimate suggests, economists are generally confident that the poor showing in the first-quarter was due to the freezing temperatures experienced by most of the country early in the year. "There's a fair amount of randomness in GDP growth," Robert Hall, chair of the NBER committee, told the Journal. "Weather is a factor that I believe will be important for Q1 this year." Plus, he noted that "the probability of [GDP] going negative is much higher when the economy is growing slowly and the growth rate is close to zero even before the hiccup."
But the Federal Reserve is worried some areas of the economy. The April 30 policy statement, authored by its Free Open Market Committee, expressed concerns about the first-quarter's business fixed investment decline and the slow recovery in the housing market.
More From Wall St. Cheat Sheet:
Follow Meghan on Twitter @MFoley_WSCS