Housing Market Keeps This Losing Streak Alive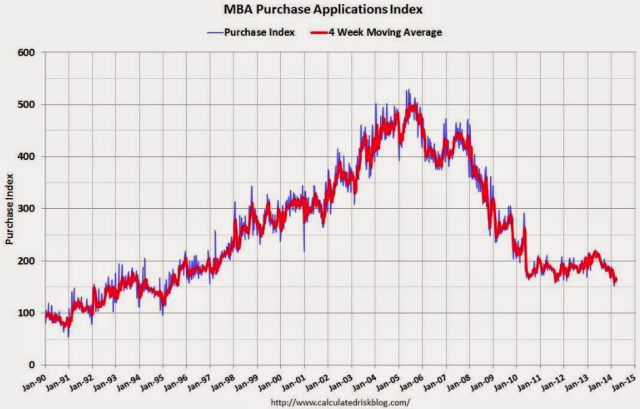 Mortgage applications continued their losing streak as interest rates remained steady and rising home prices continued to lower housing affordability. In the latest update from the Mortgage Bankers Association, for the week ended March 28, applications for home loans fell 1.2 percent on a seasonally adjusted basis from one week earlier. On an unadjusted basis, the index decreased 1 percent.
There has been a steady slide in mortgage applications over the past year as the housing market returns to a more sustainable pace. As the chart above shows, applications are near their worst level in years. The Refinance Index dropped 3 percent from the previous week. The Purchase Index managed to increase 1 percent, but on an unadjusted basis, the index was still 17 percent below year-ago levels.
Overall, the refinance share of mortgage activity accounted for 53 percent of total applications, its worst level in about four years and down from 54 percent a week earlier. In fact, the refinance share of mortgage activity has now dropped for eight consecutive weeks.
The average interest rate for a 30-year fixed-rate mortgage was unchanged at 4.56 percent, the highest level in about two months. Meanwhile, the average rate for a 15-year fixed-rate mortgage remained at 3.62 percent. Although mortgage rates are still near historic lows, the housing recovery story will likely draw more skepticism this year as higher prices ignite affordability issues.
According to the latest reading from CoreLogic, home prices surged 12.2 percent year-over-year in February, representing the 24th month of consecutive gains. Twenty-two states are now at or within 10 percent of their home price peaks. Home prices in Colorado, Nebraska, North Dakota, Texas, and Washington D.C. all reached new all time highs in February.
More From Wall St. Cheat Sheet:
Follow Eric on Twitter @Mr_Eric_WSCS