Housing Recovery Loses Steam: Blame Inventory, Not Weather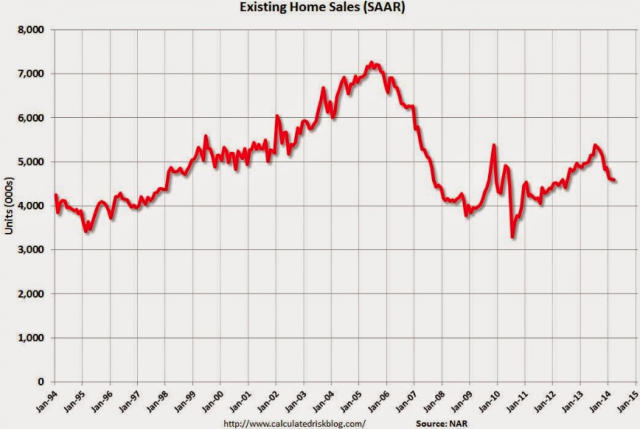 Existing-home sales continued to struggle and fell to their lowest level in more than one-and-a-half years last month. Making matters worse, current sales activity is underperforming by historical standards as home prices climb higher and impact affordability.
The National Association of Realtors announced Tuesday that total existing-home sales — completed transactions of single-family homes, town homes, condos, and co-ops — fell 0.2 percent to a seasonally adjusted annual rate of 4.59 million units in March, compared to 4.6 million units in the previous month. Sales have now declined in seven of the past eight months.
On the positive, the results were slightly better than expectations, which has been a rare occurrence in the housing market recently. Earlier this year, sales missed estimates for seven consecutive months. However, existing-home sales are still 7.5 percent below the 4.96-million-unit level seen last year in the same period. This is the fifth consecutive month that sales were below year-ago levels, and March was the slowest since July 2012, when sales stood at 4.59 million.
"There really should be stronger levels of home sales given our population growth," said Lawrence Yun, NAR chief economist, in a press release. "In contrast, price growth is rising faster than historical norms because of inventory shortages." He added, "With ongoing job creation and some weather delayed shopping activity, home sales should pick up, especially if inventory continues to improve and mortgage interest rates rise only modestly."
Housing affordability issues are still being felt. First-time buyers accounted for only 30 percent of purchases last month, up from 28 percent in February but unchanged from a year earlier. At 26 percent, January was the worst showing for first-time buyers since the NAR started keeping track of the measurement in October 2008. A normal reading would be closer to 40 percent. Meanwhile, the median existing-home price for all housing types in March jumped 7.9 percent year-over-year to $198,500.
"There are indications that the stringent mortgage underwriting standards are beginning to ease a bit, particularly regarding credit score requirements, but they remain a headwind for entry-level and single-income home buyers," NAR President Steve Brown said. "We also have tight inventory in the lower price ranges where many starter homes are found, but rising new-home construction means some owners will be trading up and more existing homes will be added to the inventory. Hopefully, this will create more opportunities for first-time buyers."
Existing-home sales were mixed across the four major regions of the nation. The Northeast increased 9.1 percent in March, but numbers were 4.8 percent below year-ago levels. The Midwest rose 4 percent, but saw 10.3 percent a year earlier. Meanwhile, sales in the South declined 3 percent. The West logged the biggest gain, at 3.7 percent.
Last year, existing-home sales reached 5.09 million sales, which is 9.1 percent higher than 2012. It was also the best year since 2006, when sales hit 6.48 million units with the help of the housing bubble. However, momentum has been slowing as the housing market returns to a more sustainable pace. Additionally, many home buyers are using cash for their purchases. All-cash sales comprised 33 percent of the transactions last month, up from 30 percent in March 2013. Seventy-one percent of investors paid cash last month.
More From Wall St. Cheat Sheet:
Follow Eric on Twitter @Mr_Eric_WSCS