Housing Starts: Is America Becoming a Nation of Renters?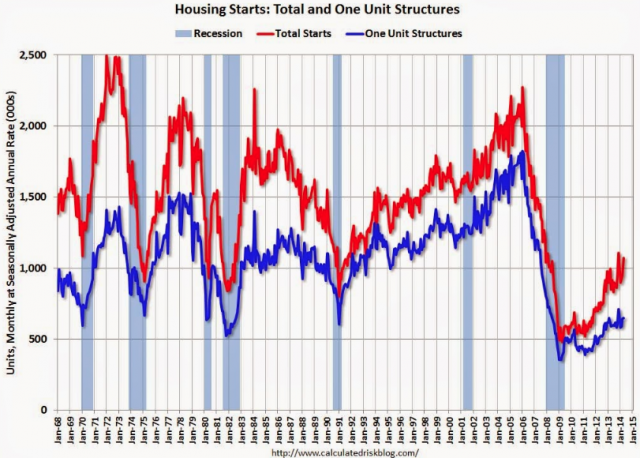 After a slow start to the year, housing starts in the United States surged higher last month to easily beat expectations and dampen fears about another serious downturn. However, the majority of the growth did not come from single-family homes.
According to the U.S. Department of Commerce, builders broke ground on houses at a seasonally adjusted annual rate of 1.07 million units in April, up 13.2 percent from the revised March estimate of 947,000 units, and 26.4 percent above the April 2013 rate of 848,000 units. Housing starts have now improved on a month-over-month basis for four consecutive months.
The results for April were better than expected, which is a rare feat over the past year. On average, economists expected housing starts to come in around a 983,000-unit pace last month. After a worrisome start to the year, housing starts may finally be stabilizing. The January reading for housing starts posted the biggest miss of expectations in seven months.
The cold weather has received much of the blame for poor economic reports this year, but that excuse has now faded with the arrival of spring. Housing starts in the Northeast jumped 28.7 percent in April from a month earlier. Housing starts in the Midwest surged 42.1 percent last month. Meanwhile, the South and West posted modest gains of 1.5 percent and 11.1 percent, respectively. Nonetheless, this improvement in demand is largely due to multi-family structures being built. Housing starts for large multi-family units surged nearly 43 percent in April from March.
New building permits, an indication of future demand, increased 8 percent from March to a seasonally adjusted annual rate of 1.08 million units. However, these results are also not as impressive as they appear. The rise in new building permits was primarily due to a 21.8 percent jump in multi-family structures with five or more units. Building permits for single-family units only increased 0.30 percent as homeownership levels in America continue to sink to new lows.
Currently, the rate of housing starts is slightly ahead of last year's pace. Construction began on 926,700 homes in 2013, a significant increase from 780,000 units in the prior year, but still below the historic average of 1.5 million new homes per year since 1959. Housing starts peaked at 2.27 million units in early 2006, while the pace of home construction reached its low point in 2009, at below 500,000 units.
More From Wall St. Cheat Sheet:
Follow Eric on Twitter @Mr_Eric_WSCS