How Are States Skirting Around the Supreme Court on LGBT Issues?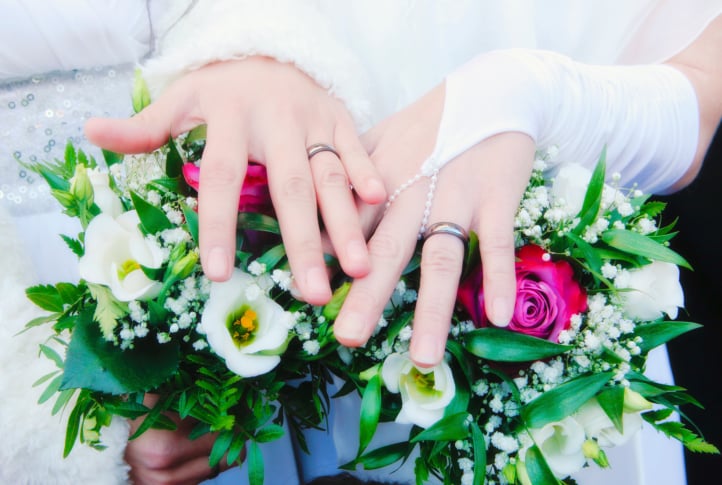 Members of the LGBT community in Michigan and Texas have had two very different weeks. Texas, as a southern, largely conservative Republican state, surprised many when last year a federal judge there ruled the state's same-sex marriage ban was unconstitutional. Michigan does not have the same pro-equal marriage ruling, but both are currently on neutral ground while they, and the rest of the United States, wait on the upcoming ruling from the U.S. Supreme Court, which will likely decide the issue for the whole nation once and for all.
In the meantime though, states have gotten somewhat antsy. According to Freedom to Marry, 72% of Americans live in a state issuing marriage licenses to same-sex couples, and 37 states have equal marriage rights at present. States opposed to their court's rulings have not necessarily been taking their district judge rulings to heart. For example, Alabama's Supreme Court Chief Justice Roy S. Moore told probate judges that they should not begin issuing licenses and suggested that if they did, the Governor would be within his right to punish them. This tactic was ended by an order from the Supreme Court, but it's not the only event to take place during this waiting period.
Texas
In Texas on Thursday, Sarah Goodfriend and Suzanne Bryant were married in the city of Austin — a liberal bubble in a largely conservative state. They are not the first of many (not yet anyway), but rather an exception made by state District Judge David Wahlberg, in light of Goodfriend's ovarian cancer. "Given the urgency and other circumstances in this case and the ongoing violation of plaintiffs' rights, the court has concluded that good cause exists" for allowing the couple to marry prior to the Supreme Court decision.
By court order Travis County Clerk issues marriage license to a same sex couple. http://t.co/jVkEO4YVDK pic.twitter.com/R55T3urbHh

— Travis County Clerk (@TravisCoClerk) February 19, 2015
"It's a very, very important day for our family. And it's a very important day for everyone who believes in justice and equality … It's very exciting. My little one was worried about missing her history class," said Bryant to the Statesman, "I said we'll be making history."
Michigan
While Texas has one more couple taking steps toward marriage, Michigan is dealing with something other than marriage equality: medical treatment. Michigan is hardly the first or only state to deal with proposed legislation or lawsuits over refusal of service, or the right to refuse service. Arizona vetoed SB 1062 last February, which would have made it legal for businesses to choose, based on their religious beliefs, to refuse service to the LGBT community. It's not just laws specifically allowing this that same-sex couples have to worry about. It's states where there are no protective laws preventing discrimination based on sexual orientation — usually explained as a religious or personal moral justification.
Michigan currently does not have any protective laws, and only 22 states in the U.S. do. As a result, the American Medical Association allows physicians to decide for themselves if they cannot properly treat a patient for personal, moral, or religious reasons — though they aren't specifically allowed to refuse treatment based on sexual orientation. One couple, Krista and Jami Contreras, ran into this situation earlier this month when they took their six-day-old baby to the doctors office to get a check up. "As far as we know, Bay doesn't have a sexual orientation yet, so I'm not really sure what that matters," Jami Contreras told ABC 7. "We're not your patient — she's your patient. And the fact is that your job is to keep babies healthy and you can't keep a baby health that has gay parents?"
"The first thing Dr. Karam said was, 'I'll be your doctor, I'll be seeing you today because Dr. Roi decided this morning that she prayed on it and she won't be able to care for Bay. Dr. told us she didn't even come to the office that morning because she didn't want to see us," said Jami.
"It was embarrassing, it was humiliating, and here we are, new parents trying to protect her [their daughter]. And we know this happens in the world and we're completely prepared for this to happen other places. But not at our six-day-old's wellness appointment," she said according to MyFoxDetroit. Michigan has had a number of anti-LGBT movements cross political desks in the last few months. In December, bill HB 5958 — the Religious Freedom Restoration Act — was put to the Michigan House Judiciary Committee, where it passed, and then headed to the Senate. The bill would allow Emergency Medical Services (EMS) to refuse service to members of the LGBT community based on religious reasons.
More of Politics Cheat Sheet:
Follow Anthea Mitchell on Twitter @AntheaWSCS

Check out Politics Cheat Sheet on Facebook