How to Survive a Recession: Be a Woman in North Dakota?
When the Great Recession hit in 2007, various groups fared better than others, and the reasons explaining why some suffered while others more quickly bounced back — or never sunk to as deep an economic low — are for the most part predictable and logical. Others leave one wondering if we should resort to the measures people took to avoid catching the black death. Flagellation to avoid stock market crash? Pockets full of posies to avoid unemployment? Let's take a look at some of the more solid facts out there on who weathered the recession better or recovered more quickly.
NPR recently published a handy graph plotting Bureau of Labor Statistics on state by state job growth since the recession. Some saw major improvement — even surpassing where they were at the beginning of the slow down (which is marked in this case as January of 2008.)
The biggest improvements were seen in North Dakota and Texas where energy industry jobs have contributed a great deal to the job markets — Texas is 1 million jobs over where it began at the recession. Arizona and Nevada, real estate states, suffered the worst.
Zooming in a little closer to specific cities during the recession, Omaha was shown to have managed the best performance in 2010 with 5.5 percent unemployment rate in June of 2010 compared to the average U.S. unemployment rate of 9.5 percent at the time — according to CNN Money. At the time, cities running down the center of the U.S. showed a tendency to do best, Texas especially, a fact explained by manufacturing jobs and slightly stronger housing industry resiliency.
Sunbelt cities, including some in California, Florida, Idaho, Nevada, and Arizona (the last two overlapping with the NPR's worst recovered states) did poorly, attributed at the time to housing price drops. As of April of this year, The Brookings Institution reported that cities in Texas have shown some of the top recession and recovery numbers, with Austin showing the best economic indicators throughout the recession and up through the recovery in combination. Looking only at overall economic performance during the recession, Omaha once again wins out, and looking only at recovery performance, Santa Clara, California takes the top numbers.
An April report from the U.S. Bureau of Labor Statistics showed a recession survival tendency completely unrelated to U.S. geography. According to the report, "the resilience of women's employment during recessions resulted in women's holding an unprecedented 50 percent of nonfarm jobs during the most recent downturn." According to the report, women showed considerably less job losses than men, with men being removed from positions at a rate of 2.6 to 1. The table below shows the comparable net change in employment out of the farm industry.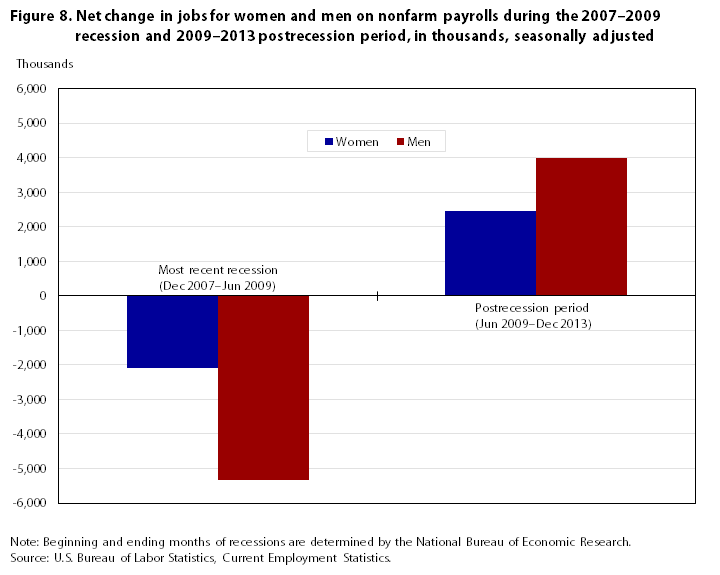 A great deal of this disparity has to do with which industries suffered the most during the recession. For example, eight of ten jobs in the construction and manufacturing fields were held by men, and those were fields where heavy cuts and losses were seen. On the other hand, healthcare and education industries maintained growth, even benefiting from increased funding at times, and as more women than men are employed in both industries, they saw a disproportionate boost from this. The same can be said for hiring advantages in healthcare and social assistance fields, as four women were hired for every man. As of the date of the study, 118 percent of women's jobs had been recovered — looking at nonfarm industries statistics — while only 75 percent of men's jobs had been recovered.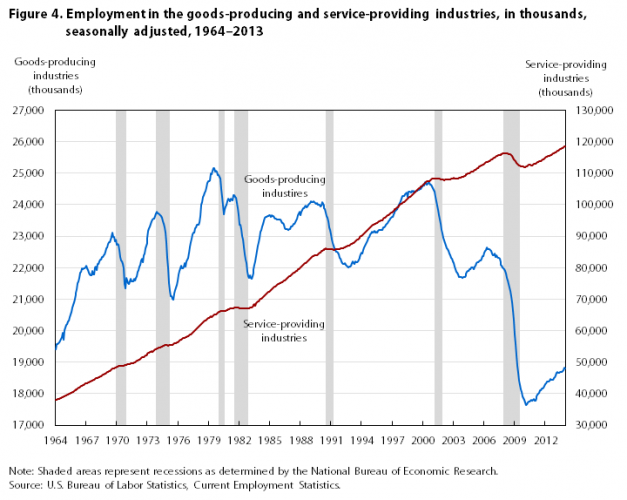 Another group that saw disproportionate resilience during the recession corresponds with NPR's ranking. Apparently, new small businesses in North Dakota showed greater success than other areas of the U.S., with South Dakota coming nearly equally as successful. Of those small businesses started in 2007 only to be struck head on with the realities of the global economic crash, those in both Dakota's tended to survive better than others. Over half of those new small companies started in 2007 are now dead, averaging a 45 percent survival rate, according to The Washington Post.
North Dakota showed a 56 percent survival rate, while South Dakota showed a 55 percent survival rate. South Dakota had three fifths of its private workforce made up with small business employees in 2011, a total of 197, 525 jobs, according to a Small Business Administration report. North Dakota also showed three fifths of its private workforce from small businesses, for a total of 182,314 jobs.
Just so we're clear, the running trends so far are: women, small businesses in North Dakota, education and health industries, energy industries on the upswing, and for our final addition — older Americans. That's right, those 65 years of age and up tended to actually handle recession effects better than other age groups. Part of this is attributable to how older generations were invested — usually more conservatively — and part of this has to do with how unemployment affected them. "In general," said the report, "unemployment rates declined with age," as is visible in the BLS's table below. "In particular, older workers and women experienced a 'milder' recession," read the report. That said, the report does show that those who are older and lost their jobs during the recession had a considerably more difficult time finding employment.
So what about when that next recession hits? Personally, I'm burying some cash in canning jars in the back yard (three paces left of the oak tree) but if that's not your style, here are a few suggestions for how to prepare for a second U.S. recession.
More From Wall St. Cheat Sheet:
Follow Anthea Mitchell on Twitter @AntheaWSCS