If America Is Going Independent, Is Ted Cruz a Smart Choice for 2016?
Senator Ted Cruz (R-Texas) may be gaining ground as the conservative favorite for 2016. The Tea Party-affiliated Republican has long been one of the more vocal and intense individuals on the GOP's side of the aisle. Many on the far right would be pleased to see him run, and he's likely to have a flood of Tea Party support.
"Many social conservatives feel their issues have been kicked to the side, and they are frustrated. Someone like Cruz taking the nomination in 2016 would give them a voice again. It's still early, and there are many potential candidates that could appeal to this base, but there is no question Senator Cruz has some early momentum with them," said Greg Mueller, a conservative strategist, to The Washington Post. "He hits all of the main themes the conservative base want to hear." This may be so, but pushing Cruz to the front of the party candidates would likely be a dire mistake for Republicans in the 2016 election — at least judging on the current climate.
Cruz has the passion and vitality to draw strong supporters from the far right, but it's the middle-of-the-road voters that politicians need to be worrying about more and more these days. According to a Gallup poll published earlier this year, Americans are identifying as Independents in record numbers, hitting 42 percent in January and remaining the highest reported alignment on average over the course of the last five years, and never falling below 40 percent in the last three three years.
Only 25 percent of Americans considered themselves Republican while 31 percent self-identified as Democrats, but this isn't the split that needs the most attention — especially given how those numbers wobble when you look at polls that measure "leaning" identity. A slightly older, but more relevant study from 2013 added together thirteen separate Gallup polls to find that 38 percent of respondents considered themselves ideologically conservative. That was a solid advantage over the 23 percent who ticked the liberal box, but not a strong lead at all over the 34 percent who considered themselves moderate.
What's more, the younger crowd is particularly likely to step away from party loyalty, according to a Pew Research study that found 50 percent of Millennials consider themselves Independents. They also see fewer distinguishing factors in parties, apparently, as only 31 percent say they see big differences between the Republican and Democratic party compared to the 58 percent who say the same in the Silent generation and the 43 percent overall average.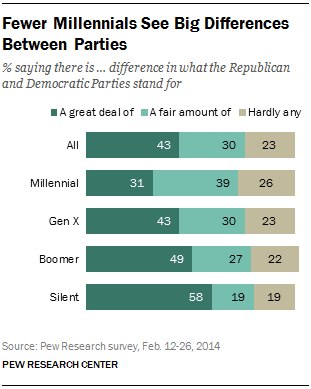 Some might take this as a sign that a more extreme candidate like Ted Cruz could show voters a strong stance on issues and avoid the flip flopping that makes so many feel politicians are all alike. "I have been very clear that, in my view, the 2016 election is the most important election of our lifetime. Our nation teeters on the brink of a precipice. And I believe 2016 will be an election like 1980 about two fundamentally different visions for America," said Cruz in an interview with the National Journal. That's as clear an intent to show party disparity as you can get. But going extreme would be the wrong choice, because while more Millennials identify as Independents and a huge number see the parties as fairly comparable, they still tend to vote Democrat (at least based on the 2008 and 2012 elections).
Pew Research also reflects Gallup's data on independents overall, showing steady increases in polls since 1990, just shy of a 10 percentage point increase between 1990 and 2013, as seen in the table below.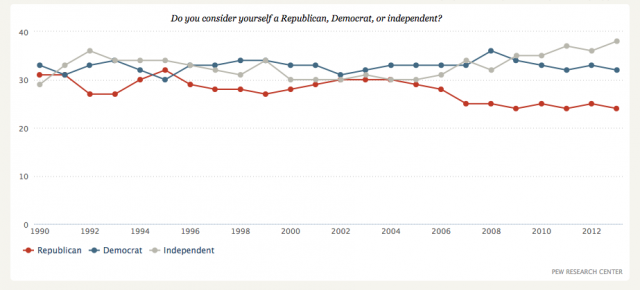 Sen. Ted Cruz (R-Texas) announced what he called "some news you won't want to miss" early Monday morning on Twitter, and just as most predicted, the news was of presidential import:
I'm running for President and I hope to earn your support! pic.twitter.com/0UTqaIoytP

— Ted Cruz (@tedcruz) March 23, 2015
The announcement marks one of the first definitive decisions for 2016, and will be supplemented with a talk given at Liberty University in Virginia. Cruz is distinct from many of the other candidates in his party in that he has been more outspoken and more extreme in his conservatism than other candidates. Likewise, he's more aggressive in announcing his decision to run, getting a head start over others who have only announced an investigation into the possibility of running, though notably nowhere near leading in the polls or in headlines (a distinction that goes to Jeb Bush. Ultimately, Mr. Cruz might end up being the Republican's new Sarah Palin candidate; someone that could draw in a certain amount of popularity with bold stances that appeal strongly to a certain subset of the party, but not a truly strategic choice to pit against Hillary Clinton, if she chooses to run.
It's possible that Cruz could move away from his reputation as a stubbornly uncooperative candidate with a history of grinding works to a stop — i.e. his anti-Obamacare filibuster — with his new emphasis on foreign affairs. However, 2016 is still a long ways off. Given Cruz's track record and the long list of controversial legislation still to be dealt with, it may be difficult for him to maintain a reputation that will appeal widely enough and won't alienate more left-leaning conservatives.
More From Politics Cheat Sheet:
Follow Anthea Mitchell on Twitter @AntheaWSCS