In Honor of His Birthday: 10 Strangest Gifts Ever Given to Obama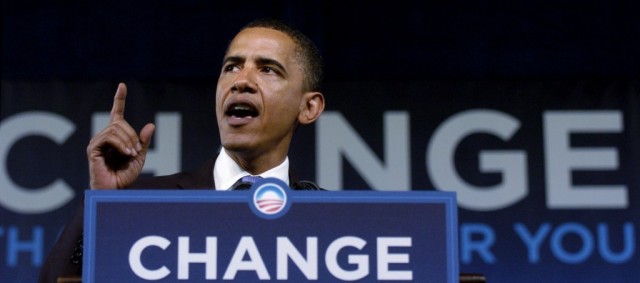 Monday, August 4, is President Barack Obama's birthday. He's spending it with some old friends on the golf course, then flying off to Camp David and the Catoctin Mountains. The break comes after a weekend of fielding questions on everything from Ebola to the U.S. border and immigration reform, to his disagreements with Congress. Interesting, one press exchange over the weekend went something like this:
"Q: What about John Brennan?

Q: The Africa Summit — Ebola?

The President: I thought that you guys were going to ask me how I was going to spend my birthday. What happened to the happy birthday thing?

Q: Happy Birthday.

Q: What about John Brennan?

Q: Africa Summit?

The President: I will address two points. I'll address —

Q: And Flight 17?

The President: Hold on, guys. Come on. There's just –

Q: And Africa."
Needless to say, as much as he deserves a birthday celebration like any other individual, his birthday is hardly the most important topic of conversation at the moment. But since this is one of the last we'll see with Mr. Obama before someone else takes up residence in the oval office, let's take a second to consider some of the more interesting minutiae of presidential birthdays: the gifts. Now, as the president, it's unsurprising that many people would want to send you gifts on your birthday. Admittedly, some — we're looking at you Senator John Boehner (R-Ohio) — are more likely to send a mouse trap wrapped in a ribbon, but others are more well meaning. Unsurprisingly, there are rules governing when a president may or may not accept gifts.
There is actually a Protocol Gift Unit in the Office of the Chief of Protocol which "serves as the central processing point for all tangible gifts received from foreign sources." It receives gifts for members of the government and for their families, including President Obama. It also logs them, lists who they're from, what they consist of, and the reason for their acceptance. Basically all gifts are accepted because "non-acceptance would cause embarrassment to donor and U.S. Government." What the Protocol Gift Unit does not do, is label why they are given, necessarily, though often you can guess that it's a visit from a foreign dignitary, or simply expenses paid for a trip to some organization or another. There are a couple highly interesting items listed amongst the some hundred or so pages worth of gifts, hidden in amongst the paid-for hotel bills and meals. So here's just ten.
1. In 2013, President Barack Obama was given a ten-inch "black wooden coyote suspended in metal display box" alongside a "Coca-Cola bottle decorated with beads," liquor in a locked chest, and two shirts with cufflinks. This was from "His excellency Felipe de Jesus Calderon Hinojosa, President of the United Mexican States."
2. The Prime Minister of the Republic of Poland, Donald Franciszek, once gave Obama the DVD "Best of the Witcher 2: Video Trailers for President Barack Obama" from Atari. He also gave him some vodka, liquor glasses, a "Witcher 2″ gift box, "three golden 'Witcher 2′ coins, a 'Witcher 2′ book, 'Witcher 2′ stickers, 'Witcher 2′ make your own aircraft," a book entitled "Blood of Elves" and "The Last Wish" as well as an "ivory-colored bust of 'Witcher 2′ character Gwynbleioo." There were also wood die, playing cards, the Witcher 2 game DVD, game guide, and a DVD box set for — you guessed it — "Witcher 2." In case you're wondering, this is "Witcher 2″:
3. What's a gift without a little alcohol? Apparently nothing, judging by the long list of alcoholic gifts given to Obama, but Dr. Alfonso Petersen, mayor of Guadalajara in the Mexican state of Jalisco, did quite well with his four bottles of tequila and a wooden trunk with a silver arc inside (covered in bells). The estimated value of his gift was $1,880.
4. His Excellency Asif Ali Zardari, the President of the Islamic Republic of Pakistan once gave the President a 26-inch by 32.5-inch framed portrait of President Obama himself worth over $1,000. Once again, framed photos of himself appear to be a common gift. 5. President Doris Leuthard, the President of the Swiss Confederation, bought the President a dog collar and leash, which might seem bizarre and insulting if you don't recall the Obama's family dog, Bo. She brought the dog a collar, and the president a watch.
6. King Abdullah bin Abd al-Aziz Al Saud, King of Saudi Arabia, once brought Obama some twenty silk ties, split into nearly as many special color-matching presentation boxes. One can only imagine how long it would take to open so many ties and matching handkerchiefs — ties and handkerchiefs worth over $5,000, cumulatively, by the way.7. The President of Indonesia, Dr. H. Susilo Bambang Yudhoyono brought Obama, among other things, three shirts and a set of wooden shadow puppets.
8. David Cameron, Prime Minister of the United Kingdom, and his wife Samantha Cameron both brought him a "canvas of graffiti letters spray-painted on black gloss." 9. Dr. Mahmoud Abbas, the President of the Palestinian Authority, brought President Obama a $75 bottle of olive oil in 2009.
10. On the other hand, there's always the gift from Wan Gang, China's Minister of Science and Technology, who brought him a "White 'Flying Pigeon' electric bicycle." All in all, Obama's had a pretty good haul in terms of gifts, though it's likely that a new MP3 player or a diamond studded statue of a famous artist isn't likely to ease some of the tension flying around Washington right now.

More Politics Cheat Sheet:
Follow Anthea Mitchell on Twitter @AntheaWSCS