What Do Israel's Election and Netanyahu Mean for U.S. Foreign Policy?
On March 17, Israelis went to the polls with the opportunity to unseat Israeli Prime Minister Benjamin Netanyahu. Early in the day, McClatchy special correspondent Joel Greenberg, noted that the voting was heavy in what had become a surprisingly tight race, while polls showed that the prime minister's conservative Likud party had fallen behind the Zionist Union. When casting his ballot, Netanyahu told reporters he would agree to form a government coalition with allies on the right but not with challenger Isaac Herzog of the center-left Zionist Union. By comparison, Herzog stated that Israelis face a choice "between change and hope, and despair and disappointment," when voting himself. Despite early indications that Netanyahu was in trouble, he and his party scored a resounding victory, helped by a last-minute pledge to continue settlement construction and oppose Palestinian statehood. The Washington Post reports that with nearly all votes counted Likud appeared to have won 30 out of parliament's 120 seats, putting it in a relatively easy position to build a coalition government with its nationalist, religious, and ultra-Orthodox Jewish allies.
The election was largely seen as a referendum on Netanyahu, who has held power for six years. His victory sets the stage for new confrontations with the Obama administration following his contentious address to Congress on Iranian nuclear capabilities. That address may not have overly influenced his electoral fate, but it did add complexity to the Israeli-American relationship. Behind in the polls in the final days of the race, the prime minister committed to several hardline positions that will put him at odds with the Obama administration, including his decision to reverse his stance on the creation of a Palestinian state.
"It may be the case, purely in campaign terms, that the speech demanded so much of the prime minister's time and attention that it left his domestic flank unguarded and enabled weeks of relentless attacks from his rivals," Noah Pollak, executive director of the conservative Emergency Committee for Israel warned in an interview Politico. "The speech showcased Netanyahu's gravitas as a world leader — but it also may have been a source of distraction during a critical time in the race." By comparison, Jeremy Ben-Ami, executive director of the left-leaning J Street, argued that his attempt to "how toughness on security and threats to Israel, and toughness toward president Obama" via the speech fell flat with voters. But ultimately his experience won out. Geocartography polling institute president Avi Degan, who predicted an outright Likud victory, told the Post that "there was a situation where many people wanted to replace him but there was no one whom they wanted to replace him with."
Here's a look at just what Netanyahu said and why he said it:
The thesis of Netanyahu's address to a joint session of Congress in early March came as no surprise. He warned the assembled senators and representatives that the deal the Obama administration is negotiating with Iran to freeze its nuclear program was not only bad, but that the world would be "better off without it."
But just on Sunday, Secretary of State John Kerry met with Iranian Foreign Minister Mohammad Javad Zarif in Switzerland to negotiate that very deal that Netanyahu petitioned U.S. lawmakers to reject. Kerry, as the driving force behind the seven-nation talks, has made "a huge investment of his time and energy in the talks, and his personal, hands-on involvement in recent months has been crucial to building momentum toward a deal," explained Robert Einhorn, a senior fellow at the Brookings Institution who served on the American negotiating team on the Iran talks from 2009 to 2013, to The New York Times. The exact parameters of the deal are still unknown, but by most accounts, the 10-year plan for preventing Iran from developing nuclear weapons could be more demanding. Primarily, the Obama administration, the other four permanent members of the United Nations Security Council, and Germany want to extend the time needed for Iran to amass enough weapons-grade uranium or plutonium for a nuclear bomb, a period known as the breakout time. President Barack Obama described the terms vaguely in a Monday interview with Reuters. Iran will to agree to keep "their program where it is right now and, in fact, [roll] back elements of it that currently exist," he said. If "we've got a way of verifying that, there's no other steps we can take that would give us such assurance that they don't have a nuclear weapon," he added, suggesting that inspectors are the world's only choice to monitor the Iranian nuclear program.
Netanyahu — with his election approaching — had been accused of making the speech for solely political reasons. That is one reason why it was so controversial. He began his address by offering his regret that "some perceive my being here as political," adding that it was never his "intention" for his visit to been seen as an exercise in political theater. Given that only 41% of likely voters said they view Netanyahu favorably, according to a February Times of Israel poll, and given that Iran is a hugely important foreign policy concern for Israel, the prime minister's address to Congress cannot be divorced from Israel's political realities. After all, there is no more prominent platform than Congress, a fact that Netanyahu himself noted at the beginning of his speech when he called it the "most important legislative body in the world." Yet it is also true that he made credible arguments against the looming Iran nuclear deal.
Why does Netanyahu think no deal is better than what Obama has proposed?
The beginning and end of the prime minister's address was heavy with emotionally charged rhetoric, meant to stir feelings of kinship between Americans and Israelis. "The remarkable alliance between Israel and the United States has always been above politics. It must always remain above politics," he said. "Because America and Israel, we share a common destiny, the destiny of promised lands that cherish freedom and offer hope." But the meat of his message is fairly easy to extract; he wanted to prove that it would be detrimental to global security to merely "kick the can down the road," especially since the United States has the power to extract concessions from Iran, not the other way around.
He emphasized the danger facing Israel in prosaic terms. "Iran's goons in Gaza, its lackeys in Lebanon, its revolutionary guards on the Golan Heights are clutching Israel with three tentacles of terror," he told Congress, and failing to stop Tehran from obtaining nuclear weapons "could well threaten the survival of my country." As proof, he cited a recent tweet of Hassan Nasrallah, the leader of Hezbollah who Netanyahu called Iran's chief terrorist proxy. He said, "If all the Jews gather in Israel, it will save us the trouble of chasing them down around the world," according to the prime minister.
Ahead of the speech, a reporter asked White House Press Secretary Josh Earnest whether the president agrees "with the Prime Minister's assessment that the U.S. worries about its security whereas Israel worries about its own survival, and therefore, the view of Iran might be different in both places?" Earnest essentially gave a non-answer, responding with the Obama administration standard that the United States does not want a nuclear-armed Iran.
However, in his address, Netanyahu stressed that Iran should be just as big as a concern to the United States as the Islamic republic is to Israel. Once again, he revisited the shared history of the United States and Israel by arguing that the Iranian regime is no more a Jewish problem than the Nazis were. "Iran's regime is as radical as ever, its cries of "Death to America," that same America that it calls the "Great Satan" as loud as ever. "This regime will always be an enemy of America," he said. "Don't be fooled. The battle between Iran and ISIS doesn't turn Iran into a friend of America. Iran and ISIS are competing for the crown of militant Islam."
To show Iran continues to have negative designs on the United States and the West, even as nuclear talks continue, he recounted how Iran blew up a mock U.S. aircraft carrier in a military exercise conducted last week. This action proves that the Iran regime — which took dozens of Americans hostage in Tehran, had hundreds of American marines killed in Beirut, and was responsible for "maiming thousands" of American soldiers in Iraq and Afghanistan — has not changed course over its 36-year history. He also stressed how committed Iran is withholding basic freedoms, an appeal always well received in Washington. "I'm standing here in Washington, D.C. and the difference is so stark. America's founding document promises life, liberty and the pursuit of happiness," Netanyahu said. "Iran's founding document pledges death, tyranny, and the pursuit of jihad." Jihad is another word that plays well.
Netanyahu sees the yet-to-be-finalized deal as a concession. First, it would leave Iran in possession of a "vast nuclear infrastructure" that will keep the breakout time short. He claimed that the deal would not require a single nuclear facility to be demolished. "Thousands of centrifuges used to enrich uranium would be left spinning," he claimed. "Thousands more would be temporarily disconnected, but not destroyed." The second major concession creates a greater danger, he argued. If the deal is signed, "virtually all restrictions on Iran's nuclear program will automatically expire in about a decade." And when the restrictions are lifted, Iran, whose nuclear capabilities were untouched, would then be free to build bombs. And in his opinion, other countries in the Middle East would only follow suit.
"The alternative to this bad deal is a much better deal. A better deal that won't give Iran an easy path to the bomb," said Netanyahu. But he gave no specifics for an alternate or "better" deal.
Lawmakers in attendance responded with repeated standing ovations, the final burst of applause lasted more than a minute.
So was Netanyahu's speech merely political theater?
The prime minister has given a variation of this speech on many occasions over the past two decades. Obama himself said Netanyahu offered "nothing new." And while Netanyahu may not be wrong in arguing that the United States is making a weak deal, he is certainly taking advantage of the impact his speech will have on Israelis. His hawkish stance on Israel's national security has gotten him elected before; as the Economists reports, Israelis generally vote for leaders that promise security, and he has won three elections, making him prime minister for nine of the past 19 years.
As polling numbers have shown this March 17 reelection battle is close. As in years past, the key issue is concern for Iran's nuclear ambitions. "In the first instance, Israelis were probably impressed by the reception he received and the quality of the speech," Yehuda Ben Meir, an expert on Israeli national security and public opinion at the Institute for National Security Studies at Tel Aviv University, told the Times. "But the Israeli voters are also acutely aware of the tensions the speech has caused with President Obama and of the negative reactions, particularly among the Democrats." As many as 60 Democrats skipped the speech. And California Representative Nancy Pelosi, the House minority leader, called the speech "an insult to the intelligence" of the American people. But analysts say that the speech was directed to Israel voters at least as much to Americans.
Shlomo Avineri, an Israeli professor of political science, argued that the speech would not have a significant impact on the nuclear negotiations either way, according to the Times. Meanwhile, Ben Caspit, a political columnist for the newspaper Maariv, stressed that Netanyahu did not name the complete end to uranium enrichment and the dismantlement of all centrifuges as conditions for a deal with Iran, as is his usual pitch. "What did we ask for yesterday, after all?" he added, according to the Times. "For Iran to stop abusing its neighbors, stop threatening Israel, to start behaving like a normal country if it wants to have relationships like a normal country. For this you break all the rules in terms of the American administration?"
The March 31 deadline for the nuclear talks to conclude has added to the sense of urgency. And even though he has made a very similar speech before (see this 1993 column published by the Yediot Aharonot newspaper), CNN's Fareed Zakaria argued that "the current sanctions are going to get very leaky soon," meaning the situation is growing more dire. Zakaria also noted that "under [current] sanctions, Iran has been able to build about 19,000 centrifuges. So imagine the next 10 years with no deal — where will Iran be? "
By comparison, Susan Rice, Obama's national security adviser, contends that Netanyahu may have damaged the talks. "I want to be very clear: a bad deal is worse than no deal.  And, if that is the choice, there will be no deal," she told the American Israel Public Affairs Committee a pro-Israel lobby group, on Monday. More to the point, Netanyahu's critics say that his proposals will not work and that military force will be the only alternative.
"A military attack could set back Iran's nuclear program. But such a setback would probably only be temporary, and the use of force could trigger an Iranian decision to go for nuclear weapons as soon as possible," wrote Brookings' Robert Einhorn, a former State Department official who focused on nuclear issues.
As Reuters reported, the Iranian government denounced Netanyahu's speech as "boring and repetitive," via the state news agency IRNA.
Where does the Obama administration stand?
Obama told Reuters that the bond between the United States and Israel is "unbreakable." But that fact did not prevent him from criticizing Netanyahu for political opportunism. "Now, as a matter of policy, we think it's a mistake for the prime minister of any country to come to speak before Congress a few weeks before they're about to have an election. It makes it look like we are taking sides," he said. Israeli prime ministers have regularly spoken to Congress before, but it is rare that a foreign leader be granted so many audiences. Since 1996, he has addressed lawmakers three times. Only Winston Churchill, the leader of Great Britain during the Second World War, gave as many speeches. A further sticking point is the fact that Boehner extended the invitation without informing or consulting with the White House, which is a break of official protocol, even if it makes sense that Congress hear Netanyahu speak on why the Iranian nuclear deal be more tough before it comes to a vote. Congress does need to check the executive branch. And Netanyahu's decision to speak to Congress did seem to be motivated by his concern for the threat a nuclear-capable Iran would pose to Israel, and the world.
However, the six years of Obama's presidency have been characterized by disagreements between the two leaders over how best to deal with the nuclear threat. The problem is that they agree less and less about where Iran should be stopped. Obama has repeatedly stated that the United States will use whatever means necessary to "prevent Iran from obtaining a nuclear weapon." He said in Jerusalem, "Iran must not get a nuclear weapon. This is not a danger that can be contained."
By comparison, Netanyahu has said Iran must be stopped from obtaining the "capability" that would enable the country from becoming a "threshold nuclear state," or in other words, be on the verge of having that weapon. When Netanyahu argued that any accord that allows the country to keep its nuclear infrastructure in places "doesn't block Iran's path to the bomb, [but] paves Iran's path to the bomb," it was evident the gap had widened from a semantic difference to a strategic difference.
Obama may believe that successful negotiations are the only possible method to prevent Iran from obtaining nuclear weapons. "Nothing else comes close. Sanctions won't do it. Even military action would not be as successful as the deal that we have put forward," Obama said in his rebuttal. But supporting Netanyahu's case, as he made clear in his speech, is the fact that United States' last counter-proliferation effort failed. Both Bill Clinton and George Bush made diplomatic attempts to keep the North Korean regime from producing nuclear weapons. The North Korean government agreed to disable a portion of their facilities, but they were eventually rebuilt. Still, the Iranians have made it clear they would never support a deal that required all capabilities to be dismantled. And the country has signed the Nuclear Nonproliferation Treaty, giving Iran the "right to enrich."
But several facts also support Obama's approach. His administration has essentially worked to buy time, and more time could allow for a more progressive leadership, one that decides Iran does not need the bomb, to come into power. That strategy has worked, alongside the sanctions, for the past two decades. Of course, this is a gamble. It banks on a regime change happening sometime in the next 15 years, before restrictions will expire. Plus, according to the Times, American intelligence agencies believe the reason Iran has spent so much time working to build a nuclear weapon but never arriving is because supreme leader Ayatollah Ali Khamenei never made the "political decision" to build the bomb, a fact that adds further uncertainty to the equation.
Where does the speech leave Obama?
Now that Netanyahu has made his appeal, if Obama pursues the deal with the Iranian government, he could shake up the American-Israeli relationship for the near future. But if Obama does change course, he may miss a diplomatic achievement akin to President Richard Nixon's opening of China. And of course that consideration weighs heavily on the president, who is likely anxious to cement his legacy, or at least that is the Republican assessment. Marco Rubio, the Florida Senator who may seek the Republican nomination for president in 2016, told conservative activists Friday that the nuclear deal with Iran is meant to be the hallmark of his second term, as Obamacare was of the first.
But his bigger critique was not Obama's concern for how he will be remembered. Rather, Rubio slammed Obama for a "foreign policy that treats the ayatollah of Iran with more respect than the prime minister of Israel." He also argued that talks with Iran are ultimately foolish.
Rubio's worry that talks with Iran will fail is not unfounded. But, on the plus side, Obama wants the deal and Iran's President Hassan Rouhani favors it. And, as Rice noted, the sanctions have hurt Iran. Its "economy remains isolated from the international finance system and cut off from the vast majority of its foreign currency reserves. Iran's oil exports have dropped almost 60 percent since 2012," she remarked. "The rial has depreciated by more than 50 percent. And, Iran's overall GDP has shrunk by almost 10 percent. All told, sanctions have deprived Iran of more than $200 billion in lost oil revenues." But hardliners in Iran continue to oppose the deal.
However, even if the agreement is inked, the verification measures that ensure Iran is following the terms will be difficult to enforce, as one-time Obama administration adviser Dennis B. Ross wrote recently, according to the Times. Ross argued that Obama must specifically explain how the U.S. would react to Iran moving closer to developing the bomb, including the timeline for using military force. The president has said that the use of force is implicit in his promise he made two years ago that "we've got Israel's back." But the fact that Netanyahu took to the floor of the House of Representatives suggests he no longer believes it. What Netanyauhu risked by appealing to Congress without consulting the White House is turning Israel from a long-time and important piece of U.S. foreign policy into a partisan issue.
For reference, a solid majority of Americans support a deal with Iran that allows it to continue enriching uranium.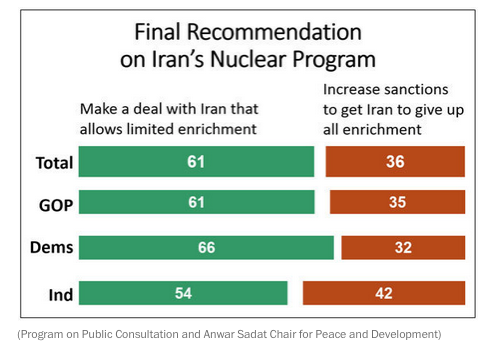 More from Politics Cheat Sheet:
Follow Meghan on Twitter @MFoley_WSCS