Is the Housing Market Done Doing the Economic Heavy Lifting?
With the winter's exceedingly cold temperatures and ongoing increases in mortgage rates, demand for both new and existing homes has slowed. The monthly reading of the S&P/Case-Shiller home price index of property values in the 20 largest United States metropolitan regions showed that the real estate market cooled in the year ended in February. Now, "the days of very robust home-price gains are over," Standard Chartered economist Thomas Costerg told Bloomberg. "Elevated price gains are a headwind, especially for first-time buyers. Prices will slow going forward, and the housing market needs that to recalibrate supply and demand," he added.
The S&P/Case-Shiller home price index increased 12.9 percent in the twelve months through February — a slight drop from the 13.2-percent gain recorded in the year ended in January. For a comparison, analysts projected a 13 percent advance. More specifically, all twenty cities in the S&P/Case-Shiller index posted a year-over-year gain, led by Las Vegas' 23.1 percent increase and San Francisco's 22.7 percent jump. Comparatively, Cleveland recorded the smallest gain, with prices rising just 3 percent. Further signaling a price-gain slowdown, only five cities showed larger year-over-year increases in February.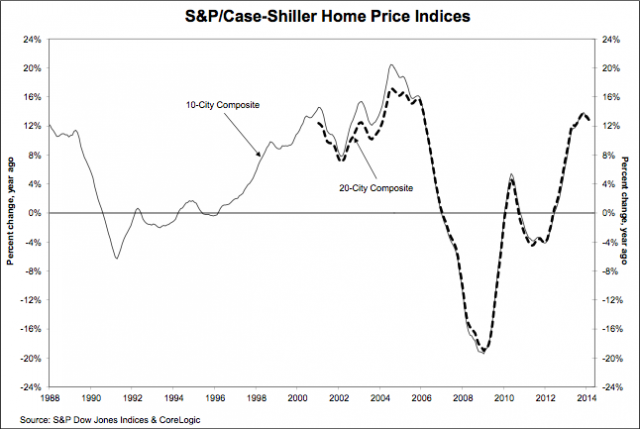 "Despite continued price gains, most other housing statistics are weak. Sales of both new and existing homes are flat to down. The recovery in housing starts, now less than one million units at annual rates, is faltering," Standard & Poor's Index Committee Chair David Blitzer said in a statement, explaining the slower-than-typical pace of growth for United States housing prices in the second month of the year. "Moreover, home prices nationally have not made it back to 2005. Mortgage interest rates, which jumped in May last year and are steady since then, are blamed by some analysts for the weakness. Others cite difficulties in qualifying for loans and concerns about consumer confidence. The result is less demand and fewer homes being built."
With ongoing concerns about consumer confidence, Blitzer cautioned investors to avoid expecting the housing market to as much heavy lifting as it has down previously. "Five years into the recovery from the recession, the economy will need to look to gains in consumer spending and business investment more than housing. Long overdue activity in residential construction would be welcome, but is certainly not assured."
Comparing the latest sales of detached houses with previous sales, the Case-Shiller Index — which dates back to 2001 — is widely considered to be the most reliable measure of the health of the housing market, but it is by no means the only gauge. Evidence shows that housing demand has slackened since the middle of the year as rising prices and borrowing costs have priced out many prospective buyers. Rates on 30-year mortgages have risen to 4.33 percent in the week ended April 24, up from 3.4 percent a year ago, according to the government-owned financier Freddie Mac.
Existing home sales numbers and home construction data also tell an important part of the housing market story. Sales of previously owned homes fell for a third consecutive month as rising prices and small inventories discouraged prospective buyers. The National Association of Realtors reported last week that previously owned homes sold at an annual rate of 4.5 million, which was the lowest level recorded since July 2012. At that sales pace, it would take 5.2 months to sell that inventory, a reading that signals a tight market that favors sellers over buyers. Meanwhile, new home sales dropped to the lowest in eight months in March, ending hopes for a quick recovery for a housing market that hit a rough patch last summer. Sales dropped 14.5 percent — the second consecutive monthly decline and the largest drop recorded since July, which was the last month sales were so slow.
"The rise in interest rates and prices of new homes is leaving some potential buyers with sticker shock," noted Bill Banfield, vice president at mortgage lender Quicken Loans, after the Department of Commerce housing report was released. The median price of new homes sold last month was $290,000 — 13 percent higher than in March 2013, according to the United States Census Bureau.
In March, new home starts did proceed at the fastest rate so far this year, with builders beginning new construction at an annual rate of 946,000 last month — 2.8 percent more than in February. But that strong figure does cover a few problems. Building permits, a barometer of future construction activity, fell 2.4 percent overall. Plus, higher prices for materials are squeezing builders' profits, which has made it difficult for employers to offer construction workers higher wages and thereby retain workers without increasing selling prices. Most of those additional costs cannot be passed onto the buyer, according to IHS Global Insight economists Stephanie Karol and Patrick Newport. New home construction may account for only a small portion of the housing market, but building has an outsized impact on the economy; each home built creates an average of three jobs a year and generates about $90,000 in tax revenue, according to data from the Homebuilders Association.
Still, recent reports signal that the residential real-estate market is beginning to stabilize as the spring selling season gets under way. Pending sales of existing homes, a leading indicator, are one such sign; that sales index, which measures contracts to purchase previously owned houses, rose by the most in almost three years in March, the Realtors group reported on Monday.
"The industry is still in the early stages of what will be a sustained, multiyear recovery, but one that will develop at a more measured pace than past housing recoveries," Richard Dugas — chief executive officer of PulteGroup (NYSE:PHM), the second largest U.S. builder by market value — noted on the company's April 24 post-earnings conference call. PulteGroup reported an increase in first-quarter pretax income. The only mitigating factor is that homebuilder confidence remained subdued in April. The reading taken by National Association of Home Builders and Wells Fargo revealed the index of homebuilder sentiment remained essentially flat in April, at 47. Any level below 50 means more builders see the market for new, single-family homes as poor.
More From Wall St. Cheat Sheet:
Follow Meghan on Twitter @MFoley_WSCS